Global heating melts mountains
New research timed for the UN Climate Summit in Madrid this week shows that 1.9 billion people worldwide could be imperiled by a shortage of water caused by rapidly melting ice on mountain ranges like the Himalaya.
Scientists assessed 78 mountain glacier–based sources of rivers and ranked them for the first time in order of their importance to downstream populations. The mountains are called 'water towers' because they store water in the form of ice, which melt when glaciers transport them to warmer lower altitudes.
But with the climate crisis, the snowline is rapidly receding up the mountains, and glaciers are losing ice at a faster rate than previously forecast. This means there will be less and less ice to melt in spring, reducing the dry season flow of rivers. A quarter of the world's population is affected.
https://www.youtube.com/watch?v=fVdZG8lT5oI&feature=youtu.be
Published this week in the journal Nature, the findings prove that most global water towers are critically at risk due to global warming, growing populations, mismanagement of water resources, and other geopolitical factors.
Asia's high mountains are warming faster than the world average, and in the Himalaya average temperatures have crept up nearly 2o Celsius) since the beginning of the century, which is double the planetary average. A major report titled Hindu Kush Himalaya Assessment: Climate Change, Sustainability and People put together by the Kathmandu-based International Centre for Integrated Mountain Development (ICIMOD) earlier this year states that even in the best-case scenario, the Himalayan mountains will lose more than one-third of their ice by the end of the century. An earlier report was even scarier, it said the Mt Everest region would lose 90% of its ice by 2100.
https://www.youtube.com/https://www.youtube.com/watch?v=g5mGPfDekyg&feature=youtu.be?v=9uOETcuFjbE
If current emission trends continue, the world will actually be hotter by between 4.2-6.5oC by 2100 – in which case two-thirds of Himalayan glaciers will be gone. The Himalaya are warming between 0.3 to 0.7o C faster than the global average, and the loss of Himalayan ice would have devastating consequences for 1.6 billion people living downstream.
Climate models show that summer flow in the Indus, Ganges, Brahmaputra and their snow-fed tributaries will actually rise till 2050 as the glaciers melt, but will start decreasing after that because there will be no more ice left. Measurements show that glaciers in the Central and Eastern Himalaya are shrinking at 40cm/year, and some are receding up to 30m/year.
Santosh Nepal, water and climate specialist at ICIMOD and co-author of the current report said that since four out of the five most relied-upon and vulnerable water towers in Asia are located in the Himalayan region, the rivers that flowed down from them needed special attention.
"Even when assessed on a global scale, the Indus in particular is one of the most critical and vulnerable water towers in the world," Nepal said. "This is something the region as a whole needs to take seriously, and work on addressing collectively."
The scientists urge world governments to develop crossborder mountain-specific conservation and climate change adaptation policies and strategies to safeguard both ecosystems and people downstream.
The Indus River that starts in Tibet and flows across India into Pakistan is top on the list of water systems most at risk from the melting mountains, according to the report. The Himalayan mountains at the source of the Indus and its tributaries in Afghanistan, China, India and Pakistan are the most vulnerable to climate change.
The southern Andes, the Rocky Mountains, the European Alps and 78 other water towers across the planet are at risk of global heating. Scientists analysed various factors that determine how reliant downstream communities are upon the supplies of water from these systems.
They also assessed each water tower to determine the vulnerability of the water resources, as well as the people and ecosystems that depend on them, based on predictions of future climate and socioeconomic changes.
The study was authored by 32 scientists and led by Walter Immerzeel and Arthur Lutz of Utrecht University who have been researching water and climate change in high Asia.
"What is unique about our study is that we have assessed the water towers' importance, not only by looking at how much water they store and provide, but also how much mountain water is needed downstream and how vulnerable these systems and communities are to a number of likely changes in the next few decades," said Immerzeel.
Lutz added, "By assessing all glacial water towers on Earth, we identified the key basins that should be on top of regional and global political agendas."
This research was supported by National Geographic and Rolex as part of their Perpetual Planet partnership to highlight challenges facing the Earth's critical life-support systems, support science and exploration of these systems, and empower leaders around the world to develop solutions to protect the planet.
"Mountains are iconic and sacred places around the world, but the critical role they play in sustaining life on Earth is not well understood," said Jonathan Baillie, executive vice president and chief scientist at the National Geographic Society. "This research will help decision-makers, on global and local levels, prioritise where action should be taken to protect mountain systems, the resources they provide, and the people who depend on them."
MOST AT RISK
Map: NATIONAL GROGRAPHIC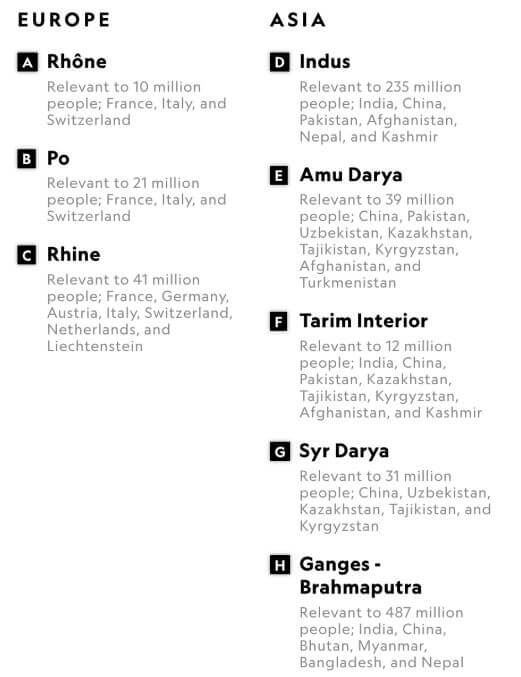 Rivers flowing down from the following mountain ranges in 5 continents are most at risk from melting due to global heating:
Asia: Indus, Tarim, Amu Darya, Syr Darya, Ganges-Brahmaputra
Europe: Rhône, Po, Rhine, Black Sea North Coast, Caspian Sea Coast
North America: Fraser, Columbia and Northwest United States, Pacific and Arctic Coast, Saskatchewan-Nelson, North America-Colorado
South America: South Chile, South Argentina, Negro, La Puna region, North Chile
Read also: On thin in the Khumbu, Kunda Dixit