Nepal must now send skilled workers to Qatar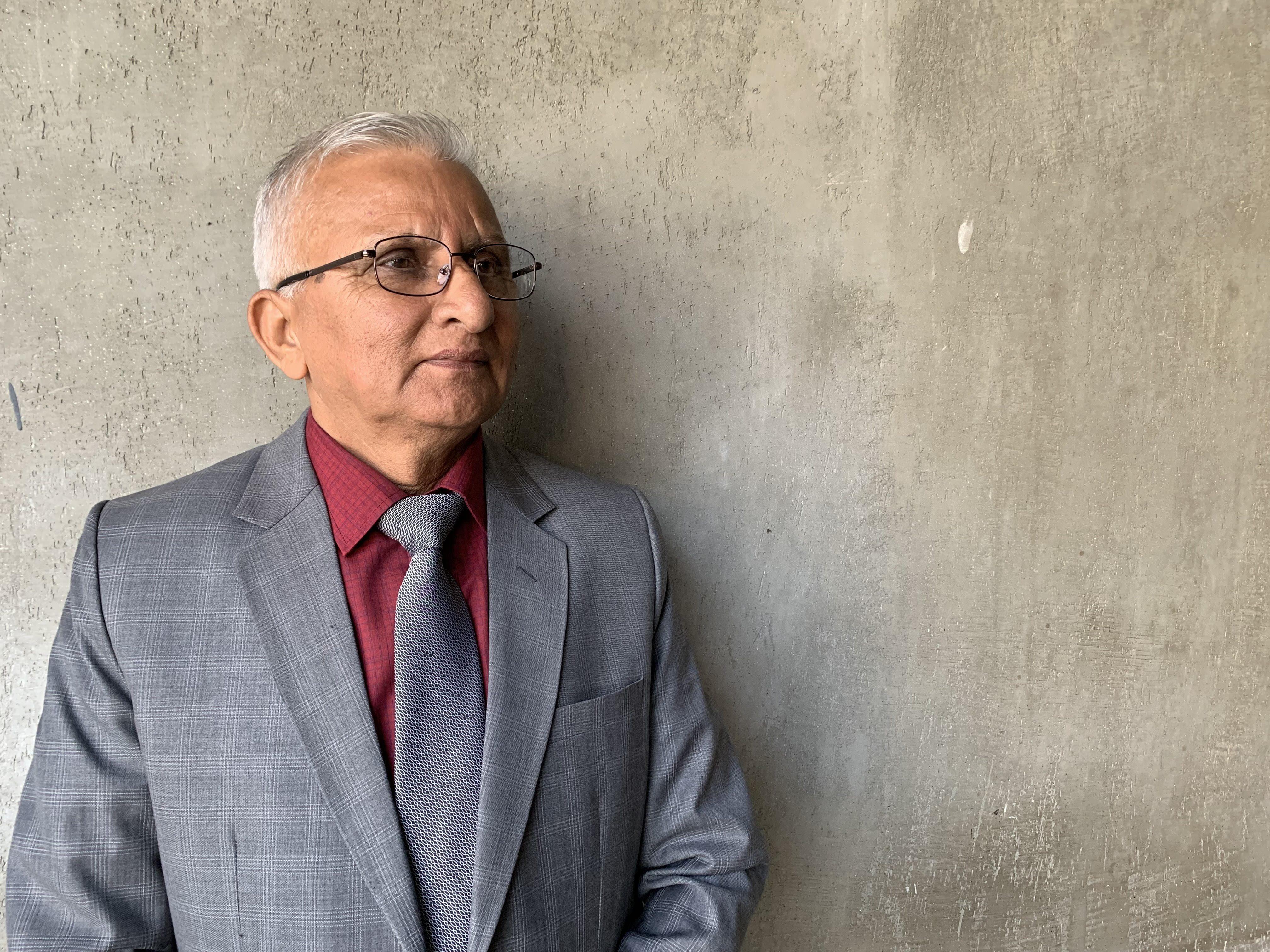 Narad Nath Bharadwaj was till recently Nepal's ambassador to Qatar, and was among envoys recalled by Prime Minister Sher Bahadur Deuba's governing coalition. At a time when labour diplomacy is critical as overseas recruitment resumes and Qatar gears up for FIFA World Cup in December 2022 in which hundreds of thousands of Nepalis are directly or indirectly involved, the country does not have a new ambassador in Doha. Bharadwaj spoke to Nepali Times about his tenure in the most popular destination for Nepali migrant workers. Excerpts:
Nepali Times: Your tenure in Qatar coincided with the blockade of the country and the Covid crisis. What were your observations?
Ambassador Bharadwaj: Yes, Qatar had been under blockade by Saudi Arabia, the UAE, Egypt and Bahrain since 2017. Of Qatar's population of 2.6 million, 2.2 million are migrants, of which 350,000 are Nepalis – in fact, more than the local population. One of my first impressions was how a geographically small and thinly populated country with just one visible revenue source can stand up against such powerful neighbours. The blockade forced Qatar to be self-sufficient and independent, and it increased its global diplomatic outreach, made allies with countries like Iran and Turkey and also prioritised economic sustainability. Unable to produce its own milk, it flew in 5,000 cows, started a dairy called Baladana, which has expanded to become a food company. Baladana is also among the larger recruiters of Nepali workers in Qatar.
Then came Covid. Initially, Nepali and other workers went into panic mode. People wanted to rush home. We did not know the trajectory Covid-19 would take, but we had to try to reassure them. Panic would have meant that with our meagre resources the embassy would have been overwhelmed with people seeking shelter and flights home. We had to reassure our workers that we were working closely with the Qatar government and would look after them and arrange repatriation flights if needed. Despite this, companies went bankrupt and started laying off workers right and left. Many Nepalis were jobless. This was March and it was getting unbearably hot. Initially we had asked the Qatar government to help provide shelter in Qatar itself since Nepal did not have the infrastructure to manage such a high volume of returnees. Ultimately, we managed 52 repatriation flights for 12,000 Nepalis. As things normalised and regular flights resumed, an additional 28,000 Nepalis left. I believe we managed this process without much chaos as was seen in other countries where stranded workers went on strike.
The Qatar government has instituted labour reforms. Have they actually benefitted migrant workers?
We were insistent about the need for higher minimum wages which they agreed in principle, but it took time for implementation. The basic minimum wage has been raised to 1000 Riyal, along with 300 Riyal for food and 500 Riyal for accommodation. Compared to other Gulf countries, wages and labour laws are relatively better.
Initially, the government removed the NOC (no-objection certificate) requirement and made it easy for workers to change jobs legally. But so many workers changed jobs that employers like large construction companies objected. The government then required resignation letters which employers were not always willing to provide, and so many Nepalis sought help from the embassy. Though far-sighted, the removal of NOC was not effectively implemented. Employers have influence and can pressure the government, but are also under pressure to complete projects for the FIFA World Cup.
Are there going to be job openings in the service sector during FIFA? Will they be short-term? What can Nepal do to ensure workers have well-paying jobs after the World Cup?
Yes, I have raised this issue numerous times in the past. The attestation process of the embassy to approve job demand requests makes it mandatory for the duration of employment contract to be two years but hiring during FIFA will be for short term work. Outside FIFA, there are also other short term, lucrative opportunities for workers, and Nepal's Labour Ministry can change its policy to facilitate high-paying short-term work with zero cost fees. Workers on short-term work for low salaries will be at risk because recruiters can further game the system and leave them stranded and debt-burdened. This needs to be done very carefully.
Infrastructure development was the biggest priority in Qatar till now, but the nature of hiring will likely shift to more skilled workers in maintenance and other technical jobs. There are only 600 Nepali engineers, 40-50 medical doctors and a few nurses. We should now prepare to send skilled workers. Nepalis have a good reputation in the service and hospitality sectors, so there will be opportunities there too. We should really focus on language skills so Nepali workers are not shortchanged abroad.
The 2005 Labour Agreement between Qatar and Nepal is being revised. What do you think it should include to benefit Nepali migrants?
Periodic revision of minimum wages as per inflation and living expenses need to be prioritised. We need to be more proactive and have regular dialogue to facilitate investment in technical training institutes in Nepal which the Qataris are open about. Qatari employers also want to be directly involved in the recruitment of workers so we need to think about facilitating that to address malpractices in recruitment, especially to make sure workers do not have to take big loans. Qatar has a nationalisation policy to gradually reduce over-reliance on the expat population, and it wants to become self-sufficient in sectors like agriculture. With careful planning, we can be the source of such manpower and design technical training programs accordingly that will also help Nepal. It is up to us to be strategic and proactive about skills and language training programs.
There are reports that Qatar will send back migrant workers before the FIFA games?
The Qatari authorities had shared with us that new recruitment will be restricted temporarily in the runup for FIFA. But they had not said anything about repatriating workers. Qatar is expecting about 2 million fans, players and delegations and they have invested massively in additional accommodation, but even then it may not be enough. Larger employers will not lay off or deport workers, but there has to be paid or half-paid leaves for those sent back. Migrant workers are indispensable and employers will again need them after the games. Qatar is planning for a post-petroleum era, and has projects planned that requires migrant workers even after the World Cup.
How are Nepalis perceived in Qatar, and how can Nepal build on bilateral ties?
In my meetings with Qatari authorities including the Emir, they have always been very appreciative about Nepalis, and have consistently expressed their gratitude for their contribution towards Qatar's development a reality. In Qatar and the Gulf region, the authorities are more focused on top level dialogue and relationships and not procedural details as part of their diplomatic outreach, whereas we Nepalis are too entangled on procedure and view day to day activities of embassies as sufficient for diplomacy. Relationship building relies on dialogue and goodwill exchange between the top leadership of the two countries and high-level country visits. We do not prioritise this enough.