Nepal's life or death O2 quest
Nepal's second wave is continuing to spread like wildfire across the country, with devastating consequences. Entire families are getting infected and succumbing to the disease, hospitals do not have beds, and have run out of oxygen.
On Saturday, Nepal's daily case load dropped to 8,418, thanks to fewer tests owing to the weekend. The total number of active cases in the country now stands at 83,493. In the past 24 hours, another 53 have died of Covid-19—many of them because caregivers could not get oxygen cylinders.
Access to oxygen now determines who lives and who dies in this deadly second surge of the pandemic in Nepal.
Even major private hospitals in Kathmandu are overwhelmed with the increasing number of seriously sick patients, and are running out of oxygen and cylinders.
Friends and families of patients have to scour the city themselves, seeking oxygen manufacturers and pharmacies to secure supplies or refill cylinders. On Saturday, many rushed to an oxygen factory inside the Balaju Industrial Area that was distributing O2 to those with Covid-19 reports and doctor's prescriptions.
There were long lines of vehicles outside the factory with people having to wait for hours to get a refill as staff scrambled to meet the demand.
Health Minister Hridayesh Tripathi in an interview with Nepali Times last week said the government was in talks with the UAE and South Korea to import 40,000 oxygen cylinders. Nepal is dispatching a jet to Beijing on Monday to bring 800 oxygen cylinders and other medical equipment gifted by China.
With the government throwing up its hands asking its citizens to protect themselves, local communities and neighbourhoods are setting up their own isolation wards and oxygen banks.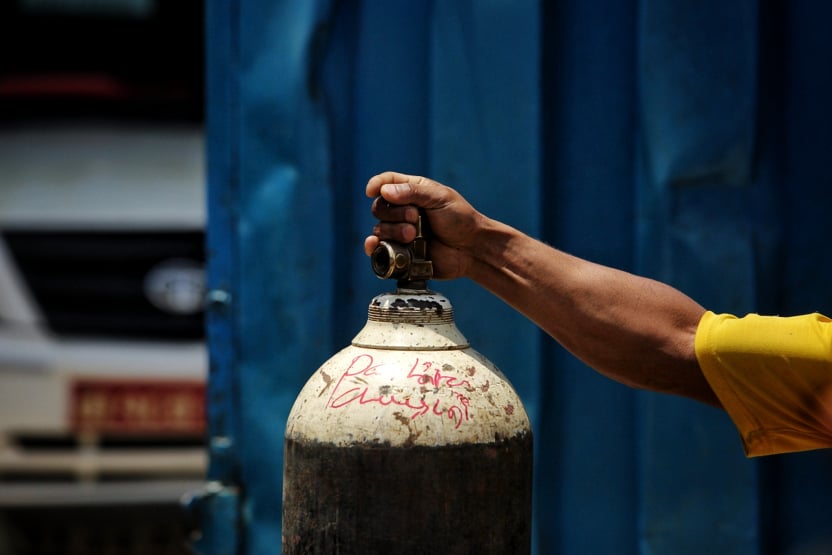 Various independent youth groups are also campaigning to collect oxygen cylinders for those requiring treatment, either at home or hospital. Activists have taken to social media offering help, and circulating contact numbers of those who can.
The '100s Group' that has been organising feeding programs for the disabled and jobless during the lockdown for the past year, has mobilised volunteers to locate oxygen cylinders and take it to patients.
They have been searching quarries, welding workshops and other industrial oxygen users in Kathmandu Valley for cylinders, refilling them, and delivering them to sick patients.
The reason for the shortage of cylinders is that many hospitals and care centres are stockpiling them in case of emergency need. The government has told industries using oxygen to either stop or cut its use so there will be more for Covid-19 patients, but there is still a lot of hoarding.
'Politicians are safe in their homes while youth are out and about risking their lives trying to find and then distribute oxygen cylinders,' wrote Bablu Gupta Nepali of the 100s Group on his Facebook page. "We know that we could get infected but someone else's life is also life."
The group Hamro Team Nepal similarly has been providing hospitals in the Valley including Patan and Bhaktapur with free oxygen and oxygen cylinders, day and night.
Vijay Shah of the Jawalakhel Group of Industries on Friday announced that he was funding Dhulikhel Hospital with a Rs13.5 million donation to set up an oxygen supply equipment to upgrade its ICU.
As of 8 May, a total of 5,478 individuals are undergoing treatment at various hospitals in the country. 758 of them are in ICU and 231 are in ventilator support.
But there are many more individuals with blood oxygen levels lower than 92, isolating at home and unable to find a hospital bed or treatment.