The rest is history for John Whelpton
After the earthquake of 2015, many Nepalis recalled how well Rana Prime Minister Juddha Shumsher had handled relief and rehabilitation after the megaquake of 1934 that leveled the capital and killed 10,000 people. Many felt that even though Juddha Shumsher was a dictator, he was better than most of Nepal's later elected leaders in organising disaster relief.
In the last three years, the Nepali social mediasphere has been replete with praise for the oligarch who nearly 81 years ago rushed back to Kathmandu immediately from his travels, refused foreign money for rebuilding, and waived loans for the reconstruction of homes.
However, as British historian John Whelpton says, the truth is much more complicated. Juddha was keen to avoid economic help from the British, because the Viceroy Fund then was used to help India's princely states, and Juddha did not want Nepal to be classified as one.
Whelpton is working on a project with Martin Chautari and Social Science Baha and has come up with other interesting archival anecdotes about the 1934 earthquake: a surgeon from the British legation who treated the wounded wrote that the 'inhabitants were behaving splendidly, there seemed to be no panic, the people ... were settling down in family groups in those open spaces and preparing to pass the night as best as they could.' In fact, that could also describe the reaction of survivors after the 2015 earthquake. The Nepalis seem to be as resilient as ever.
The British Resident during the earthquake, Clendon Daukes, was confident homes would be rebuilt by the monsoon of the same year, but his successor, Frederick Bailey reported three years later in 1937 that 'houses of the poor had been reconstructed hurriedly and were of poor quality…'. Again, something else that has not changed in 81 years. Most public buildings, however, had been reconstructed with local resources by 1938.
Juddha may not have been as benevolent as portrayed for waiving loans. Whelpton found evidence that he was coerced to do so by royal courtiers who feared a popular uprising. The Rana prime minister was also not so generous with his Army, refusing to reimburse a four month salary advance after the quake. Whelpton puts forth a theory, based on the papers of one of the ambassadors Betham, that it was an important factor in the growth of disenchantment with the regime in the army.
Read also: The Rana reign, Kunda Dixit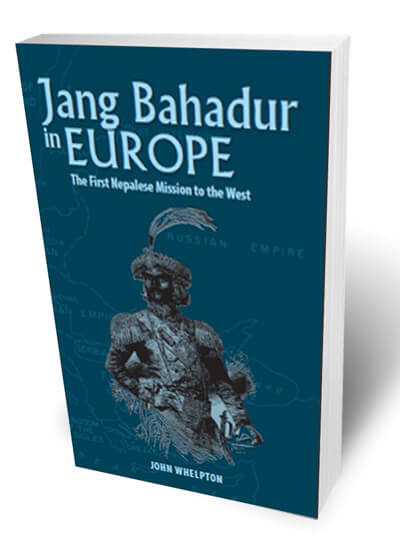 The earthquake project is part of Whelpton's ongoing research into Nepali history. But his own personal history is as fascinating: an English teacher who became one of Nepal's most dedicated historians.
Whelpton signed up to be a VSO volunteer to teach English in South Asia, wanting to go to India but ended up by chance in Nepal in 1972. He took an 8-week course in Nepali, but realised it was of no use in Birganj where he was stationed -- everyone spoke Hindi.
He hiked to Jomsom and Pokhara, and once walked into the main courtyard of Pashupati by mistake, almost getting beaten up by a drunken English-speaking devotee before he was rescued and sent on his way by a policeman.
By late 1970s, his Nepali was good enough to translate Jang Bahadur ko Belayat Yatra from Nepali into English. This first-time translation of the travelogue was published with commentary as Jang Bahadur in Europe: The First Nepalese Mission to the West. In its reprint it also contained a first-person account of the journey by Moti Lal Singh, who is considered the first Nepali to get to London and was befriended by Jung and employed as translator. The text of his account, discovered by earlier historians, was republished in full in English for the first time in Whelpton's book.
Whelpton's PhD led to another book on Jang Bahadur: Kings, Soldiers and Priests: Nepalese Politics and the Rise of Jang Bahadur Rana, which included previously unseen archival material. He then went back to his job as an English teacher in Hong Kong, and in his spare time wrote History of Nepal, and surveyed Christianity in Nepal.
Foreigners are not allowed access to Nepal's Foreign Ministry archives which limited Whelpton, but then he had easy access to the British Library where missives sent by residents between 1830-1870 are stored. These records come with their own complications. "Nepali records are mostly official documents, but British documents contain policy debates. They discuss not just what happened but argue about what should be done," says Whelpton. "So while they often give the bigger picture, there is more danger of bias colouring the information."
After 1870, the British government in India stopped sending records to London, so Whelpton is currently researching in the Foreign Ministry archives in Delhi. Nepal-related documents were classified under the 'Political' section meant for internal affairs, until Chandra Shumsher specifically asked that Nepal be put under the 'Foreign' department.
Though Ranas are seen to be Anglophiles, Whelpton cites this and other examples to claim that they were actually quite patriotic. He adds: "What determines Kathmandu rulers' attitude to outside powers is the strength of the outside powers. At any given time there is a balance between independence and keeping on the right side of powerful neighbours. For Jang Bahadur, China was becoming weaker, and it made sense to get closer to the British. Even Bhimsen Thapa, seen as a patriot who resisted the British, was swinging more towards the British in his last days."
Despite a shift in academia towards anthropological history of the people rather than a list of rulers, Whelpton calls himself "an old fashioned political historian", and says Nepal's politics has become much more complicated, which is why he wants to research it as a historian.
A lot needs to be done before Nepal has a comprehensive and complete history, but Whelpton feels that every bit counts: "Scholarship in history can be compared to a cairn on a mountain pass which grows as each traveller throws another stone."
Read also: Jung Bahadur's "tip", Subodh Rana
Looking for Mr Hodgson, Kanak Mani Dixit