Memories of home
After nearly a year of closure, Siddhartha Art Gallery is putting up two new shows. Jagdish Moktan's The Way Home is Away from Home and Priyanka Singh Maharjan's In the Realm of Recollections showcase art they worked on during the pandemic.
The artists received the Himalayan Light Art Scholarship Awards, a joint grant created by Chinese artist Zhao Jianqui and Siddhartha Art Gallery's Director, Sangeeta Thapa.
Although both Moktan and Maharjan have taken part in group shows at their university's BFA exhibitions, Angkor Photo Festival and Kochi Biennale, they were very anxious about the reception they would receive in Nepal.
"When you work on your own, you have to be your own judge. But when the work gets on display for viewers, the anticipation is somewhat different," Moktan said after the inauguration at Baber Mahal Revisited last week.
There is an array of Moktan's 108 frames of charcoal on paper along the walls at the Siddhartha Art Gallery. The series is called 'Fragmented Clouds', and depict skies hemmed in by densely-packed buildings where the clouds are reflected on window panes.
"Crammed in my room in Bhaktapur during the lockdown, looking from one window to another, I often wondered how it might be to see beautiful clouds from my ancestral hometown in Ramechhap," he says. "Although I was born and brought up in Kathmandu, my sense of belonging has always been associated with Ramechhap."
Moktan calls his work an attempt to explore his feelings of alienation, and finding the road home. The art is unrestricted in form of medium, and consists of realistic portraits in oils and coloured soil—faces he paints from memory, exploring his relation to his ancestral home.
While Moktan's works on the ground floor showcase his hyper-realistic vision, the first floor of the gallery also carries the theme of 'home', but to a polar opposite level. Maharjan's exhibit, 'In the Realms of Recollection', is grounded in nostalgia out of which she weaves patterns.
Maharjan creates art out of memory, scanning old family images, and transferring them on to fabric. She picks a set of black and white images, and embroiders on them, the variations of different stitches amplifying her own experiences of those memories.
"I learned hand embroidery from my grandmother. My father, who was working in Hong Kong then, often sent pictures via posts. Those photos and my grandmother's embroidery skills have always been close to my heart," says Maharjan.
Her work transforms the ceiling into an amalgamation of images and colourful stitches that instantly embrace the visitor in the warmth, associated with the idea of home. She was studying chartered accountancy and increasingly unsure about her career path, when a friend suggested applying to Kathmandu University.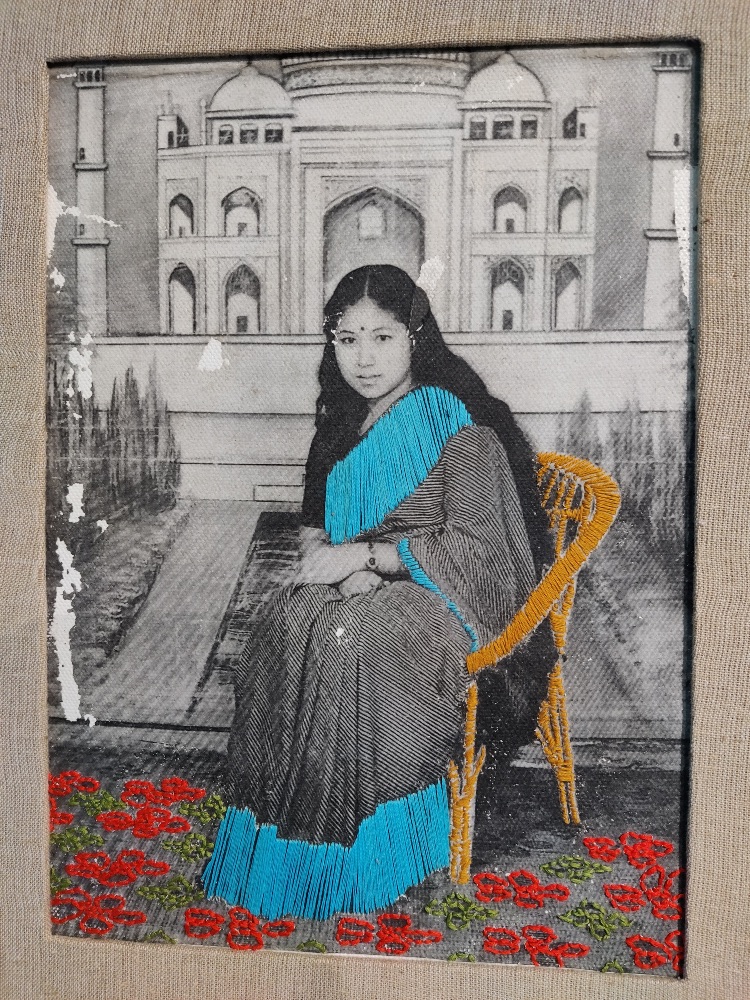 While the two exhibitions are juxtapositions in terms of projection, thematically, they converge in their sense of belonging. While Maharjan accumulates an abundance of family memories, Moktan pursues the idea of a distant home.
Himalayan Light Art Award tries to give space to emerging artists in Nepal with the potential to go big with an original personal style. Prithvi Shrestha, Lavakant Chaudhary, Man Gurung and Subhas Tamang are artists who have been recipients of the scholarship in the past.
The Foundation's Justin Zhao says, "Through this scholarship, we want the artists to hone their skills and help them organise exhibitions."
Sangeeta Thapa of Siddhartha Art Gallery wishes there were platforms like the Himalayan Lights Scholarships when she was an aspiring artist herself.
"As an art curator, my job is to see the potential in the artists and display their work. It is about promoting these budding artists and making them known to the viewers," Thapa told Nepali Times.
She adds that Maharjan and Moktan's works are representations of how the two artists worked through the lockdown and amidst the uncertainty of the pandemic.
Being sequestered at home for such a long period may have inspired them to create new versions of 'home'.
The Way Home is Away from Home and In the Realm of Recollections will be on exhibit at Siddhartha Art Gallery, Baber Mahal Revisited, till 15 February 2021.