Step by step for rural health care in Nepal
It is the aftermath of disasters that bring out the best among Nepalis. And so it was after the 2015 earthquake, volunteer groups sprang up spontaneously and organised relief through social media.
Among them was a loosely structured group of like-minded Nepalis who used their medical expertise to provide emergency help to areas destroyed by the earthquakes. But while many such volunteer groups faded away, the volunteers continued to expand their work — calling themselves Ek Ek Paila (one step at a time).
"After seeing the devastation in 2015, I thought it'd be best to use my expertise to provide medical help and do more rather than just provide relief," says Suman Thapa, an ophthalmologist who helped set up Ek Ek Paila.
Now, with the pandemic, Ek Ek Paila has been trying to bring health services to parts of Nepal which have rudimentary medical care even at the best of times. "After hearing about infected people having virtually no access to Covid-19 treatment in rural areas where we had previously held health camps, we created a Covid Health Package and took it to them," Thapa adds.
Rural Nepal fights back Covid-19, Masta KC
The package consists of medication, relevant information, and a direct hotline to volunteer doctors to answer any questions they might have about symptoms, tests and vaccines. The demand for the packages has now snowballed, with local governments in more districts approaching for help.
Ek Ek Paila raised Rs7 million for the distribution of the Covid Health Packages — all from local donations. In fact, that is what makes the non-profit different from most other charities in Nepal, it relies almost completely on donations from Nepalis.
"If foreigners and international organisations want to donate to Ek Ek Paila, we do not say no," Thapa explains. "But 99% of the funding for Ek Ek Paila comes from local donors."
The fact that Thapa is also an accomplished musician, and a lead guitarist in the band 'The Blue Fret' helps with fund-raising concerts. "I had always wanted to be a musician, and being a doctor was actually the next best thing for me," admits Thapa, grinning through his mask during a recent interview at Ek Ek Paila's new Community Health Centre in Kathmandu.
Ek Ek Paila had a humble start after the earthquake six years ago. Thapa contacted some friends and found fellow doctors who committed to spending one weekend a month for a year to provide medical care to survivors in remote villages badly hit by the earthquakes. In the first year alone, Ek Ek Paila organised 12 health camps in Sindhupalcok, Dolakha, and other districts.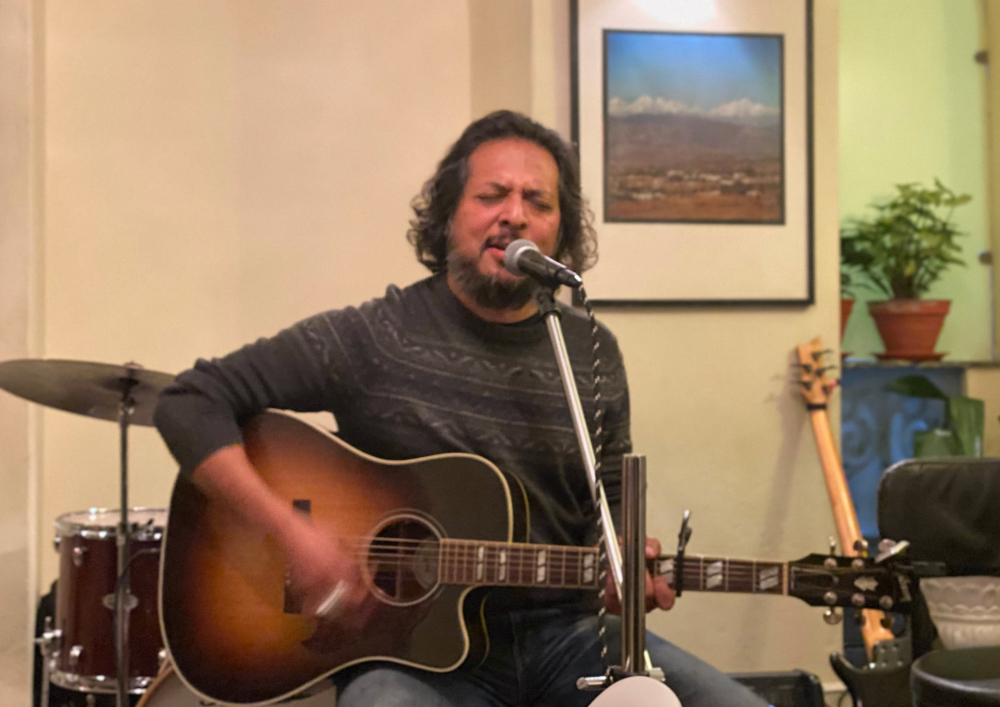 Nepal's mountainous terrain has posed a significant challenge in health care delivery, made worse by government neglect and poor governance, and exacerbated during crises like the earthquake and pandemic.
All medical professionals who volunteered at health camps paid for their own trips, equipment, and even for the medicine that they prescribed. But after the 12 health camps, the regular volunteers decided to officially register Ek Ek Paila, creating a Nepali-driven and funded organisation to expand its services.
Today, volunteer doctors and medical personnel also perform surgeries, including complex eye operations, in rural health camps and carry more equipment with them, increasing diagnostic accuracy. Ek Ek Paila's camps have become mobile primary health care centres.
This is how to upgrade Nepal's rural health, Sewa Bhattarai
"What has made our work easier despite the political paralysis in Kathmandu is that with federalism, local governments are empowered and collaborate in holding health camps," says Thapa, who has experience with rural health camps organised by Sanduk Ruit of the Tilganga Institute of Ophthalmology.
Local governments top up the donations from the Ek Ek Paila members themselves and other local funding to run the camps. They provide Ek Ek Paila teams of 30 or so people with accommodation and two meals a day. They also help organise the space in which the health program is conducted and help disseminate information.
Ek Ek Paila also collaborates with other non-profits like Sparsha Nepal and the ear-nose-throat surgery specialists, Impact Nepal.
Ek Ek Paila's new non-profit Community Health Centre in Thapathali provides affordable health care to those who cannot afford hospital fees. With the flow of patients increasing, and the challenge of making the centre sustainable a tier system for small consultation fees subsidises free treatment for those who cannot afford it.
The Community Health Centre was funded through private donations, including the building itself which belongs to one of the founding members. Overhead costs are low because medical personnel all volunteer their services.
Besides the vital service it provides, Ek Ek Paila has also led by example to foster volunteerism and philanthropy among Nepali individuals and companies.
Foreseeing the third wave, Ek Ek Paila is expanding its Covid Health Packages to reach more people in hard-to-reach places. The non-profit also is in talks to manage primary health centres in Jajarkot and Sindhupalchok districts.
Says Thapa: "Ek Ek Paila has brought Nepalis together from all walks of life, it has helped people in need of affordable health care and given donors and volunteers a sense of satisfaction for having contributed. As for me, this is the most fulfilling thing I have done in my life."
To donate to Ek Ek Paila: https://www.ekekpaila.org/page/5/donate