"Pokhara will be a game changer"
At a time when most airlines around the world are folding, and Nepal's own carriers struggle to stay airborne, Buddha Air has not just survived the crisis but is expanding. It is adding two more ATR-72 aircraft when others are selling or mothballing their planes.
This is driven by a spurt in domestic traffic when flights resumed last September. A combination of low fuel costs and a fear of travelling by bus convinced many to fly. Forced to tighten their belts, airlines have also reduced overheads so cheaper fares are possible for middle-class Nepalis. Trunk routes, including between Kathmandu and Pokhara are packed with domestic tourists. Nepalis are flying where they had not flown before, like on Mt Everest sightseeing flights which used to be mainly for international tourists. Innovative strategies like buy-one-get-one-free to use aisle seats have meant that the weekend mountain viewing flights are full.
Nepali Times spoke to Buddha Air founder Birendra Bahadur Basnet about the lessons of the pandemic and his future plans.
Nepali Times: How did Buddha Air tide over the Covid-19 crisis?
Birendra Bahadur Basnet: From our very inception 23 years ago, we were very focussed on prudent fiscal discipline that helped us ride out the pandemic and to survive the worst crisis in the 100 years of global aviation history.
During the pandemic, our overdraft hit the sky, we had maintenance and insurance costs despite the lack of revenue. We tried to manage cash flow the best we could, and put salaries in staff accounts. We encouraged team spirit, and collective ownership of the airline by all our 1,100 staff. This gave us the strength to survive and grow. Every crisis creates an opportunity, and we created our own opportunity. The last two months were the most difficult. We brought everyone down to a basic salary. We decided that everybody has to contribute for the survival of the company. But after the flights started on 21 September, we immediately went into recovery mode, and could start paying full salaries again, so we are now back in a normal situation.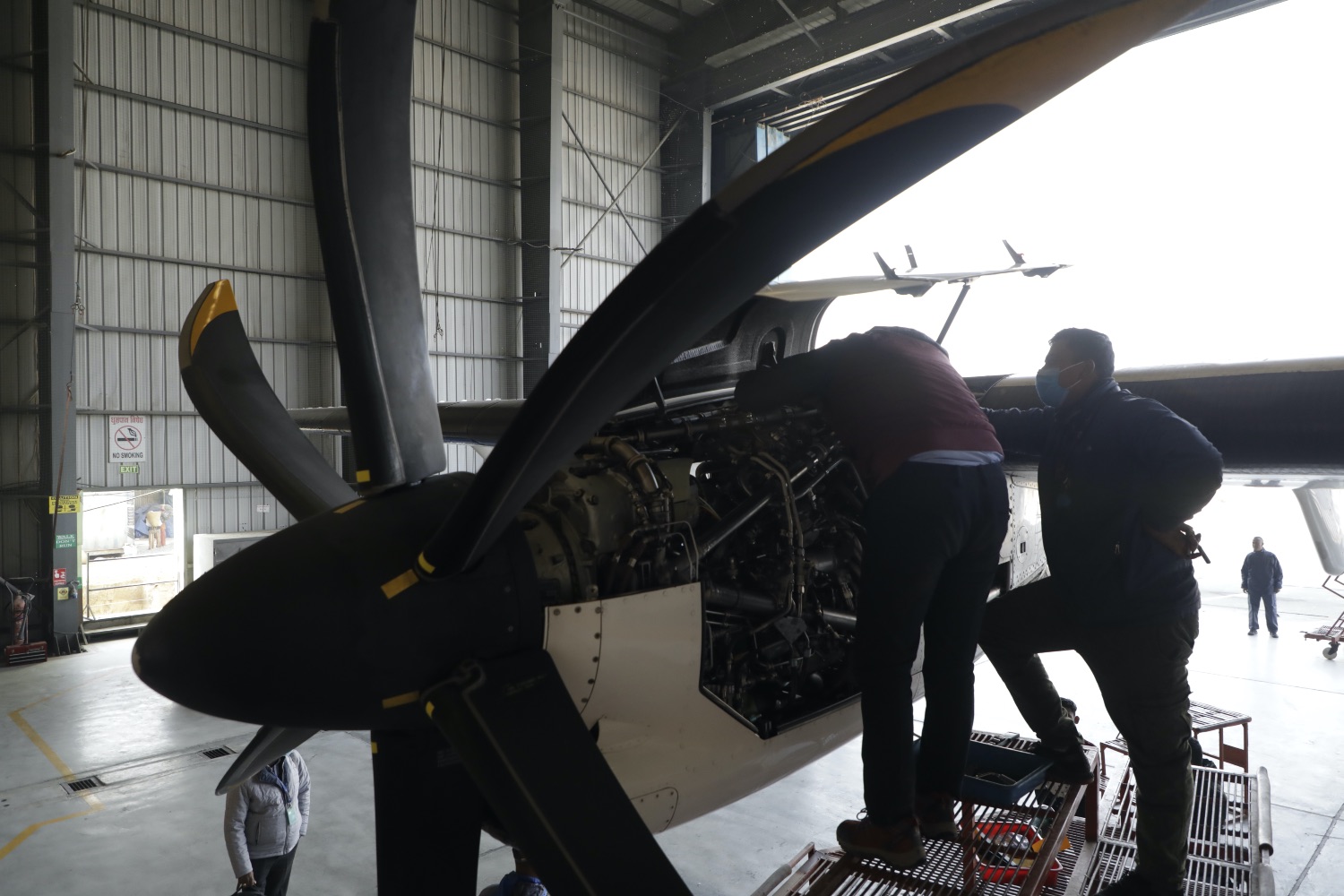 At a time when other airlines are shrinking or going belly-up, you have not just survived, but are expanding.
Yes, right now we are in a recovery mode, but you are right we just added one ATR-72 aircraft and one more end of July. This is because the Covid crisis has actually opened up a new business avenue for us — domestic passengers. What helped was the reduction in aviation fuel price and lower overheads, which allowed us to reduce fares. This in turn made it possible for a big jump in domestic passengers. In December 2020, we carried 20% more passengers than the previous December.
We knew that Nepali passengers would be our bread and butter. And we started planning for a Covid-19 prevention protocol three months before we started operations. We trained all our employees, implemented the procedures, we did a lot of drills, we were able to convince passengers that it will be 100% safe to fly Buddha Air. That was the strategy that allowed us to keep flying.
How badly were you hit by the loss of tourist traffic in 2020?
We used to carry about 900 tourists a day pre-Covid. We are now sustained by the Nepali flying public. Nepalis who used to travel by bus have shifted to aviation because fares are comparable. So when the tourists return, it will be a bonus.
What is your reasoning behind flying to remote areas within Nepal?
From September 22 we are starting operations to Lukla and Taplejung in eastern Nepal from a new hub in Manthali. For this we are acquiring two STOL (short takeoff and landing) aircraft, and we are currently comparing the Viking Twin Otter and Textron Sky Courier.
Why Manthali?
Manthali because congestion and visibility at Kathmandu airport forces planes to go into long holds to land and take off. Flights are longer, are delayed and are unreliable. From Manthali, it will be a very short haul to Lukla, only 17 minutes. One aircraft can perform 10 shuttles between Manthali-Lukla in one morning. Our plan is to provide transport to and from Manthali, get passengers to drive two-and-half hours to Manthali one day before, stay overnight in our lodge, and the package will be cheaper than the current fares for Lukla.
How about other sectors?
We will serve STOL airfields in western Nepal like Jumla, Rara, Simikot, Manang, and of course Jomsom, from our Pokhara hub starting September 2023. That will also be a game changer for rural aviation in Nepal. Many of these airports have been blacktopped, some like Simikot need runways extended, and we are talking to the Civil Aviation Authority to upgrade navaids. And once flights are reliable, passenger confidence will grow and it will open up a neglected part of the country to tourism and travel.
We think there is potential for Pokhara-Nepalganj post-pandemic as Indian tourists arrive. We are planning to evolve the Lucknow-Nepalganj-Pokhara package for Indian tourists through Buddha Holidays, our 100% subsidiary.
Why did you shelve your international expansion plans?
Once you are making a profit and consolidated, you have to expand, that is the golden rule of business. You don't expand when you are making a loss, which a lot of business entities have learnt the hard way. So, before the pandemic we were thinking of international operations and did a lot of homework, we did a technical evaluation of Boeing 737, Airbus 320, Embraer 190. But international flights do not just depend on good internal management, there are external factors. We would actually make a loss if we went international at this juncture. We are always ready to fly international from Pokhara's new airport, we have the capacity, we have the license, but the government has to help remove all the constraints.
What are the prospects of a revival of international tourism?
I am not very optimistic about 2021, but 2022 will be a good year. If the Nepal Indian border opens, we will see an inundation of Indian tourists by road and air. Not sure about Chinese tourists because that is determined by their government. Once the vaccine is available, there will also be a return of international tourists. That will be momentous in 2022, and we have to prepare ourselves for that scenario.
What should the Nepal Tourism Board be doing?
We can have another interview on that. They need a lot of things that they have not done because of political instability and leaders focussed on other issues rather than development. They need to start marketing in an unconventional way. Nepal should be able to convince global tourists that flying is safe within Nepal; Nepalis have been flying without being infected because the protocols have been established. We can create that confidence in the international tourism mindset. People have been locked down for so long; they want to get out — especially to be in nature, in a pristine environment, open spaces. That should be Nepal's selling point to revive tourism.