Kathmandu under semi-lockdown
Sitting in a pati resthouse at Kathmandu Darbar Square, 56-year-old Dev Hari Ghimire reads a newspaper clad in a surgical mask and gloves.
Ghimire is dutifully respecting the government's order to keep himself protected from the coronavirus. After closing his garment store in Bhotahity on Saturday, Ghimire says, "We cannot defy the government as a big disaster is coming our way, all we can do now is do as we are told to."
Prime Minister KP Oli's address on the global pandemic on Friday warned Nepalis to not hold large gatherings and to restrict all non-essential movement. An estimated 1.5 million people have left Kathmandu for their home districts, leaving the streets in the city deserted.
Read also: When panic goes viral, Editorial
Kathmandu's tourist quarter, Thamel, is running empty with shops closed and only a few masked tourists waiting to return to their home countries. All international flights have been cancelled from midnight Monday, although Etihad and Qatar Airways are flying ferry flights to evacuate stranded passengers till Wednesday.
Nirmal Malla, 20, who works at the popular lassi shop Indra Chowk Lassi Bhandar says, "I am not fearful about corona but given the thinning crowd we will shut down from Monday."
Drinking lassi at the same store, is a couple in their 70s, Dinesh and Kamala Bista who had come to New Road to buy some medicine for diabetes. But pharmacies refused to sell them the medicine because there has been a shortage.
"But running a little errand won't do any harm I am sure, we are already old, we are always on self-quarantine," jokes Dinesh Bista.
Read also: Fear goes viral, Nepali Times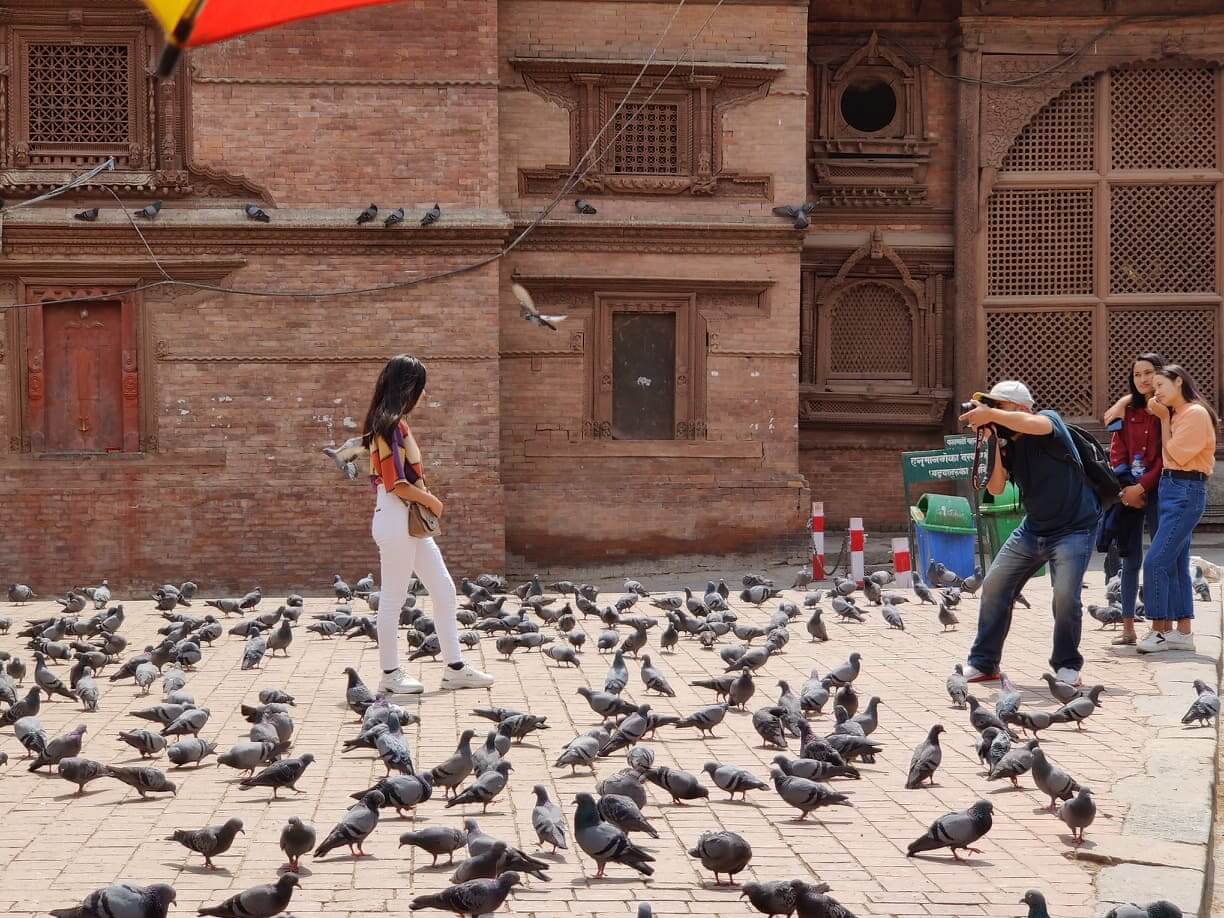 At the popular Chinese restaurant Man Tang Hong in Jyatha, Thamel, Mon Gao looked devastated. His restaurant, which saw people waiting in line for the restaurant's popular Chinese delicacies, has suffered ever since the outbreak in Wuhan in January.
"It has been over a month and there have been hardly any customers," Gao says.
As the city comes to a standstill, 25-year-old Rickshaw driver Jeevan Sijali is despondent. "Corona le ta garnu garyo (Corona has ruined everything)," he says.
Read also: Nepal's economy, already weak, takes direct hit, Sanghamitra Subba
Sijali is from Ramecchap and been a Rickshaw driver for over 13 years now and in all these years, it's the first time since he has had no riders for almost a week. "I have my parents and children waiting for me back home and here, I cannot even afford to pay my rent and feed myself two meals a day anymore," Sijali says.
However, Sijali doesn't fear coronavirus. He trusts that the government will be able to handle the situation and come up with a solution.
Shyam Regmi, 49, sits next to his wife Gita in the shade at the Darbar Square. He says, "We hear there is no cure for the virus, so despite all the prevention nothing is going to work. What will be will be."
Read also: Nepal army's quarantine zone, Nepali Times
Read also:
Nepal postpones international events as fear of COVID-19 intensifies, Mahesh Shrestha
What is novel about the novel coronavirus?, Buddha Basnyat