Nepal's new generation of alternative artists
Bikalpa Art Centre (BAC) in Pulchok is an interdisciplinary space onto itself. A cosy complex cloistered by low-hanging trees, it has a cafe, workstations, a music stage and a rectangular gallery where the latest pop-up exhibition Monsoon Hymn is underway.
Bikalpa means 'alternative' in Nepali, and the gallery features works by artists Aashma Dangol, Sundar Lama, Aditi Sherpa, Anamika Gautam, Devina Joshi, Katyani Rai and Priyanka Singh Maharjan. The exhibition explores the essence of growing up and youth culture in Nepal, alongside documenting their multifaceted inner lives and their surroundings, through photographs, paintings and poetry.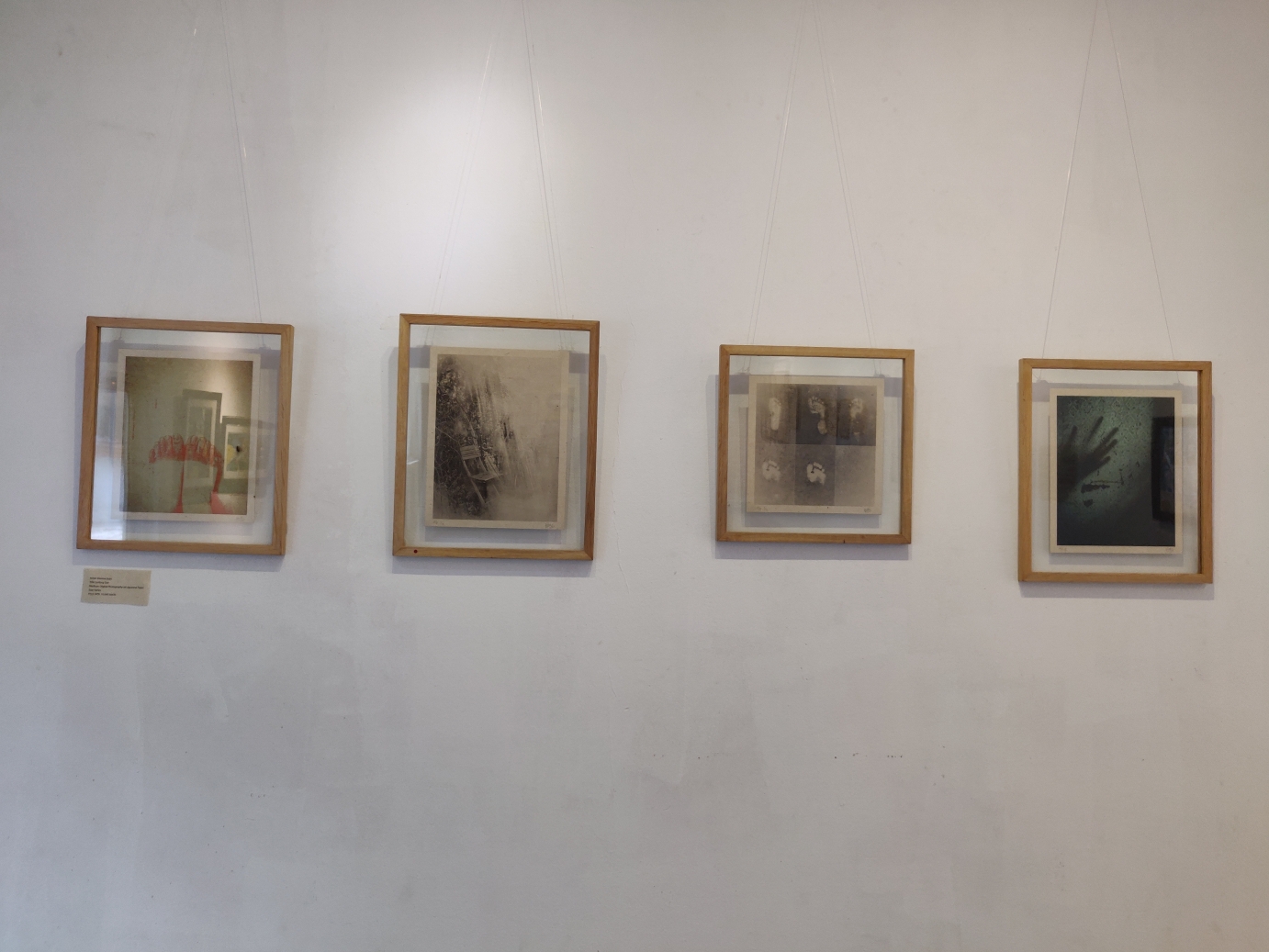 Among the striking works is 'Letting Out', a photographic journey by Devina Joshi through a period of mental exhaustion, looking to find spiritual, emotional and creative outlet for her thoughts and feelings.
The picture of feet decorated with ala (red pigment) turns the lens towards the inner child emulating the Kumari. The divine feminine resides in every girl, believes Joshi, and the picture represents a search for the goddess within.
Next to it is a photograph of a chair – washed-up, almost, in sepia tones, exuding a profound sense of loneliness and immobility. Pictures speak a thousand words – and this is the case with the other artworks on display as well – and here, the four-legged furniture waits: for company, perhaps, or for meaning. The edges look frayed and fading, and there is also a sense of time trickling away.
But even then, the outward motion of expressing or releasing reflects back to one's interior. Joshi relates life and time in her photographs, and ultimately finds a connection to herself. This act of healing is immediately relatable to the viewer, whether in the solitary chair or in fading footsteps.
Healing is indeed a large part of the monsoon, as rains can symbolise the washing down of one's sorrows and plights. And the many artworks in the exhibition have that quality about them, even when what they represent or depict appear at the outset intimidating and violent.
For example: Katyani Rai's 'The Waves', 'Hymn of Death' and 'Insomnia', that form a sequence of varied media where dreams and dismay peek with engaging looks from across the frames. Finding inspiration in her insomnia, Rai experiments with printmaking, charcoal and pain to tell cohesive stories of war-torn realities in deep red, beaked angels of death in black and white, and anxious feet soothed by silvery moths.
Elsewhere Aashma Dangol's triptych 'Coming of Age' depicts the creation of self and body autonomy through the classic American bacon and eggs breakfast, each frame zooming into the image of vulnerability that comes with breaking open one's shell and turning to face the world.
Next to it sits the 'Sir Frog', its wide eyes and smile – slightly flirtatious and immensely comforting – drawn in the style of portraits of important people. Perhaps this painting is the most obvious connection to monsoon, reminding one of the integral roles the amphibian plays in an agrarian ecosystem such as Nepal's.
This is the nature of a pop-up exhibition, explains curator Saroj Mahato: "There is no overarching theme: it's just artists expressing themselves and being promoted."
And this is true of Monsoon Hymns, which was quickly brought together in collaboration with the artists and BAC. The title reflects the in-between season– a period for planting and growth – and the symbolism of new, rising artists showcasing their works here could not be more apt.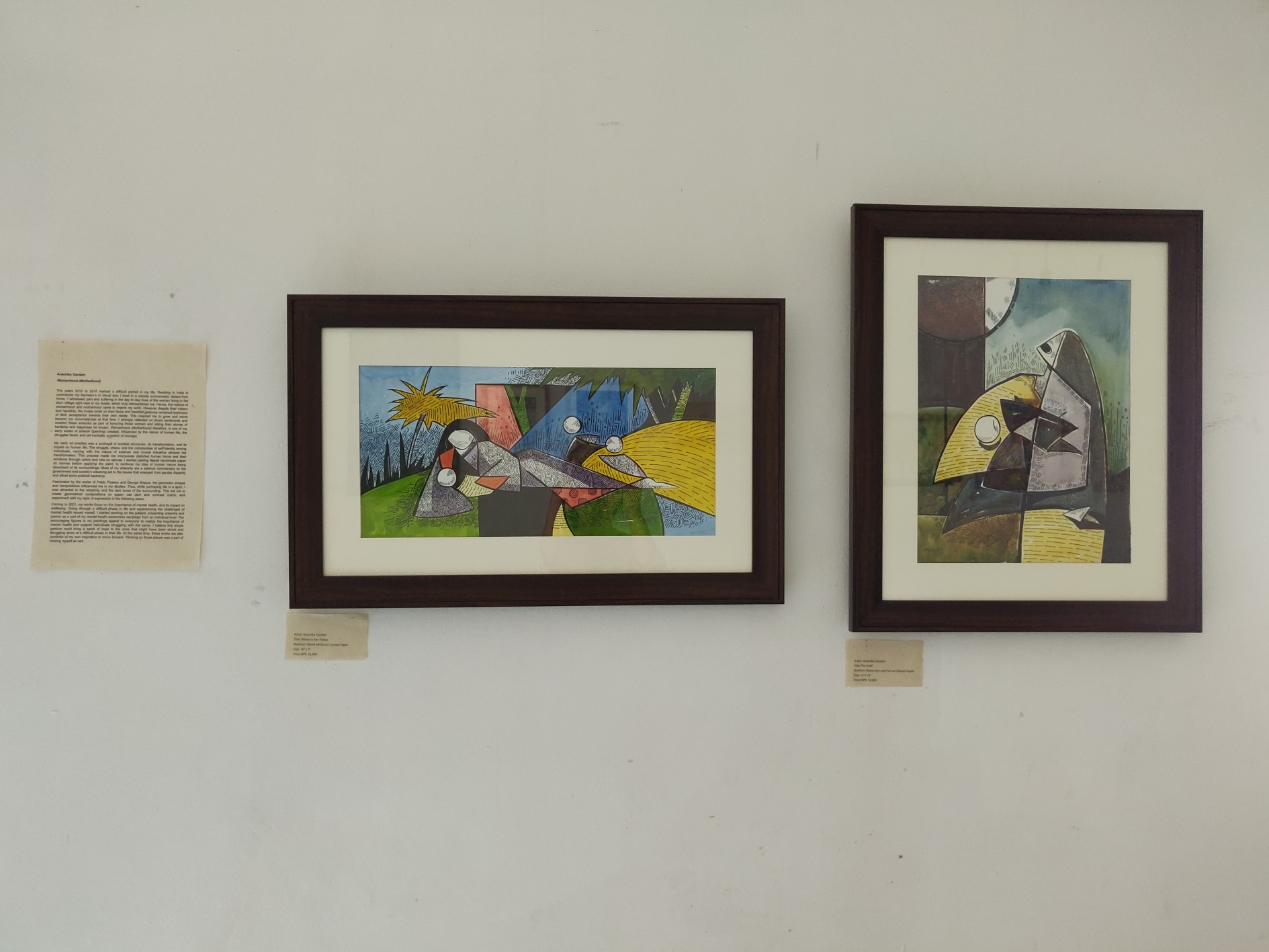 And the absence of a rigid theme has allowed an assortment of artists with diverse stories to take their place in the ever-expanding Nepali contemporary art scene.
For instance, Anamika Gautam's cubist 'Winter in her Palace' and 'The Grief' are captivating medleys of geometric shapes. Here, she depicts the socio-political assessment of gender and mental health in deceptively simple execution with vibrant colours.
Priyanka Singh Maharjan's 'Home in a City' is also an example of simple and vibrant series, but here the subjects are entirely different. Evenly spaced thin lines fall from the top of the canvas to the bottom, and in those lines shapes begin to take form, women talking, telling stories, working, participating. In pen and ink, she weaves the tapestries of society, placing women front and centre and depicting the side of our culture and community so often overlooked by the prominent male gaze.
Sundar Lama's sequence of three – 'Lungs' – are selectively coloured and paired with poems in Nepali that look at the Covid pandemic and healthcare. Ribs suspended mid-air feature in the three frames, as symbols of protection or prisons, together with clouds, floating hands, and a quiet child caught between the past, the future and salvation.
Aditi Sherpa's colourful paintings are equally abstract in their narratives. Eyes stare out right into the viewer's souls. The cacophony of shapes ask "What are you?" in large bold Devnagari letters. A yellow lemon with windows floats between a banana, omelette, lizard, face and a confused clock. As the artist grows from one canvas to the next, these are anxious pieces that look for answers in our environment and imaginations.
Says Namami Rana, assistant art manager at BAC: "This is a vulnerable exhibit. The artists have explored topics such as mental health, social conformity, stigma, the fear of Covid. It is very exciting to see the positive response from the audience as well which has bene encouraging to the artists."
In fact, some of the artists are showing their works for the first time at Monsoon Hymns, and Mahato's curation is impeccable, giving each their own space, their own corner to shine, without saturating in the mix.
Most artworks are for sale, especially as the promotion of the artists and finding a space for them to explore and be discovered are central to the exhibition, and the prices range between Rs10,000-40,000
Monsoon Hymns
Curated by Saroj Mahato
Bikalpa Art Centre, Pulchok
Till 15 July 2022.