Terror attack leaves tragedy in its wake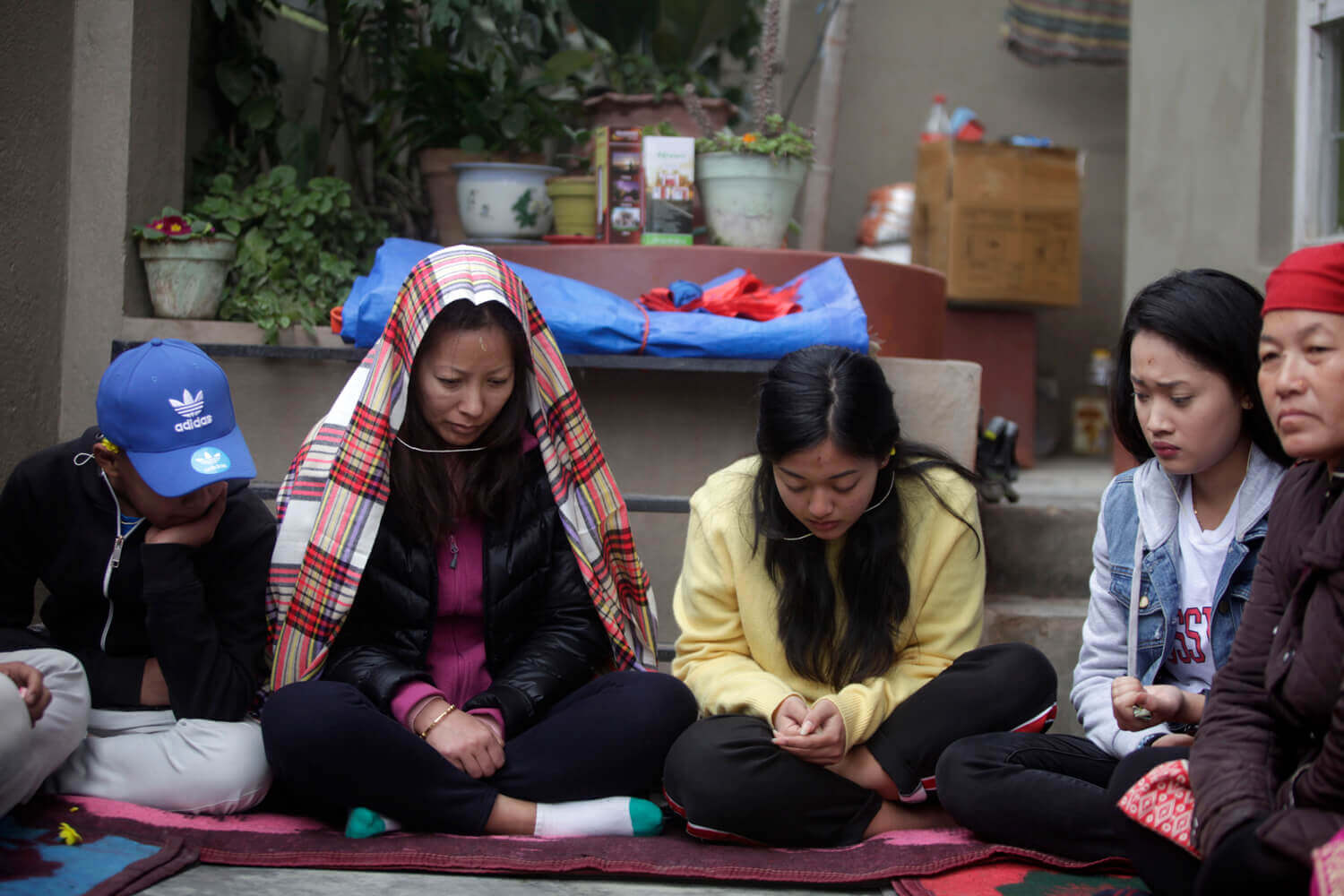 The grim weather on Wednesday morning reflected the sombre mood at the Gurung residence in Kusunti where relatives gathered to mourn the death on 22 February of Sing Prasad Gurung in a terrorist bomb.
Women were dressed in dark jackets and men with shaven heads offered prayers and sobbed silently to perform ashyaun, a Gurung mourning ritual carried out by the maternal side and in-laws of the deceased.
It was a memorial for Sing Prasad Gurung, 49, a retired Singapore Police Force officer who was killed in the explosion outside the Ncell head office in Nakkhu. Taking responsibility for the deadly blast that also injured three others was the Maoist faction headed by Netra Bikram Chanda (Biplav) who broke away from the mainstream Maoist party that is now part of the ruling Nepal Communist Party.
Read also: It's crime not to call it terrorism, Kunda Dixit
Eye witnesses saw Gurung park his vehicle and approach the suspicious object at the Ncell gate when it exploded. CCTV footage reportedly show the Ncell security guard kicking the object away after it was left on the sidewalk by two men in a motorcycle. The security guard is said to have told police he kicked it because he thought it was a hoax.
Gurung, who was nearest to the explosion, and few other pedestrians were thrown up in the air by the force of the blast. His legs and hip were shattered, and later died at nearby MediCiti Hospital.
"He was the friendliest person I knew. He was frank, straightforward and had an open heart," remembered Ram Prasad Gurung, Sing Prasad's closest friend and colleague at the Singapore Police Force.
Read also: Stop the extortion, From the Nepali Press
Originally from Gilung village of Lamjung district, Sing Prasad Gurung spent 27 years in Singapore Police before retiring five years ago as Senior Station Inspector, and relocating to Kathmandu.
He is survived by his wife Sushila Gurung, 40, and three children: 20-year-old Sweta who is an undergrad in Sydney, 17-year-old Shina who is an A-levels student at GEMS, and 12-year-old son Ankush who studies at DAV school.
Sushila Gurung looked as if she was in a trance during the ritual, broke into deep sobs, and had fainting spells during the ceremony next to a framed portrait of her husband in uniform.
The Gurungs come from a military family, but the relatives looked shell-shocked with the tragic loss. The last few days have been traumatic, and they have not been able to focus on the future. The family had a modest source of income from Sing Prasad's pension, but now there is uncertainty.
Read also: "Yes, we put that bomb", From the Nepali Press
More distant relatives and friends who came from Pokhara after they heard the news say it was just like Sing Bahadur to try to help out in a time of crisis, and with his military training thought he could deal with the suspected explosive device.
However, they say neither the police nor Ncell have been forthcoming with more information about what really happened that Friday night even though both are in possession of CCTV footage.
"We want to know what exactly transpired. My friend died for no reason, he was innocent," said Ram Prasad Gurung. "We demand he be declared a martyr by the state and if the incident was politically motivated Ncell and government should compensate the family for their part in his death."
As the ceremony winded down, relatives gathered in the living room to pay final respects to Sing Prasad Gurung, offering fruits, sacred thread, incense, and flowers. Some burst into tears and they all consoled each other.
One of the mourners said as she wept on the shoulder of a relative: "I had been meaning to visit him for some time, but now I will never be able to."
Read also: Extortion in a federal state, From the Nepali Press