Some honest heads roll in Nepal reshuffle
When it finally happened Wednesday night the much awaited ministerial reshuffle was a mere shuffle. Prime Minister KP Oli presided over a game of musical chairs in which many ministers kept their old seats, others swapped them and some lost their chairs only to be replaced by newbies.
The reshuffle, as well as the mass resignation of a dozen prime ministerial advisers last week, appeared to be more of a decoy than a genuine attempt to assuage public perception of the NCP government's non-performance over the last two years. The real intention was to balance internal party rifts and ensure that the prime minister has trusted comrades in charge during his expected prolonged absence for kidney treatment abroad.
After prolonged negotiations, the two alpha-males of Nepali politics, Oli and NCP Co-chair Pushpa Kamal Dahal decided on Wednesday to alter their terms of reference. Dahal will now be caretaker chair of the NCP, and has agreed to let Oli serve his full term. He obviously knows that the prime minister is in poor health.
Three of the PM's most powerful advisers had earlier returned to their previous positions, and ministers with the most important portfolios were retained in the reshuffle. The ministers of home and foreign affairs, finance and defence have kept their jobs, while the health and law ministers have swapped portfolios for reasons unknown.
More intriguingly, two popular ministers with relatively better reputations for integrity have been sacked: Lal Babu Pandit has been removed as Minister of Federal Affairs, and Labour Minister Gokarna Bista has got the sack. Pandit was replaced by NC-turned-TMDP Hridayesh Tripathi and Bista's job went to Rameswar Rai from the former Maoist quota.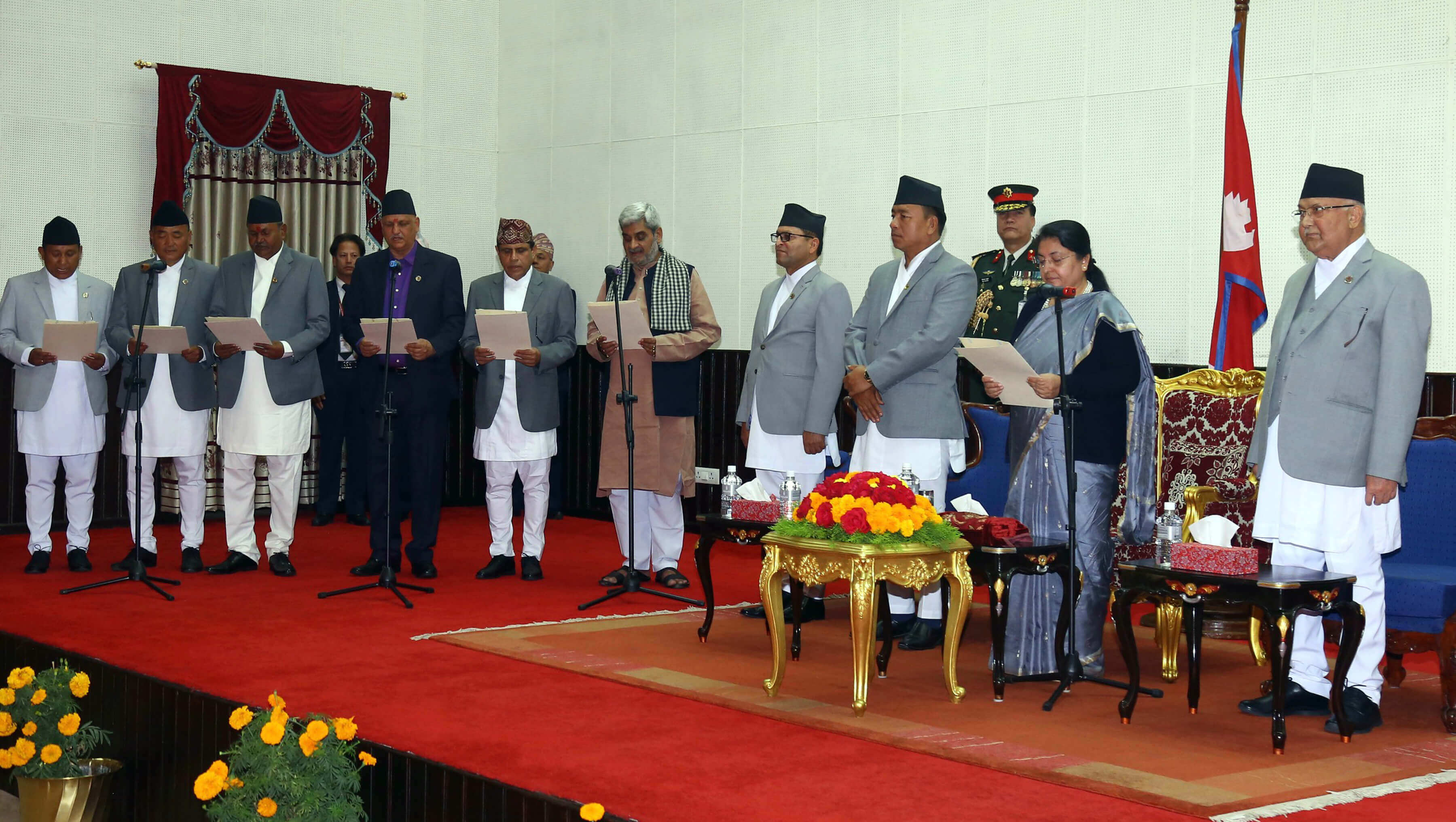 Two of the ministers who were let go were women, and there are no females among the new inductees. This has halved the number of women in the cabinet, even though the Prime Minister appears to have tried to maintain the quotas of Janjati and Madhesi ministers in the cabinet.
Some ministers whose integrity and performance have been questioned were removed, like powerful Physical Infrastructure Minister Raghubir Mahaseth, but eyebrows have been raised about the sacking of others, particularly Bista.
Bista was credited with dismantling the mafia that was fleecing Nepali workers seeking to go overseas, and was trying to safeguard worker security. Within months of being appointed labour minister two years ago, Bista shut Malaysian companies and their Nepal-based affiliates profiting from mandatory biometrics, visa fees and medical certificates of Nepali workers going to Malaysia.
The companies were making Rs1.35 billion from the estimated 100,000 Nepali workers who went to Malaysia every year. Police arrested 44 individuals involved, but they were either released on bail or cleared by the Supreme Court. None of the former labour ministers, MPs and party leaders involved was ever investigated, and it was Gokarna Bista himself who lost his job.
Ironically, the very day that Bista was sacked in Kathmandu, in Kuala Lumpur a high court was conducting a trial of Malaysia's former interior minister Ahmad Zahid Hamidi for involvement in the migrant visa scam. Hamidi had been arrested by Malaysia's Anti-Corruption Commission in June for his involvement in scamming migrant workers. He faces 27 charges of money laundering, 10 for cheating and 8 for bribery.
Hamidi was arrested on 24 June 2018 soon after a crossborder investigation by this newspaper, Himal Khabarpatrika and Malaysiakini exposed corrupt Nepali and Malaysian officials and private companies overcharging more than Rs5 billion ($450 million) from over 600,000 Nepali workers between September 2013 and April 2018.
Hamidi was charged with taking 42 million Malaysian Ringgit (more than $10 million) as a bribe for letting Malaysian company Ultra Kirana become a One Stop Centre for visa processing and labour migration. If these allegations are proven, Hamidi could face a jail sentence of up to 20 years.
The charge sheet by the Anti-Corruption Commission accused Hamidi of receiving three cheques worth 2 million Ringgit from Profound Radiance SDN BHD in payoffs. This is the company that was involved, through VLN Nepal, in collecting the passports of Nepali workers and processing their visas from the Malaysian Embassy in Kathmandu, charging Rs2,800 each, and taking a cut. VLN Nepal's Ram Shrestha was prosecuted by Bista's Labour Ministry in Kathmandu for his involvement.
Shrestha is believed to have lobbied with powerful politicians, including in the PMO. Another accused, Kailash Khadka, who had absconded after being accused of over-charging workers for their biometrics, was protected by the Nepali Congress. GSC Nepal's Govinda Thapaliya, who was organising immigration security clearance, also went into hiding. Police cited pressure from the Home Ministry for not arresting Khadka and Thapaliya, even though their whereabouts were known.
Despite political pressure, Bista then stopped all Nepali contract workers from going to Malaysia until the over-charging was curbed. Among the politicians publicly denouncing Bista were the RPP's Kamal Thapa and his own party comrade Naryankaji Shrestha. NCP Co-chair Pushpa Kamal Dahal also complained to Prime Minister Oli about Bista. Sources say Bista was removed this week under heavy pressure from labour recruitment companies, who would have lost their income if Bista's zero-fee deal was implemented.
In October 2018, Bista and visiting Malaysian Minister for Human Resources M Kulasegaran signed an agreement on labour supply that would have meant Nepali workers would not have to pay any fees, with Malaysian employer companies picking up the tab, including airfare, visa fee and medical check-up. Companies would also be responsible for transporting workers to their destination within six hours of landing in Kuala Lumpur.
As Labour Minister, Bista was working to establish offices in all seven provinces for labour permit renewals. In September he sent a team from his ministry to Malaysia to sign an agreement rewriting the rules on work contracts for Nepali workers so they would not be cheated, medical tests would be streamlined, and half the recruitment fees would be paid by Malaysian employers.
Nepali Times asked Bista in September if he was feeling any political pressure to roll back his reforms. His diplomatic answer: "We had to work hard to iron out the details. There was a lot of money going to the pockets of middlemen in both countries for levees, visa fees and medical tests."
Nepali workers were finally getting ready to resume going to Malaysia on work contracts when Bista was sacked. He was also trying to renegotiate labour deals with Gulf countries patterned after the Malaysia agreement. The future of the zero-fee recruitment is now in doubt, and there is fear that Nepali workers will be back to square one and vulnerable to cheating and exploitation again.