Covid's collateral damage
One year after Nepal went into a Covid-19 nationwide lockdown, there has been enormous economic fallout. While most reports have focussed on the impact on Nepal's GDP growth rate, companies that have gone bankrupt and Nepal's macro-economy, largely forgotten are stories of individual hardship.
Despite the breakthrough vaccine development in the past year, the pandemic continues to impact millions of Nepalis. Those with means changed their professions, others are surviving on loans. But the pandemic-induced economic fallout means half of Nepali households are at risk of falling back into poverty.
This week, the Himalmedia video magazine Saglo Samaj interviewed farmers, tourist guides, hotel operators and taxi drivers most affected by the crisis.
No country for farmers
Buffalo milk is the only source of income for farmers in Kamdi village of Banke. But for six months during the pandemic, they could not sell their milk, and even now do not get a fair price.
Farmers take the rest of their milk to the Dairy Development Corporation's collection point, but payment is slow. Local dairies also buy some to make dairy products but with the tourism sector which consumes most of these products down, milk sales have been all-time low.
"We sell some milk but the price is not good. Some days you get money, other times you don't. We live in misery," says dairy farmer Ramnaresh Yadav.
Tulsiram Yadav has 13 buffaloes and used to sell 20 litres of milk a day. "This is what us illiterate people do, raise buffaloes, sell milk, there is no other occupation," he says. "Milk did not sell well this winter, sometimes even the dairy doesn't buy, and we have no income."
Guiding life
Uttara Manandhar has been a tourist guide, but lost her job after tourists stopped coming last year.
"I know of many guides who changed their profession due to the crisis. I got into teaching myself. But we still have an attachment to the tourism sector and find it hard to adapt to other fields," she says.
She says she will get back to being a guide once tourists return. "In the past year I have been reading and writing a lot. I'm ready for tourists to come back so that I can share my knowledge with them," Manandhar adds.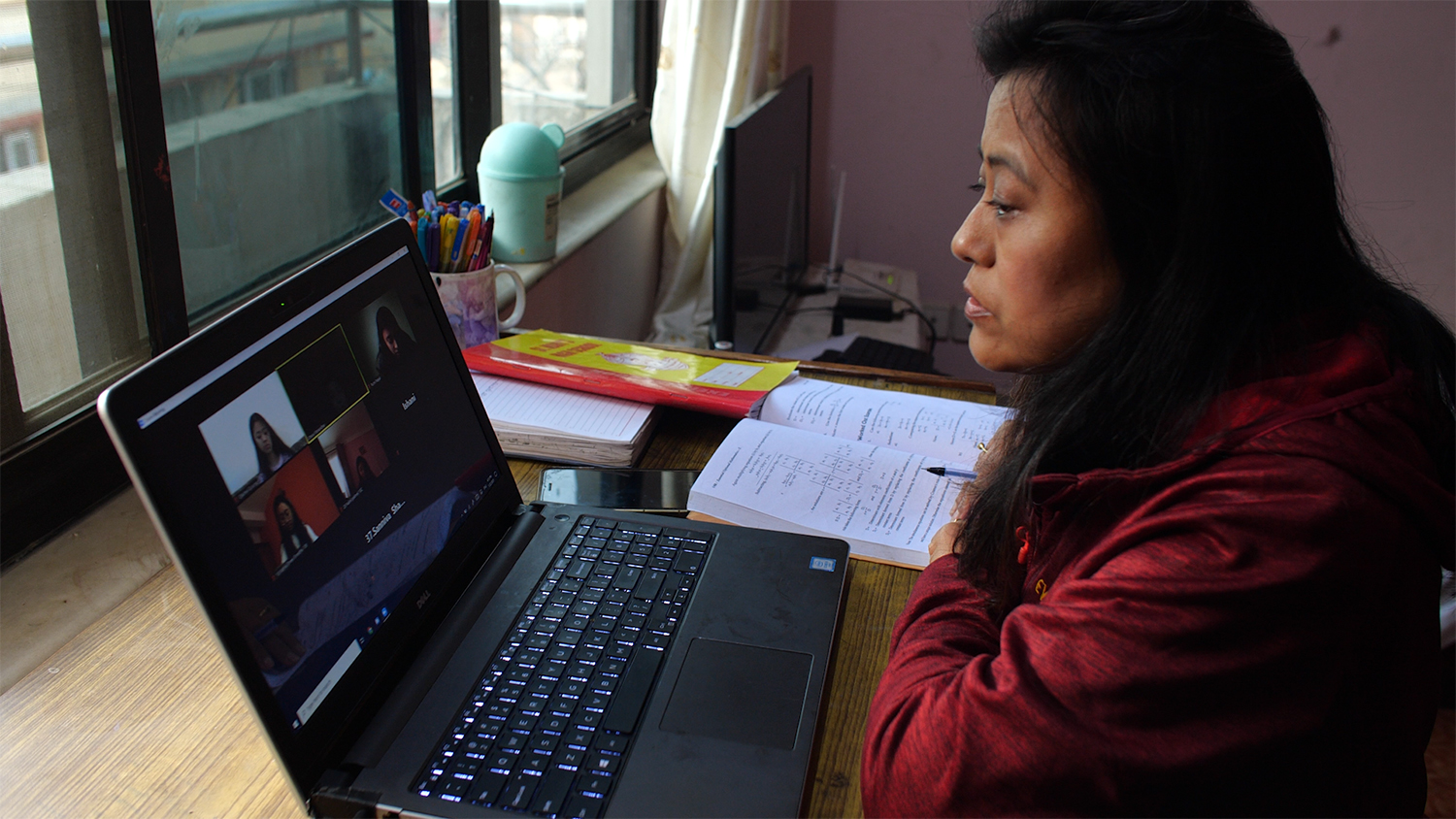 Shankar Bhattarai had been a tourist guide for 11 years, and also turned to teaching after the tourism sector collapsed.
"Even if I am in a classroom, I dream of travelling to the mountains," says Bhattarai. "The hardest part is to adjust to a new job."
He says tourist guides could have been integrated into the Department of Archaeology to help in excavation work, adding: "We are ready to transfer our knowledge. Don't leave us in this limbo."
End of hospitality
The lockdown devastated the tourism industry, with least 1 million people losing their jobs. Luxury hotels in Kathmandu and Pokhara laid off hundreds of workers.
"We aren't asking the hotels for 100% salary. We just want simple meals and enough money to pay school fees of our children," says Kamal Ghimire of the Nepal Independent Hotel, Casino and Restaurant Workers' Union.
The Airport Hotel in Kathmandu is a 3-star property with 62 rooms. Because of its location outside the gate of the airport, it used to consistently have 70% occupancy. The past year was a washout, and now barely 7% of the rooms are occupied.
"The hotel used to be very crowded and even with our 100 staff, we used to hire additional workers to manage all the parties, seminars and conferences," says owner Binayak Shah. "Today, we are working with about 10 employees and yet we are finding it difficult to pay wages or the electricity bill."
He says the pandemic has been worse than the Maoist insurgency, adding: "It is much more profitable to run a school or a hospital."
No alternative to migration
Ganesh Tamang worked abroad for six months and with his Rs500,000 savings bought a taxi. Unable to keep up with loan repayment, the bank took possession of the vehicle.
"I still get up at five in the morning but instead of driving, I go to feed and milk my buffaloes," says Tamang, who is now raising livestock and poultry to make a living.
Sagar Bohora also used to ply a taxi in Kathmandu for 16 hours a day, preferring to work in Nepal rather than toil in a foreign land. But with income nearly zero for the past year, he struggles to pay the medical bills of his elderly mother and his children's education.
"My heart is against it, but I have no alternative but to go abroad," he says. "I can't sleep at night thinking about my piling debts."
Based on Episode 10 of Saglo Samaj, a tv magazine program produced by Himalmedia which is broadcast every Monday at 8:30 pm on Dish Home Channel 130.