Jabs and jab-nots
The first lot of 1 million Covishield vaccines donated by the Indian government to Nepal as part of its good-neighbourly 'Vaccine Maitri' campaign arrived in Kathmandu on Thursday.
The challenge now is to get the jabs to high risk groups in remote areas, as well as injecting two doses to the arms of an estimated 18 million Nepalis older than 15 during the year.
Nepal will ultimately need 36 million vials of various vaccines during 2021. Fortunately, the country has a good record in maintaining the cold chain for child immunisation programs, and it is also got a stellar reputation for multiple-dose treatment like DOTS for tuberculosis.
However, there are still so many uncertainties about the duration of vaccine immunity and transmissibility that Nepalis will have to continue to mask up, keep distance and frequently wash hands even as the inoculation campaign picks up momentum.
The vaccines that arrived on 21 January are the Oxford-Astra Zeneca (Covishield) manufactured by Serum Institute of India and part of India's consignments to Bhutan and the Maldives earlier this week. At a time when most rich countries are only focused on their own citizens, India's gesture is generous. For New Delhi, this is also a public relations exercise to bolster Prime Minister Narendra Modi's 'Neighbourhood First' policy.
"This is a gift from the government and people of India to the people of Nepal who are getting the vaccines just one week after India started vaccinating its own citizens," Indian Ambassador to Nepal Vinay Mohan Kwatra told a press meet on Wednesday. "This is a symbol of the close ties between India and Nepal and the importance with which India views Nepal."
The vaccine cooperation was discussed between Foreign Minister Pradeep Gyawali and his Indian counterpart S Jaishankar last week, and soon after that Nepal's Department of Drug Administration granted permission for emergency use of Covishield in the country. Although the daily fatality rate is coming down in Nepal, and there are only 4,000 active cases, the total number of deaths is nearing 2,000.
Covishield is made with the help of an adenovirus, itself one of the common cold viruses. The outer membrane of SARS-CoV-2 is studded with spikes as commonly pictured, and Covishield embeds this spike protein in the adenovirus which is then injected into humans. This triggers the body's immune system to produce antibodies against Covid-19 infection.
Because Covishield is associated with DNA for viral instruction storage and not RNA (which is more fragile) it only needs 3-6oC storage temperature, and not the -70oC that vaccines made by Moderna and Pfizer require. Those two vaccines that are being administered now in Europe and North America are expensive, and would have been a logistical nightmare for Nepal.
However, because of the gap between the supply of vaccines and demand, and given the history of corruption in the procurement of Covid-19 test kits and equipment in Nepal last year, there is danger of the vaccines getting into the black market, or going to rich and powerful individuals and not frontline workers.
Health Minister Hridayesh Tripathi said on Wednesday that the first 500,000 doses of Covishield would start with health workers, and then to the elderly, both getting the second dose after three weeks. More vaccines will then have to be purchased to inoculate the target of 6 million people in the first phase of the campaign.
The efficacy of the Oxford-Astra Zeneca vaccine ranges from 62% to 90% depending on the dose, and there have not been any major reports of side-effects. However, India's Covaxin made by the state-owned Bharat Biotech is an inactivated virus made in the traditional way which is in Phase 3 trails. But no data is available yet to show the efficacy or side effects of this vaccine.
The Chinese candidate vaccines Sinopharm and Sinovac are said to have efficacy rates of 79 % and 50 % respectively. The Chinese have an impressive track record of making vaccines, and to combat infectious diseases. But until data is clearly presented, it may be prudent for Nepal not to obtain Covaxin, Sinopharm and Sinovac.
The World Health Organization's COVAX program in April promised that Nepal would get enough vaccines to inoculate 3% of the population, and provide a further 20% of Nepalis with free shots. But there are doubts about when these vaccines will be available because of high global demand from other developing countries.
The Ministry of Health has reportedly drawn up a list of those who will get vaccines first, and has also laid out the logistics so that the 1 million vials that arrived on Thursday will be dispatched to all districts with inoculations starting next week.
It would have been a masterstroke if Nepal had used 'vaccine diplomacy' right at the outset by taking part in the initial vaccine trials conducted by universities and other countries. We would then have a stronger claim to vaccines, since the country does not have the financial heft to procure them. This has put Nepal at the mercy of vaccine producing countries for now.
China did such a commendable job in controlling Covid-19 that it was not able to conduct proper vaccine trials in their own country. So they did it in countries like Brazil and Bahrain. If Nepal had agreed to trials, with China, India or the Oxford researchers at the very outset of this pandemic, we would have been ahead in the queue.
The oft-used argument that other countries are using us as 'guinea pigs' for Covid-19 vaccine studies would not be valid because Covid-19 is a universal problem. But it is too late for that now. The challenge ahead for Nepal is to acquire enough vaccines, administer both doses promptly, efficiently and equitably, and set about reviving the economy.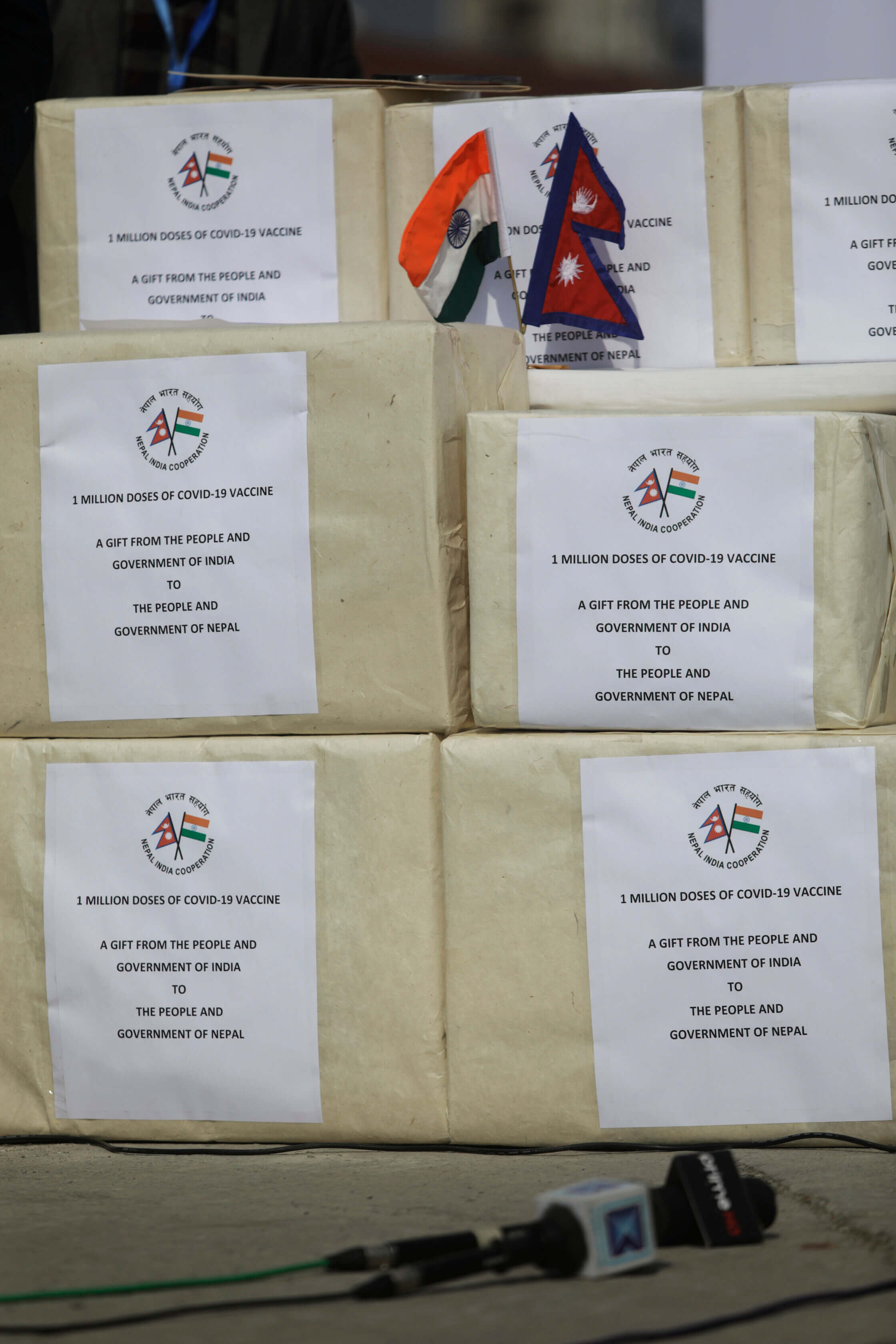 During the course of 2021, there may also be other breakthroughs. The Serum Institute of India, for example is researching an intra-nasal vaccine, which is administered with a nasal spray and not an injection, and can be stored at room temperature. If successful, this vaccine would be the real answer for Nepal.
The best way to handle the new Covid-19 variants is continued vigilance about preventive measures, especially since the mutation gives the virus the ability to spread faster. It is best to be over-prepared than under-prepared, even with vaccines.
Nepal's travel industry and the migration sector see vaccines as a game-changer that can help the economy get back on track. This week, the European Union is discussing the use of 'vaccine passports' like the Yellow Card of the 1970s to enable travelers to cross borders—possibly to be standardised by the WHO.
Even so, the vaccination rate is only 2% for Europe, and even less for the United States and other countries, which means a revival of Nepal's tourism may not happen immediately. Which means it may take more time for the jabs to revive jobs.
But there are still questions about transmission by vaccinated individuals, how long the immunity lasts, and if 'vaccine passports' would actually reduce the risk. However, there are fears that unequal vaccine availability between and within countries will divide populations into 'jab and jab-nots'.
Buddha Basnyat is a physician and clinical researcher at Patan Academy of Health Sciences and writes Dhanvantari, a frequent health column for Nepali Times.