At midpoint, Nepal PM struggles to deliver
Halfway into his 5-year mandate, the Nepal Communist Party (NCP) government led by Prime Minister K P Oli has seen many of the ambitious pledges and promises that brought it to power ring hollow.
Public disillusionment towards the government has risen steadily, in particular about his handling of the COVID-19 pandemic and its socio-economic fallout.
Having swept to power in 2017 with lofty promises to eradicate poverty, modernise the country and make Nepal self-sufficient, the election manifesto of the UML-Maoist electoral alliance is largely unfulfilled with almost its boxes unticked.
The list of projects still stuck in stages of financial planning, design or not even begun is a damning assessment of the government's inaction over the last two-and-half years. This is despite Oli's NCP having the strongest majority in Parliament and the longest-lasting in the last three decades.
Political analyst Shyam Shrestha says the NCP's slogan of 'stability and prosperity' is sounding more and more hollow with promises not kept, and many policy U-turns.
The most recent involved plans to promote electric transport. Despite his pledge two years ago to 'electrify 20% of Kathmandu's vehicles by 2020' Finance Minister Yubaraj Khatiwada hiked taxes on e-vehicles and batteries in this year's budget -- a complete reversal in approach.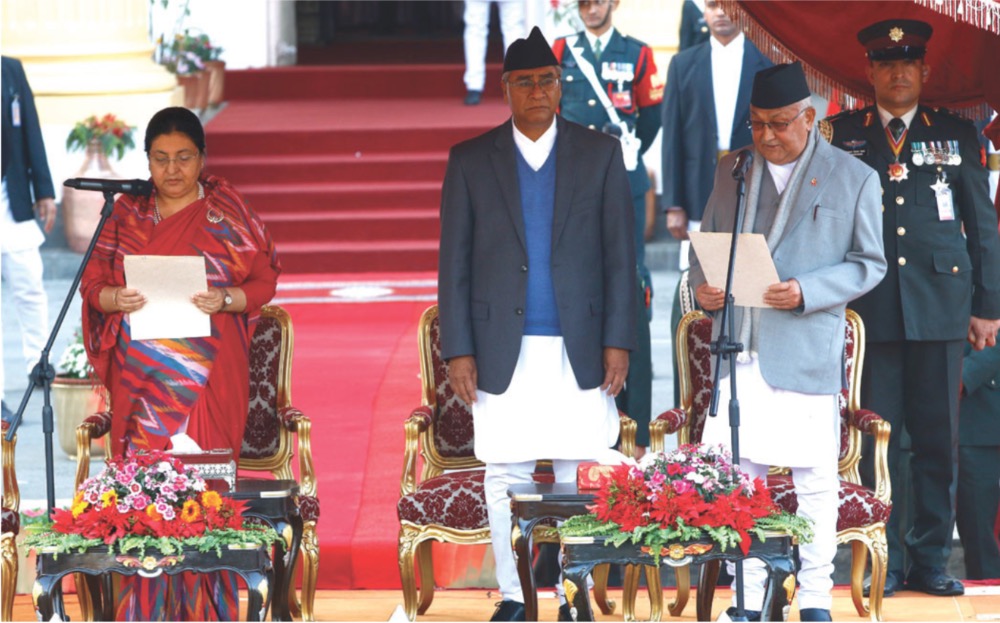 On the other hand, the government spent Rs19 billion importing fossil fuel-powered cars in the last fiscal year. These actions go against the 'grave concern' expressed periodically by the NCP about environmental deterioration.
"The party has stepped back from its promises for agriculture, land reform, education and health," says Shrestha.
Self-reliance in agriculture, fisheries poultry and dairy was a key goal of the NCP's ambitious 'Strategy for Prosperity' announced with much fanfare. Instead, Nepal is more dependent than ever before on food and fuel imports.
Nepal imported Rs120 billion in petroleum products, Rs56.9 billion worth of foodstuff, Rs2.2 billion worth of dairy products, Rs1.76 billion worth of seafood and Rs1 billion worth of meat in the past fiscal year alone. Food imports are increasing 12% every year. These imports continue to rise even as domestic produce goes to waste during the pandemic.
The main reason for stagnant agriculture is that only a third of arable land in Nepal has yearlong irrigation. Of the 2.24 million hectares of arable land in the country, only 1.47 million hectares have any irrigation infrastructure in place. Only 10,000 additional hectares have been newly irrigated in the last two years.
The party's ambitious projects to modernise Nepal's infrastructure is also moving at a snail's pace, if it is moving at all.
Reconstruction post-2015 earthquake is still incomplete. Of the 832,000 families that lost their homes, only 508,000 have had reconstructed homes -- 190,000 families have still not got the final instalment of their rebuilding grants. There are 170 community schools, 128 health institute facilities, 377 architectural heritage sites that have not been rebuilt.
Road upgrading has also not moved ahead as planned, either. Only 1,150 km have been added to Nepal's road network in the past two-and-half years. Plans to upgrade the East-West and Mid-hill Highways to six and four-lanes are stuck.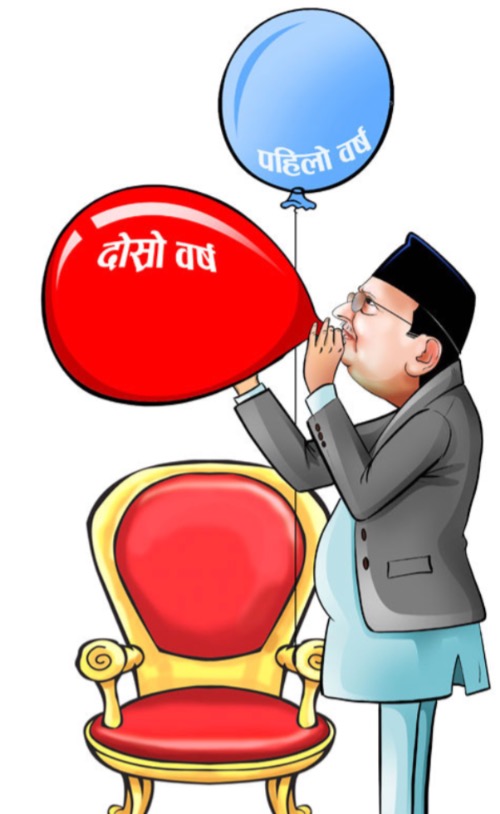 Continuous delays, budget crunch, monsoon flooding and now Covid-19 have paralysed ambitious projects to ensure 100% electrification. Only 86.4 percent of households have access to electricity, and only 15 districts have been completely electrified.
The hydropower sector's master plan to generate 15,000MW in 10 years has failed to keep up with targetted progress. Large projects, such as Upper Tamakosi (456MW) remain incomplete 10 years after construction began. Covid-19 and monsoon flooding have pushed the finishing dates of 3000MW worth of projects further back by a year.
Kali, Gandaki, Kosi Corridor and Mid-Hill Highway transmission lines await completion too. There are no signs of construction for the transmission lines along the Rasuwgadi-Kathmandu-Birgunj route, necessary to evacuate electricity from new hydropower projects.
The fall in electricity demand and resulting losses have hit the Nepal Electricity Authority (NEA) since the lockdown. This is despite the government's plan to take average electricity consumption per person from 110 kilowatts to 1,500 kilowatt hours.
Two so-called 'projects of national pride', Bhairawa and Pokhara international airports, are expected to be delayed by an additional five months to a year. The Kathmandu-Tarai Expressway, Kerung-Kathmandu Highway and the East-West Railway are all receding mirages.
Plans to create one industrial centre in each province are also collecting dust. Much was promised from these centres -- employment for a million people and special tax breaks for investors.
The left alliance's manifesto on socio-economic progress is what had attracted voters to the party in 2017. They were ambitious, but do-able with the strong majority the NCP had in the past two-and-half years. Now, the government can heap all the blame on the Covid-19 crisis, which will only widen inequality and worsen the economic crisis. The lack of progress predates the pandemic.
The manifesto outlined a grand promise to its poorer voters to eradicate absolute poverty. While the share of the population living in absolute poverty did drop from 21.6% to 16.67% in the previous two years, it was mainly due to remittances and not through job creation at home. With remittances likely to take a knock because of Covid-19, absolute poverty is likely to increase.
To achieve NCP's goals, the annual growth rate of average income must be 20%. As things stand, this number has been 10.8% for the past decade. Current annual per capita income of Nepalis is $1,085 dollars, a long way off the $5,000 goal set by the NCP.
Tourism has also have been badly hit by the pandemic, and may take years to recover. The coalition's election-era goal of 5 million tourists in 10 years was questionable given the lack of proper marketing and infrastructure improvements, now it looks even more unrealistic.
The government promised to allocate 20% of the budget for education, but this fiscal year saw only 11.68% used. Illiteracy persists, and only 58% of the population above 15 were considered literate in 2018.
Government debt has been steadily increasing and is expected to rise further with the pandemic as it lowers internal revenue generation. A full 20% of this fiscal year's budget is made up of foreign loans, while Rs10% is in foreign aid and grants.
There are some bright spots. Two million people have signed up for a compulsory health insurance program since the government came into power. Its social security package is on course to meet the goal of Rs5,000 per person, currently standing at Rs 3,000 per person.
However, a slew of projects remain stuck -- fertiliser factories, independence in perishable goods and health, residential and employment facilities at the local level.
Experts cite a moral failure on part of the government to provide citizens with the most basic facilities such as healthcare, education and security. Despite being a fundamental obligation of a government to its people, the Oli administration has been tied up with inter-party infighting and failed to deliver on its most basic promises.
Financial expert Keshav Acharya says people will be ready to form their own judgement on the performance of the government in the next election in 2022. That seems to be the only hope – vote those who do not perform out of office.
"Young voters are fully aware of the social and political situation and can make their own informed decisions," Acharya says. "Mere promises and big speeches will no longer be enough to win their votes."