Nepal health workers battle Covid-19, but also stigma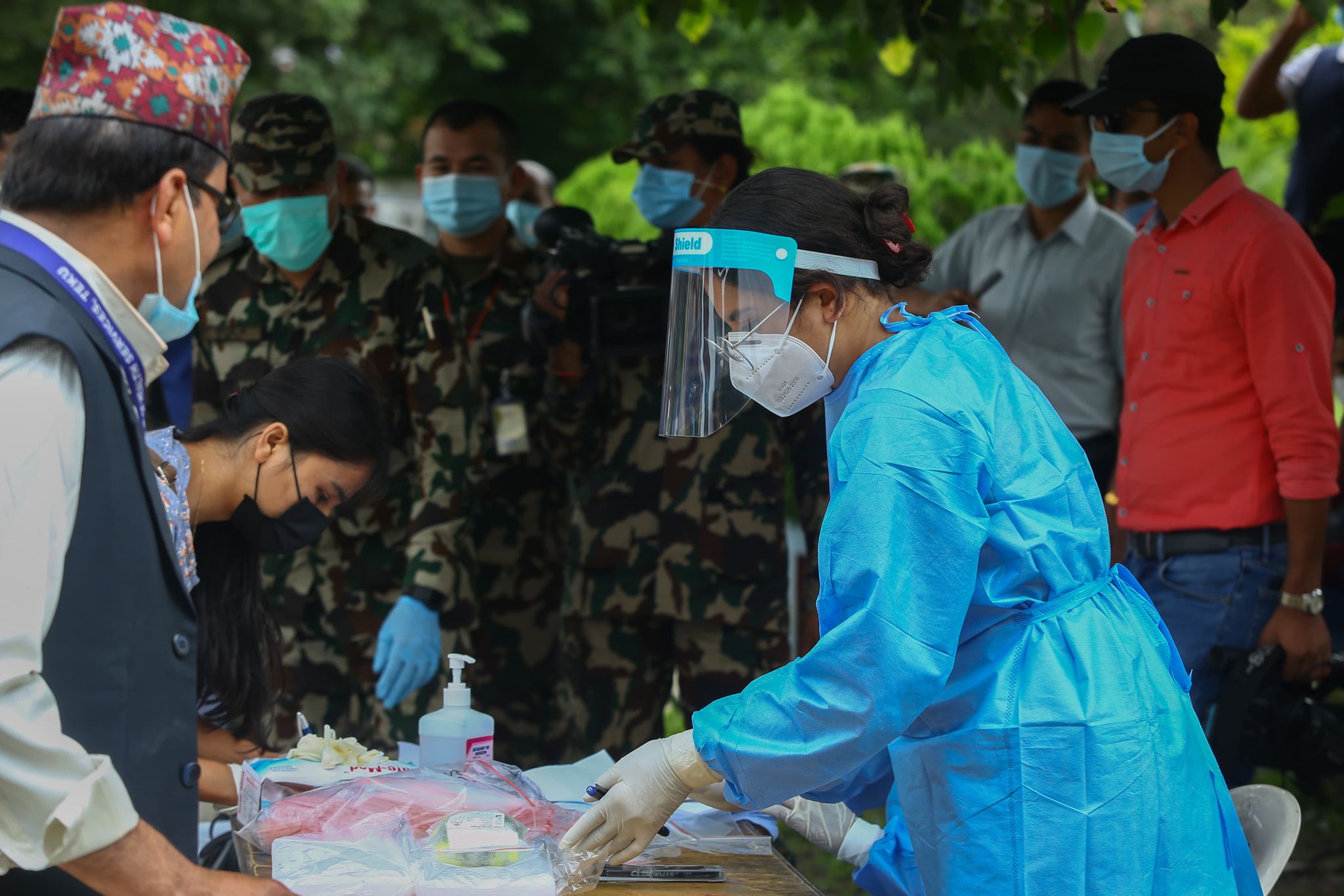 Nepal reported the first death of a medical worker from Covid-19 last week, a 35-year-old health assistant in Mahottari district. Across the country, over 500 healthcare providers including doctors, nurses and lab technicians have tested positive for SARS-CoV-2.
But instead of crediting them for putting their own lives on the line at the frontlines of the war against the pandemic, heath workers in Nepal are being ostracised, publicly humiliated, and sometimes threatened by landlords and neighbours who fear that they will spread the virus.
Even as they battle community transmission, in many cases it is the community itself that has turned against medical personnel.
Over 20 staff at Bayalpata Hospital in Achham district have tested positive for Covid-19 in the last month, and all are currently isolated in the facility's staff quarters because landlords have driven them out of their rented rooms in town.
"The government has directed asymptomatic people to isolate themselves at home, but this shows just how difficult this is in reality," says Bikash Gauchan, a doctor at Bayalpata. "It is harder to fight society than Covid-19."
Gauchan himself was in isolation after a previous outbreak and tested negative, but on a recent trip to the market to buy grocery, the shopkeeper stopped him from entering just because he worked at the hospital.
At the Patan Academy of Health Sciences, the newly appointed director Rabi Shakya gets resignation letters from staff every day, and the reason cited by everyone of them is because of community harassment, or due to family pressure.
"Health workers are already working in less than ideal conditions, they are not properly equipped, are overworked and have no incentives. Many don't even have family support," says Shakya. "They are risking their own health for the public, but when that very public turns against you, it is very painful."
Shakya says many younger doctors are now rethinking their decision to work in the medical field in Nepal. He adds, "Societal stigma stems from ignorance, and it means we have failed to communicate to the public how the virus is transmitted. Even some health workers themselves are not fully aware."
Says epidemiologist Mahesh Maskey: "It is ironic that these brave workers are receiving abuse from the very people they are protecting. I am surprised by how the psychology of fear has led us to do this, and I urge everyone to change their mentality."
The flood of positive cases in Kathmandu and other cities in the past month has led to public panic about Covid-19, and this is turning people against those who are self-isolating at home, or those working at close quarters with patients.
Experts partly blame the relentless media focus on the daily case totals and fatalities, instead of the recovery rate, Nepal's relatively low death rate, and the precautions the public needs to take. This has fed the notion that Covid-19 is highly lethal, fuelling the irrational fear.
On Tuesday, Nepal recorded 1,069 new confirmed cases, 481 of them in Kathmandu Valley alone. There were 11 additional deaths, bringing the total to 239. However, what was buried in the news reports was that Tuesday also saw 768 recoveries, highest in a single day bringing the total recoveries to 22,178.
Some doctors have retorted on social media with messages for those who stigmatise health workers, saying they should also think about who is going to save their lives when they find themselves in the ICU.
Amidst the gloom and doom, there are glimmers of hope. Nepal Scouts, Nepal Medical Association and Higher Institutions and Secondary Schools' Association Nepal in coordination with the Ministry of Health have started a free bus service for medical personnel inside Kathmandu Valley to take them to and from hospital and their homes.
Charities are offering free daily meals for those without any source of sustenance. In Biratnagar, local youth groups are helping rehabilitate Covid-19 patients who have recovered (see below). And there are communities which have honoured medical frontline workers who live in their midst, saying they are true heroes.
However, these are exceptions. Anisha Shakya, a medical officer at International Friendship Children Hospital says she and her colleagues are already working with limited equipment and resources, and the harassment heaped on health workers is stressful.
She adds, "What would build morale is positive reinforcement, emotional support in this difficult time and more tolerance on the part of the public."
Youth help
Kamal Rimal in Biratnagar
Worried by the ostracisation and harassment of even those who have recovered from novel coronavirus infections, youth groups in Biratnagar have taken it upon themselves to help in their reintegration into society.
They conduct home visits, sanitise homes and help with the management of funerals. Bargahi Youth Group recently helped perform the funeral of an individual who had passed away due to coronavirus in Birat Hospital, and who was shunned by relatives and the community. The entire team is now in quarantine. High Court Biratnagar recently ruled that the final rites of Covid-19 victim should be performed by the families, or as per their wishes.
When a person was infected in Ashok Chok recently, locals blocked off the streets preventing residents from commuting.
Nepal Communist Party Biratnagar Ward 8 committee chair Ram Pokhrel says increased fear of coronavirus in the community and the resulting societal stigma has forced his office to scale up the campaign.
"We are sanitising homes among other things in order to prevent more incidents like this from happening in the future. But first and foremost, we need to change the way society thinks," says Pokhrel, adding that even well-educated neighbours who are engineers and school principals were against the presence of infected individuals in the community.
In its home visits and sanitisation campaign, the group tries to inform locals that the virus does not transmit if sufficient distance is maintained. They have also distributed masks, gloves, sanitiser and food rations to 54 households.
Biratnagar Municipality members are also making home visits with immunity-boosting Ayurvedic herbs for those in self-isolation, and help them eventually reintegrate into society by boosting their morale.
Former chair Binod Raut says he has sanitised about 70 houses with his own money: "Coronavirus is now spreading in the community. We are going house to house, informing people about how the virus spreads and sanitising the homes of infected people."