Most days, it's not so crowded on Mt Everest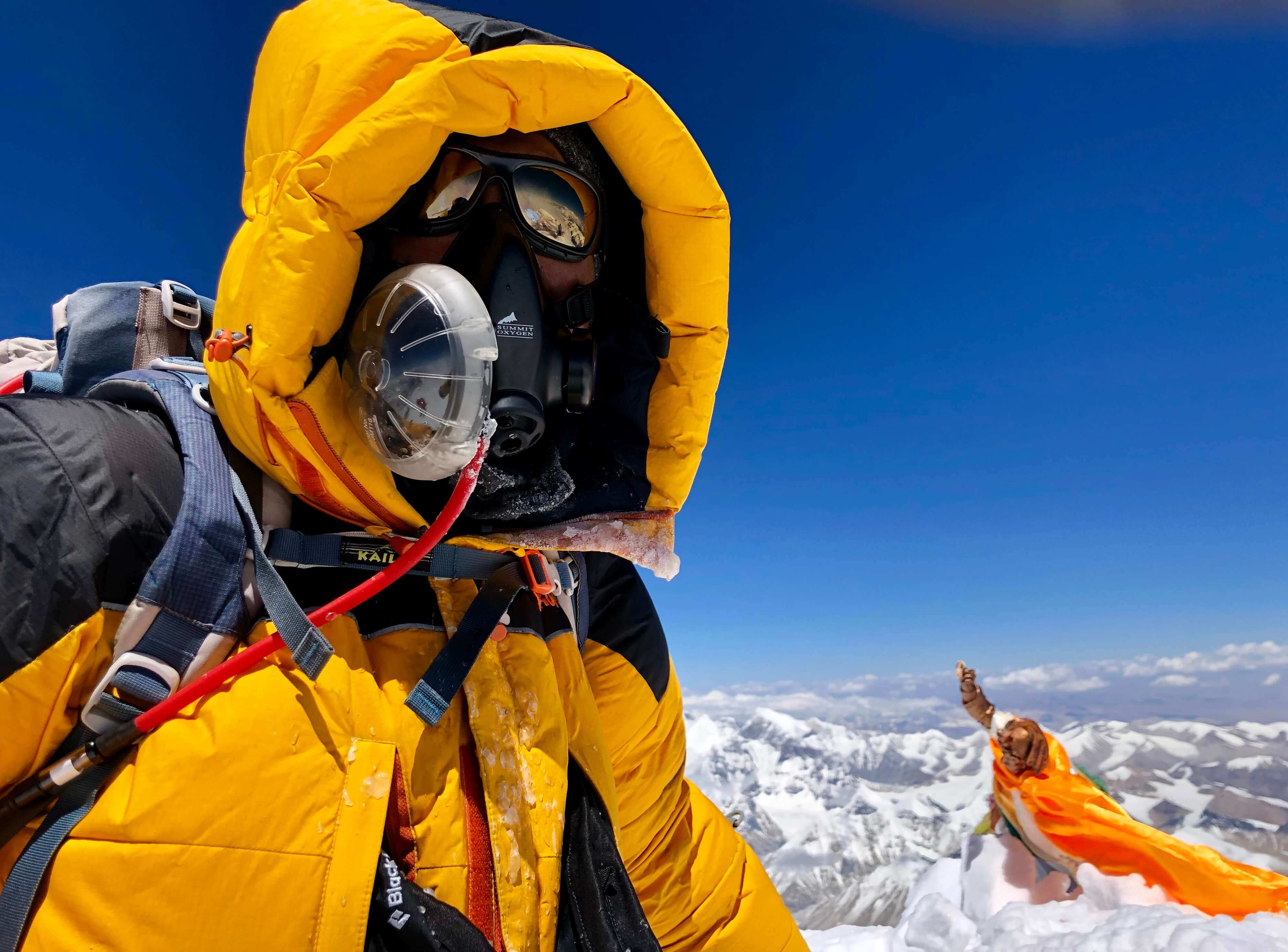 Even as a photograph of the traffic jam on Mt Everest went viral on the internet and was featured on the front page of The New York Times on Wednesday with a damning story on overcrowding on the world's highest mountain, other Nepali climbers have posted photographs that show just the opposite.
Among the climbers is Karma Tenzing, a teacher educated in New York who has returned to Nepal to set up his own school and educate young Nepalis, who summited Mt Everest on 15 May.
Read also:
Because we are there, Damien Francois
Crowd-funding from Mt Everest, Ivān G Somlai
Expedition brings down 11 tons of Mt Everest trash, Bharat Bandhu Thapa
"The photograph of traffic jam went viral, with every media in the world using it, and I felt it misrepresented and exaggerated what was going on in the mountain," Tenzing told Nepali Times after returning to Kathmandu this week. "It is a once or twice a year phenomenon that has been portrayed around the world as an everyday event at the summit."
He said he was prompted to post his own photographs showing a relatively deserted Hillary Step on the Southeast Ridge of Mt Everest. "I had the mountain to myself and spent an hour on top," he added.
Karma Tenzing posted this on Twitter on 24 May:
Weird seeing non-mountaineers voice opinions about the rush to summit of #Everest. No, don't cap the number of climbers! These are "real" climbers who've paid their dues & are qualified & remain. With only 3-4 clear window days to summit, this will happen every darn year. I feel you should voice yourself only if you've been in the mountains and climbed the deadly Khumbu Icefall trying to avoid any killer falling ice, climbed to Camp 3 with brute jumar strength pulling yourself up for hours and hours and then to Camp 4 where the iar has hardly any oxygen. Finally making it to the summit dead tired after 12 hours of intense climbing (with 3 days of no sleep & non stop walking) only chocolate bars for nutrition. After that , making it down to Base Camp walking for 2 days calculating every step in case you slip & fall. Only then, I'll hear your opinion. PS: Even with very little climbers on the 15th and 16th , folks perished in Camp 4 and above. In the end, the climb to the summit ain't a catwalk or easy as in photos. #Stupidity
Read also:
The last of the first, Shard Ojha
The season of summits, Lisa Choegyal
Tenzing admits that with 300 plus climbers and their guides on the mountain and only a three day weather window this spring, it was inevitable that there would a crowd on top. But he stressed this is not a regular happening. He said it would be a bad idea to cap climbing permits, and suggests other methods to regulate climbing so it is more orderly.
After the news of overcrowding continued to go viral and the mainstream media started picking it up, Tenzing could not bear it any longer and tweeted this again on 28 May:
#Everest unfairly trashed via viral image of "traffic jam" on May 22 2019. Below are REAL photos of my climb to #Summit on May 15. Devoid of jams & I spent an HOUR at summit. With only a 3-4 day weather window & ~300 #EverestSummiteer annually, jams will exist. Spread the truth!
Read also: Expedition brings down 11 tons of Mt Everest trash, Bharat Bandhu Thapa