Just not justice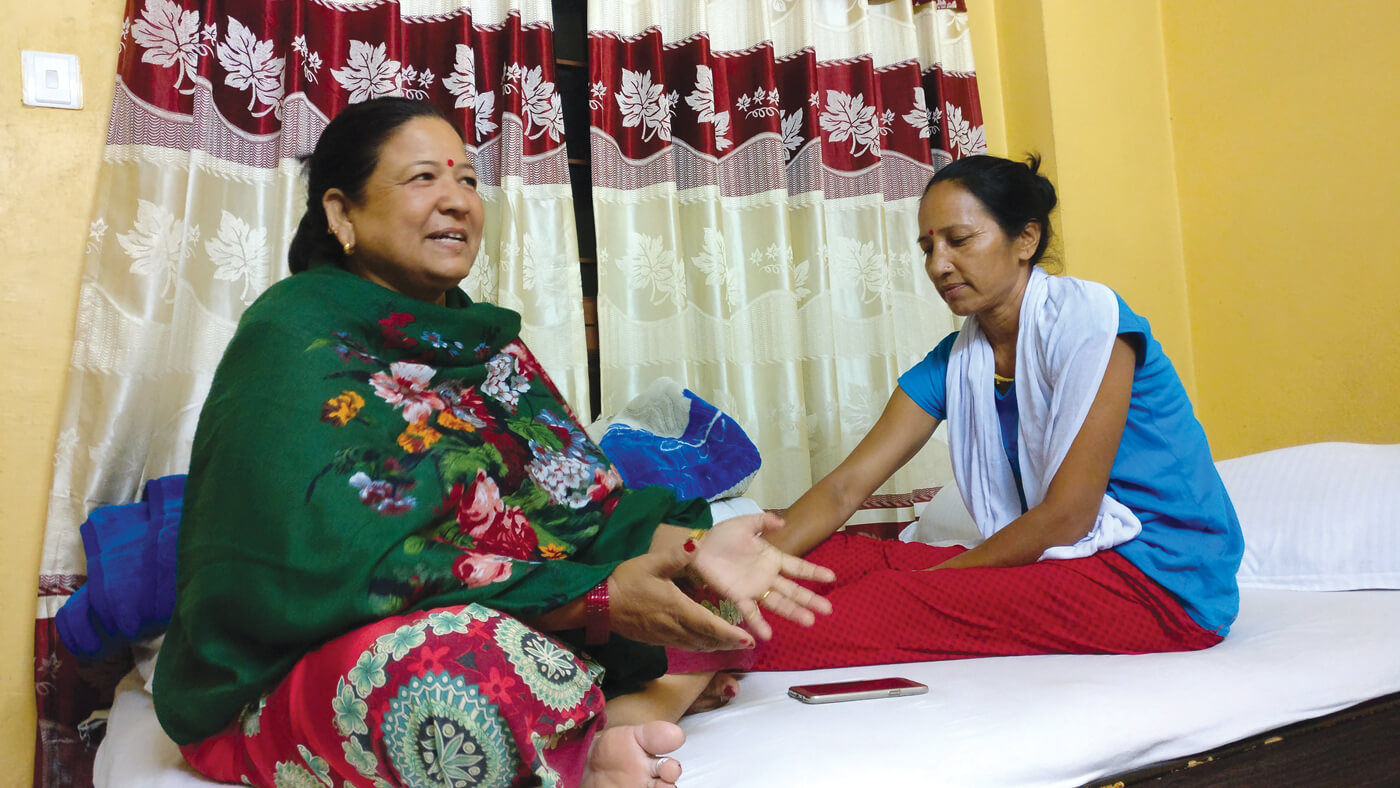 Laxmi Khadka of Bardiya and Usha Dahal of Banke were on the same Nepalganj-Kathmandu flight on a scorching afternoon early this week. The two are now united in a quest for justice, but were pitted on the opposite sides during the war.
While Khadka's husband was kidnapped by Maoists in 2003, Dahal's husband was detained by police in 2002. They never saw their husbands again. Their husbands vanished at the hands of opposing sides, and both now seek truth and justice.
Their common cause has allowed the two women to develop a strong bond. They often travel together to attend programs held by Conflict Victims Common Platform -- an umbrella body of the families of those killed, tortured and made disappeared during the 1996-2006 Maoist war.
Read also: Rocky transition to justice, Editorial
Dahal, 45, calls Khadka, 50, didi (elder sister), and they spend hours talking about not just their missing husbands but also about other mundane matters like places, food and Facebook. Dahal, a staunch Maoist sympathiser, says: "I thought every single non-Maoist was my enemy, but my views changed when I met Laxmi Didi and women like her."
Khadka smiles, and passes a white shawl to Dahal as the two ready for a photo shoot at a lodge in Kathmandu. She says: "Politicians turned us against each other during the war, but we are now together to fight against them."
Once in Kathmandu, they learnt that a bill was finally in place to amend the 2014 Transitional Justice Act, and the government wanted their quick comments on it. They are aware that the contents of the bill and its wording will directly affect their lives, but they do not know how to react.
Relatives of conflict victims like Khadka and Dahal have been given just two weeks to discuss the draft amendment.
Human rights groups had opposed the 2014 Act, which they said does not meet international standards and had provisions of blanket pardon for those accused of war crimes.
The government took four years to come up with the amendments, and now wants to pass it as soon as possible. Victims' families say there is too little time to even understand the 22-page document laden with legal jargon.
Suman Adhikari, son of Muktinath Adhikari who was executed by Maoists in Lamjung in 2002, says: "We cannot make head or tail of the draft amendment in such a short period. The government must give us a simplified and summarised version of the bill, and more time to study and debate it "
The way the government is hurriedly pushing through the new bill raises suspicion that it just intends to get it done and over with, denying transitional justice to conflict victims. Law and Justice Minister Sher Bahadur Tamang has claimed that the new bill is 'pro-victim', and it will solve all conflict-era cases. But conflict victims and human rights activists say the bill could actually be 'pro-perpetrator'.
To be sure, the draft amendment has addressed the four fundamental principles of transitional justice: truth, reparation, conviction and commitment to not repeat war crimes. It is also largely in tune with a Supreme Court verdict, which is against granting amnesty to perpetrators of gross human rights violations: extra-judicial killing, torture, enforced disappearances and rape.
Read also: When our son was killed
But the new bill has taken a leaf out of Colombia's 'restorative justice' system, which focuses on reconciliation and reparation instead of punitive measures. It guarantees conflict victims the right to reparation, but it also proposes to reduce jail terms by up to 75% if perpetrators help the investigation, apologise and express a commitment to not violate human rights in future. Even if the accused does not admit to the crime, sentencing can be reduced up to 60% depending the condition in which the incident took place.
For example, if an ex-guerrilla or soldier is convicted of kidnapping and murdering a civilian and is slapped with a 20-year jail term, he/she will have to spend only five years in jail. As per Nepal's criminal law, one day is made up of 12 hours, not 24 hours. So, a five-year jail term would actually be 2.5 years. And, based on 'good behaviour', the sentence can be shortened by another 60%.
Those convicted of war crimes could end up spending less than a year behind bars.
The new bill also introduces the concept of 'open prison' and 'community work'.
Convicted murderers can even spend their reduced jail-terms at home, or do 'social work'.
"If this is how those who took away my husband will be punished, I don't want justice," says Laxmi Khadka. The two ex-Maoists who kidnapped her husband are roaming free. "It means I will have to continue living with them even after they are convicted, there will just be more bad blood."
Human rights activist Subodh Pyakurel says the new bill is full of vague provisions that can be used by the State to manipulate the amended transitional justice act and indirectly allow perpetrators to get off the hook. He says: "It would be too risky to accept a transitional law laden with so many loopholes, especially after the UML-Maoist merger."
Pyakurel also criticises the bill for lacking provisions that could hold political commanders responsible for the war crimes they committed or abetted. "If this bill is passed as it is, Deuba and Dahal will not even have to say sorry, let alone face jail sentences," he says. "Why should they be allowed to enjoy impunity?"
Suman Adhikari, ex-President of Conflict Victims Common Platform, says they are not totally against reducing punishment. "Punishment can be reduced if it serves the purpose of social harmony and reconciliation," he says. "But the government should not have arbitrary power to decide whose sentencing to reduce and by how many years."
What worries conflict victims is that ex-Maoist leaders, the military leadership and the main opposition NC have given their nod to the bill. The Maoists have filibustered transitional justice process for a long time, and are now washing their hands of blood after the merger with the UML.
They are now part of modern Nepal's strongest government ever, so they want to use their positioning to conclude the transitional justice process by pushing through a diluted law.
A lawyer involved in drafting the bill admitted to us: "Given our political environment and the power that ex-Maoists wield, this is the strongest document we could come up with."
Conflict victims accept that the bill does address their rights to reparation, but Human rights lawyer Mandira Sharma says even this provision is flawed.
She says: "If victims are denied reparation, they cannot seek justice. The bill does not envision a mechanism where victims denied of reparation can go."
Read also:
Another lost decade, Editorial
"How many times do we need to share our story?", Seulki Lee
State of Impunity, Editorial