From the frontlines of Nepal's war
Twenty-five years after the Maoist insurgency started on 13 February 1996, journalists who covered that war remember their own experiences reporting on the conflict.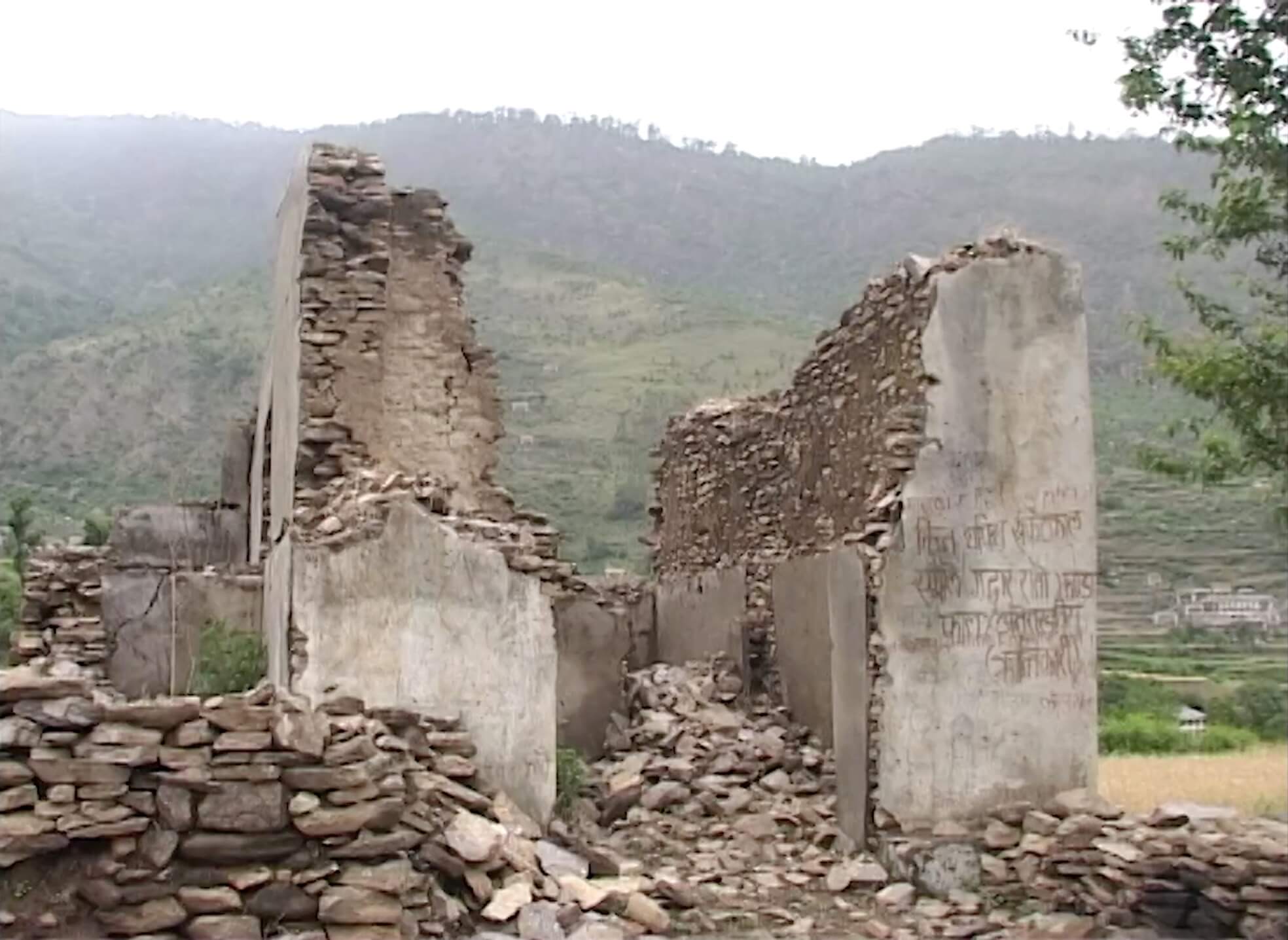 Shivering with fear
We reached Pandusen of Bajura district in September 2003. Men were ploughing a terrace with two oxen and sowing wheat. We took out our camera and tripod. But when the men saw us, they fled. Later one of them told us, "We are afraid of strangers. We thought you were soldiers." He told us the army had come through and killed six people in the village, including Padam Bahadur Shahi.
At Padam Bahadur's house, relatives were in mourning. "He had gone to harvest paddy, he had done nothing wrong, " his mother Koila told us, weeping. "They brought him here and hit him with rocks."
Padam's father Gorakh Bahadur said the soldiers even kicked their baby grandson, injuring him. "They led my son away and I followed," he told us. "They were beating him all the way, his teeth were scattered across the road, he was bleeding."
We climbed up the trail to Martadi. Within half-an-hour we were at Ramlal Damai's house. He had been killed with a bullet in his head, and his relatives were wailing as they removed his body from the house. Further up in the village of Angaupani, we came across a whole village in mourning for six men who had been killed by soldiers the previous day.
We reached Kolti airfield where 12 police had recently been killed. Nearby, the army had killed another 10 villagers accusing them of being Maoists. A couple was in shock after their children aged 10 and five were killed after a Maoist pipe bomb they found in the forest exploded. All around us there was nothing but death and destruction.
A year later, I went to Kailali and Bardia which had the highest number of disappeared during the conflict. Their relatives are still waiting for truth and justice.
In war, people take to guns. But ultimately it is the gun that takes people away.
Mohan Mainali
Families torn apart
In February 2000, we travelled to the Maoist heartland of Rolpa, Rukum and Jajarkot. Along the way, we noticed police sentry posts located on treetops for safety. The policemen were playing carom with guns slung on their shoulders. We knew we were entering a war zone. In Libang, we visited Maoist prisoners in the Rolpa district jail. They spoke about being innocent, framed and tortured by the police. We interviewed a Maoist leader, Lokendra Bista. He told us the revolution was actually in response to state violence, but he said the resolution of the conflict was only possible through dialogue, not through violence.
In Khalanga of Rukum, there was also a lot of fear. Many who had been driven out or tortured by the Maoists had fled to the district headquarters for safety. We came across children cooking by themselves. One 11-year-old was kneading dough, but he wept as he told us: "The police killed our father and mother, I feel like drinking the blood from their hearts."
Four years later, we went to eastern Nepal. By this time, the army had joined the war and Maoist influence had spread throughout the country. One indelible memory of that time was the farewell of a distraught father in Chisapani of Khotang for his ninth grader student son, Kiran Bista.
In the video, the father clutches the boy's legs and does not want to let go. The boy tries to placate his father: "Don't do this, Dad. My friends all have fathers. We are all going to war, please don't do this."
A confident speaker, Kiran later told us later on camera: "I am joining out of my own free will because I have understood that we have to fight for our country."
When we got to Mugu, local Maoists detained us for 22 hours. But it was not till we got to Mudbara of Doti that we found out just how badly the war had affected children. The army had attacked a school in September 2004 after they found out the Maoists had gone there to recruit. Six of the Maoists were killed, but so were four students.
"I didn't even know I had been hit, I was unconscious when they took me to hospital," said one student Dharma Bhurtel. Her mother, Krishna Maya, broke down as she told us of the pain at seeing her only daughter wounded.
Bishnu Prasad was hiding inside a classroom with other students, when soldiers kicked the door in and started shooting. He was hit, and paralysed. "I like to go to school, but I cannot walk now."
Teachers were on the frontlines of the war, and nearly 220 of them were killed by both sides. "After the war started, we were caught in the crossfire. Whichever side fires the guns it is us teachers who get killed," Ram Bahadur Raut principal of the Chisapani Secondary School in Khotang told us then.
Dhruba Basnet
Power of the gun
Children would follow us everywhere. They were very loyal to the Maoist party. Even 10-year-old children had been so effectively brainwashed that they would speak in Maoist jargon, saying "When the revolution is successful, we will be also be rich and powerful." And they believed it.
We went to homes, and heard families talk about the fear of both the police and guerrillas. The Maoists had ordered every household to contribute at least one person to attend their revolutionary meetings and listen to speeches. We attended those cultural programs, as well. The Maoists cadre were full of enthusiasm and energy, singing and performing revolutionary dances about the liberation of the proletariat. Villagers watched with interest, but there was fear in their eyes.
The armed Maoists looked like they were really empowered. I asked some of them how it felt to be carrying a gun? They used to reply: "I feel powerful, now no one can do anything to me."
Amrita Lamsal
The smell of fear
In October 2004, we took a helicopter from Surkhet to Kalikot, flying over the mountains of Dailekh and the Karnali River. On the left we could see Kotbada, where a year previously the Royal Nepal Army had killed 36 workers building an airfield, mistaking them to be Maoist guerrillas. We were in the heart of the conflict zone to understand how the war was affecting ordinary people in the Karnali.
Kalikot was remote then, as the highway was still being built. At the end of the first day's walk in Pili, we saw small children slither down from tree tops and scamper off to the village. We found out they were Maoist 'wholetimers' on sentry duty.
The local Maoists held a village gathering that evening and paraded us on the stage, accusing us of being military spies and "royal mongrels". The language they used during interrogation that night was straight out of the Khmer Rouge. Two years later, 55 soldiers were killed in a Maoist attack in Pili.
Finally let off the next day, we were detained again in Jubitha by 12-13 year-olds with guns. They could not read, and held our press passes upside down. "We are now in the armed struggle phase of our revolution," said one youngster.
Along the trail, we passed a group of women guerrillas who gave us red salutes and gripped us in firm handshakes. It was a surprise to see such empowered young women in what was at that time, a part of western Nepal most steeped in patriarchy.
As we got closer to Jumla amidst the spectacular scenery of golden terraces of ripening paddy, the blue-green Tila River and the snow-capped Kanjiroba in the distance, there were signs of war damage. Ruins of destroyed homes, charred buildings, empty silent streets. There was no laughter from children, they peered at us from behind upstairs windows, no one talked to strangers. You could smell the fear in the air.
Kunda Dixit
The National Human Rights Commission was sending a team to investigate the massacre of 18 Maoist cadre in Doramba of Ramechhap on 17 August 2003. It included former Chief Justice Krishna Jung Rayamajhi, former Attorney General Bhim Bahadur Bista, forensic physician Harihar Awasti, advocate Hari Phuyal and myself. We reached Doramba 11 days after the killings and found the fresh graves.
Local Maoists had gathered at the home of Yubaraj Moktan. The army encircled the house, and those who could, escaped. The others were rounded up, and were led off up towards the Sailung forest with hands tied behind their backs. The army unit was led by Major Ram Mani Pokhrel. Down in the village, people heard calls for help, and then gunshots.
The villagers helped us exhume the bodies, and Harihar Awasti went down to examine them one by one. He would dictate the details, which I noted down and shared with Hari Phuyal. The stench of rotting bodies was overpowering. Villagers would recognise the faces, and point to them, saying: "That is Bishnu Maya. That is Lila." Most had been shot at point blank range in the forehead.
A young man handed me a 35mm film roll. We developed it, and found images of the bodies had been thrown over the edge after being killed. And there was a photograph of a local man named Baburam Tamang, the only one without a gunshot in the forehead, but in the arm. It looked like he had bled to death.
Villagers told us that night they had heard someone up the mountain call out for help "Ama, ama." But they were too afraid to go up and check. We think it was a dying Baburam Tamang.
The villagers had later buried the bodies, wrapping them in cloth and flag. Nearby was a pile of half-burnt personal effects of those who had been killed. Among them, I found a notepad belonging to Bishnu Maya Thapa Magar, one of those who had been killed.
Kanak Mani Dixit