Female migrant workers hold up half the sky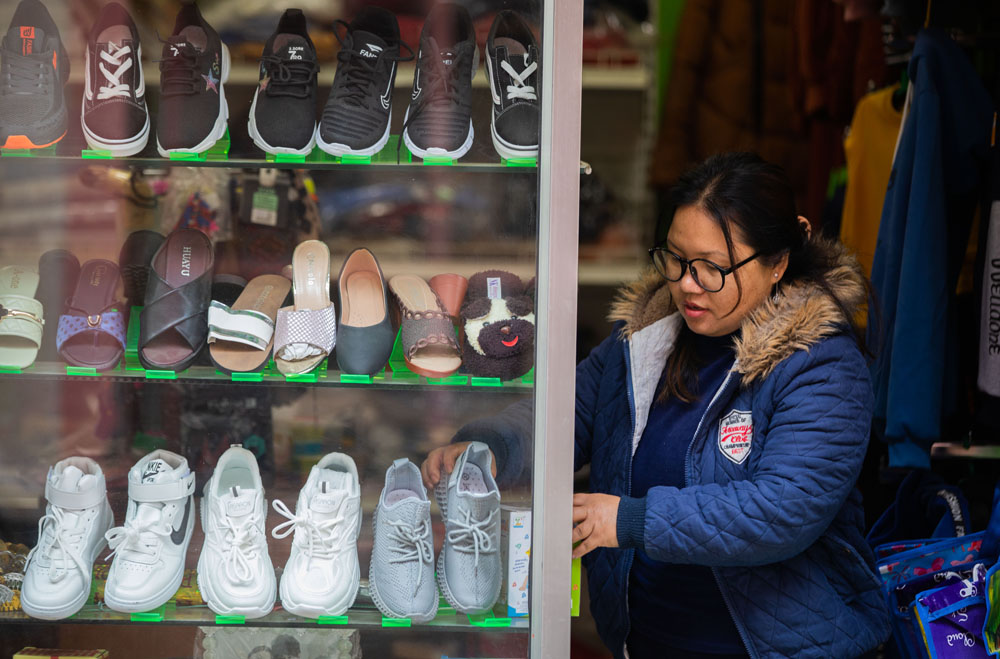 Sharada Rai was a single mother who found it difficult to support her family from what she earned as a teacher at a primary school in Morang district. She tried giving private tuition to students, but it was still not enough.
Then, out of sheer desperation, she found a recruiter who could find her a job in Kuwait for a fee. Women were not allowed to migrate for work at that time, so she had to travel overland to India and then fly from there to Kuwait City.
That was 18 years ago. Sharada was naïve and did not know what her job entailed. But she was lucky to find employers who were kind to her, and the job was what she had been promised.
"The working conditions were good, but I missed the freedom to move around. I could not go out on my own, and I wasn't allowed to call home when I wanted," recalls Rai. So, after a few years she returned home.
Back in Nepal Rai once again struggled to pay for her son and her younger sister's education. She decided to leave for a second time and went to Saudi Arabia where she worked as a house help for three and a half years. After that she went to Dubai on a tourist visa, and worked as a domestic help this time, returning to Nepal in 2017.
Over the years, the money she sent home helped to run the household, and paid for her son's education. The exposure familiarised her with the use of the Internet, household appliances and other technology.
"Foreign employment allowed me to be financially independent. It made me capable and changed the way society viewed me," she says. "In the past, as a single woman people would often try to look down on me, but that is not the case anymore."
The media is replete with stories of Nepali women as victims of abuse abroad where they work as domestic help. While there is indeed exploitation and ill-treatment, there are many more women who have gained financial stability and confidence. With limited opportunities at home, migration has provided Nepali women access to income and new skills.
Read Also: Migrating for domestic work, Upasana Khadka
Their experience abroad instils in women new self-esteem and assertiveness when they return, leading to a positive change in their gender roles within the household and the community.
"I do not have a hefty amount saved in the bank, but the exposure gave me self-confidence. I did not have to rely on anyone else to raise my child either and so I am at peace mentally," adds Rai, who now works as a psycho-social counsellor in Morang's Letang Municipality and is also a social activist.
Bijaya Rai Shrestha of AMKAS Nepal, an organisation that supports returnee female migrants says that empowerment begins from the moment a female migrant worker flies out of Kathmandu airport. They travel to a new place and are exposed to a different culture, but soon learn to adapt.
"They take the first steps to economic independence, many open bank accounts for the first time when they apply for work. Once they come back to Nepal, they can handle their own financial affairs," says Shrestha, who herself is a returnee.
Many women migrant workers who have returned to Nepal have also been active in social work, small businesses, and even joined politics.
Sharmila Lama's husband did not work, and her mother-in-law was battling cancer. The rent they earned from the house augmented her salary, but Lama wanted to send her two daughters to a better school and pay for her mother-in-law's treatment.
"It wasn't an easy decision leaving my daughters behind, but I had to do it for all our futures," recalls Lama, who boarded a plane for the first time in 2014 to go to work as a hypermarket cashier.
She says working abroad taught her how to deal with people, be more confident so she can face any challenge. She is now back and runs a store in Maharajganj selling ladies footwear, clothes, and an assortment of knickknacks.
Returning female workers are also harnessing their experience in negotiating their role in families and communities as well as to challenge the societal taboos and stigma associated with a woman's mobility.
When Shova Baniya's husband went missing 18 years ago, her in-laws accused her of being responsible. Unable to bear the mental torture and determined to raise her three children, she went abroad to work first as a domestic help in Lebanon and then in a company in Malaysia.
"I sent money home regularly. When my in-laws passed away, it was I who performed and paid for the final rites despite the way they had treated me," recalls Baniya, who returned to Nepal four years ago.
To be sure, many Nepali women are abused and assaulted by their employers, cases of wage theft are rampant. Women, especially those who return without proper earnings, often encounter a hostile society that questions them and their morality. Many also cannot find jobs when they return.
When Sharada Rai came back from Kuwait, she had lost a lot of weight. Soon rumors circulated in the village that she had AIDS. "It wasn't true, so I kept going about my business," says Rai.
Sharmila Lama's husband also accused her of having relationships with foreigners when she was in Qatar, but the rest of the family supported her fully. "I went there legally and worked to the best of my ability. I even won the Best Cashier award, there was no reason for me to bow down to anyone's accusations," she says.
Baniya has been looking for a job since she came back, but to no avail. Not the one to give up, she recently completed a 30-day JCB excavator operator training from CTEVT in Kailali and passed her written test for the license. She is now waiting for trial exams before she starts driving heavy earthmovers.
"No one in our society thinks that a woman is capable no matter what we do, I will prove them wrong," says Baniya. "I am no longer the same person who silently listened to others taking down on me, now I can fight and fend for myself."
Also tied to women's migration and remittance are certain human costs such as gender discrimination at all levels imposed by family, community and even the State. Even today Nepali society is steeped in patriarchy and an archaic protectionist approach towards women.
Returnees and activists say that the government is quick to call for a blanket ban on female migrant workers, but does nothing to provide jobs at home.
"More Nepali male migrant workers die abroad than women, so why doesn't the government impose a ban on men going abroad to work? Why is it just the women? Shouldn't the rules be equal for all the citizens of the country?" asks Bijaya Rai Shrestha of AMKAS.
By not granting labour permits or approvals for household work abroad, women cross the open border to India, use back channels or use visit visas since that is their only way out. This not only makes them more vulnerable but also invisible.
The government's knee-jerk reaction to this is to ban women from migrating for domestic work, or announce a proposal to put absurd conditions on visit visa.
Read Also: Two decades of debate on female migration, Upasana Khadka
Because women use these informal channels to go abroad, it opens up the possibility of abuse, and Nepal's embassies are unable to reach them if they are abused. They also cannot get welfare and compensation on return since they are undocumented.
"A ban on women going abroad to work is not a sustainable solution, the government needs to move from welfare to a right-based approach, and from protection to empowerment," says Saru Joshi of the international think-tank, Nepal Policy Institute.
For years, women migrant workers have also been undercounted so, in more ways than one, they are invisible to policymakers. But looking at only the bad is doing the workers injustice, say activists.
"There is a huge grey area in migration that the government has not been able to see, and therefore, has never thought of a long-term approach," explains Joshi. "They just rely on ad-hoc discriminatory decisions but what we need is,to come up with and implement policy that ensures safe migration."
Recruiters reach the doorsteps of people, but the government has failed to do so. What prospective migrant workers need to make most of their time overseas is knowledge and training so they are prepared before they leave.
"One of the biggest lessons from working over a decade overseas is that we need to understand our responsibility and match the expectations of the employers," says Sharada Rai. "That is only possible if women receive training and are aware about what the employment entails. If the state can't even do this, they should ensure decent employment in Nepal."
Mobilising returnees is another solution, as they understand the migrant problems best, have exposure, and know how to be independent. This could also ensure employment to the returnees.
Says Joshi, "A comprehensive story of migration needs to be told and the government as a whole should work for migrants' rights. Each level should be aware of its responsibilities and collaborate rather than pushing migrant issues to another department or ministry."