Demand grows for Nepali caregivers in Israel
Prakriti Kharel spent 12 years in Israel as a care-giver and is now back home in Jhapa. She says she was lucky to have good employers, her salary was good, and she got bonuses, insurance and gratuity.
She says Israeli law protect workers, but the job itself can be demanding and Nepalis seeking work in Israel need to be physically and emotionally strong. This advice is especially relevant as Nepal prepares to send hundreds more caregivers to Israel.
Israel tightened its second lockdown this week after the country recorded 8,000 new Covid-19 infections in a single day on Friday. Israel now has the highest per capita rate of infection in the world, with mostly elderly people affected by the coronavirus.
Nepal and Israel are set to sign a bilateral government-to-government agreement to send 500 additional auxiliary workers in the nursing sector including hospitals, nursing homes and day care centers. On 22 September the cabinet authorised Nepal's ambassador to Israel Anjan Shakya to sign the agreement which will likely take place this week.
As a government-to-government agreement, intermediaries will not be allowed to play a role. Sourcing workers from Nepal was banned in 2009 after malpractices in the recruitment of Nepali caregivers, including exorbitantly high recruitment costs. The previous pilot program in 2015 had also tried to cut out recruiters, but failed to mobilise any workers.
"It is important to understand what exactly this work entails," Ambassador Shakya said on the phone from Tel Aviv. "Geriatric care is not easy work. It is physically demanding and requires a lot of empathy and emotional strength as well. Workers need to clearly understand this, or else they will be disappointed when they arrive here with false expectations."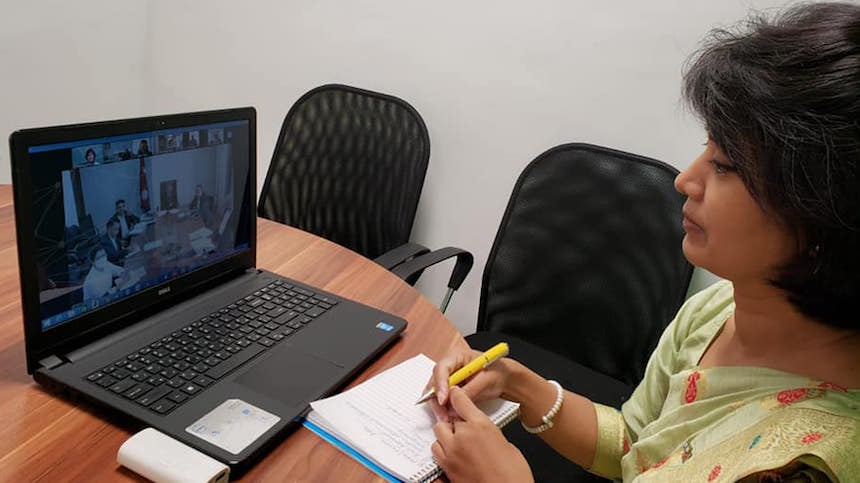 A Zoom Meeting between officials from Nepal and Israel on the recruitment of 500 Nepali caregivers through a government-to-government mechanism. Nepal's Ambassador to Israel Anjan Shakya is at right. Photo: EMBASSY OF NEPAL, ISRAEL.
She added that patients usually do not get better over time, and caregivers have to be empathetic towards individuals who are entirely dependent on them for even the smallest daily activity.
Prakriti Kharel knows that first hand, and says the level of difficulty depends on the situation of the patient and how cooperative the family is. She said, "I had it easy as all three patients I took care of were physically mobile and could clean up after themselves. Others are not as lucky."
A male Nepali caregiver went to Israel in February 2009 after paying Rs800,000 to Blue Sky Overseas, just before Israel stopped the intake of Nepali caregivers. The man, who did not want his name used, described the work: "I weighed 60kg but then had to take care of a patient who was over 110kg, having to lift him several times a day. It left me with back pain, and other Nepalis also report such ailments from the physically demanding work."
After spending so much time with the elderly, caregivers also develop an emotional attachment to them. They are often lonely, and need someone to talk to. Taking care of Alzheimer's patients is most difficult because it requires patience and compassion as they forget things, and their families blame the caregiver. Taking photographs, or installing a CCTV camera helps.
Said the Nepali caregiver: "It is not just what we do or how we take care of them but whether their children and grandchildren pay attention to them. Feelings of being neglected takes a toll on their health, and it helps to act as a bridge with the patient's family so they can communicate their needs."
Nepali caregivers interviewed for this report said the death of patients they have looked after for many years affects them deeply. Prakriti Kharel has lost three of her patients, and said: "It is like losing family, but that is the nature of the job, to ensure that they are as comfortable as possible right till the end. The death of my last employer after I returned to Nepal really shook me because she treated me like her daughter."
Deepika Bhusal arrived in Israel when she was just 20, and took care of an Israeli woman named Malka Cohen for 12 years until she died at age 79 last year. She had told Nepali Times in a profile in 2017 that the two had grown close, as Cohen depended on her for everything, including feeding, medicines and daily walks.
"She had become like a mother to me," recalled Bhusal, who remembers feeling like she had lost a family member when she got a call from the hospital at 4am.
"Some caregivers try to maintain a sense of detachment, but many of us develop a bond with our patients. My advice to new caregivers is to be emotionally, physically and mentally strong," Bhusal said.
Ambassador Shakya recognised that the new bilateral agreement for 500 caregivers is relatively small, but added that diplomatic negotiations took a lot of effort because of the abuse of the recruitment system that had led to the ban on Nepali workers to Israel. The current quota of 500 can be expanded because there are a lot of opportunities in the care sector in Israel, and Nepalis are a preferred nationality.
"Whether we can turn the 500 to 20,000 depends on the performance of the 500 new recruits," said Shakya, who plans post-arrival orientations once the Nepali get to Israel. She is also exploring similar opportunities in agriculture, construction and the hospitality sector.
"For Nepali women who want to work abroad, Israel is one of most secure and financially rewarding destination country," explained Shakya. "There is equality of treatment between locals and foreigners, and strong labour laws. As this is temporary migration, workers will return to Nepal financially better off, and with skills that can be used back home for Nepal's own rapidly ageing population."