Daraz creating change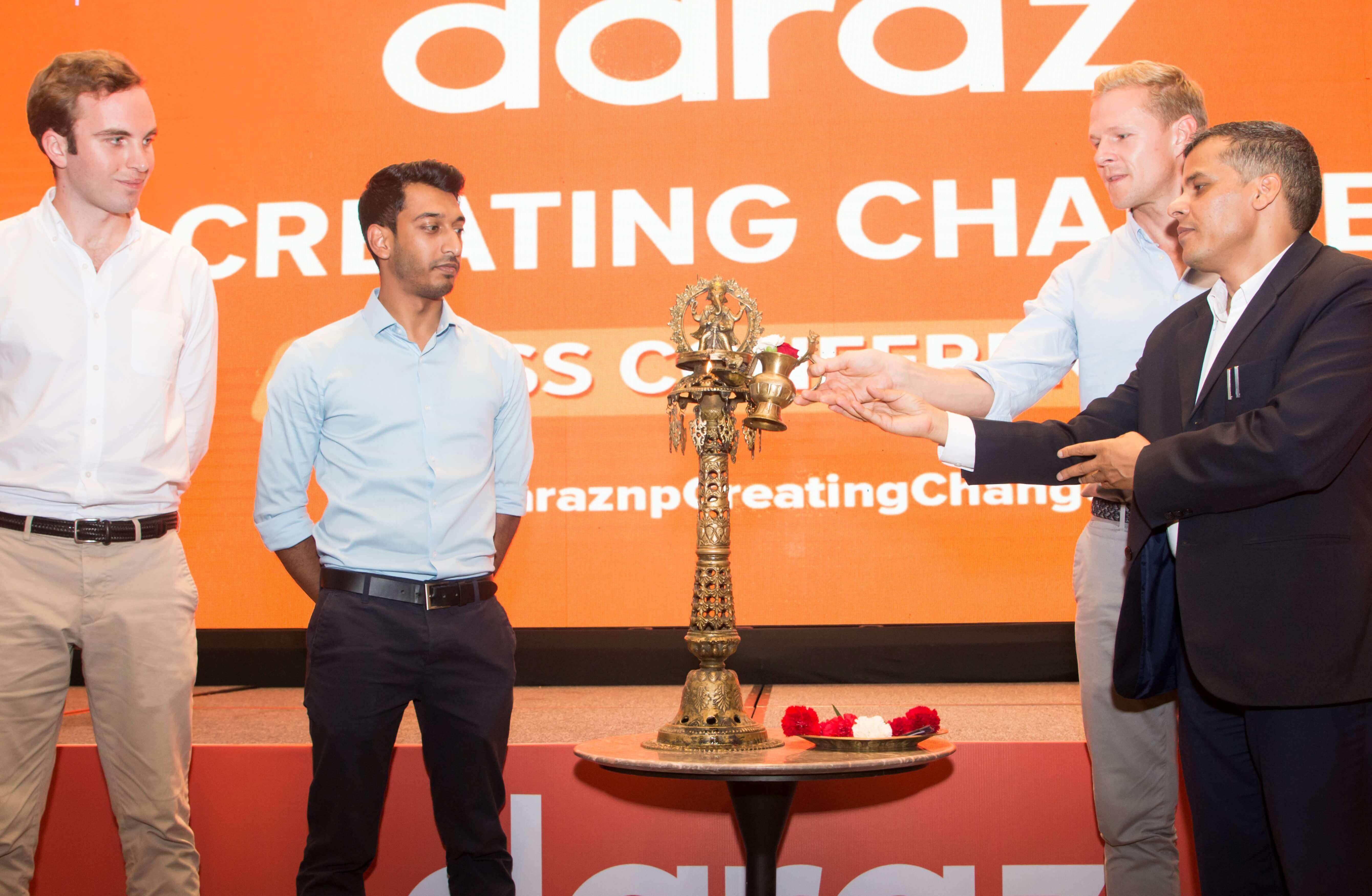 Popular online shopping site in Nepal, Daraz held a press conference on August 27, 2019 at Marriott Hotel, highlighting how the platform is creating change in the country e-commerce industry.
The event was hosted by Daraz Global CEO, Bjarke Mikkelsen and Managing Directors - Lino Ahlering and Jai Kavi. Under Secretary at the Ministry of Industry, Commerce and Supplies, Buddhi Prasad Upadyaya was present.
"Daraz is a mall, a marketplace, and a community in your pocket. We provide immediate and easy access to 250,000 plus products in more than 100 plus categories," said Mikkelsen. "Today, more than 75,000 Nepalis use Daraz every day. We estimate that Daraz has created 5,000 jobs in Nepal."
Also at the event, Managing Directors, Lino Ahlering and Jai Kavi announced Daraz's six aspirations to lead Nepal into the digital era by the year 2022.
To drive 100%+ annual growth of the e-commerce market.
Reach 20,000 active Daraz sellers (all educated through Daraz University).
Fully digitalize the logistics ecosystem with real-time visibility for customers regardless of location.
Engage 5 million Daraz users monthly by being relevant, convenient and service-minded.
Introduce digital payments to 5 million new customers.
Create 100,000 thousand jobs for marketplace participants
"The world is moving towards digital economy. It's very important that Nepal takes steps to do the same. To do this the government has announced a new strategy that will promote and boost the e-commerce industry," said Under Secretary at the Ministry of Industry, Commerce and Supplies Upadyaya, elaborating on the role of the government for the e-commerce industry to thrive.
As per the strategy, the government is working on building a stronger legal and institutional framework for e-commerce, infrastructure for networking and high quality internet access, scientific naming of every street, and providing greater access to financial and electronic systems.
Upadyaya believes this move by the government will help promote entrepreneurship and Daraz can play a big part by promoting domestic products from every part of Nepal. He concluded by thanking Daraz for being a leader in bringing Nepal to the digital era.
Daraz also officially launched its card pre-payment in Nepal since New Year 2076 with support from its digital banking partner, Nabil Bank. "We are very glad to be part of Daraz's mission to push Nepal into the digital era. Nabil Bank has always been a pioneering bank with many firsts, and it's our immense pleasure to be the first to begin card-prepayment with Daraz", said the Deputy CEO of Nabil Bank, Anil Khanal.
Daraz is launching its Dashain Dhamaka Campaign from Sep 15- 30 where customers can enjoy exclusive offers for various brands across all categories. Dashain Dhamaka Campaign will be followed by Alibaba's global 11.11 campaign on November 11, which will be Nepal's biggest online sale day.