The way we were
Photography represents the passage of time in more ways than one. From the first grainy black and white prints to digital images, advances in camera technology change the way we see the world.
Art photography experiments with light and composition. Then there is the subject matter: what people, places, cities, neighbourhoods, landscapes used to be like. Dynasties come and go in gelatin glass negatives, and snapshots remind us that what we think is important is ephemeral.
Nepal Remembered is an exquisitely curated and produced book and exhibition. It is a photo album that captures the history of Nepal as camera technology evolved. The timescale of the book starts after the invention of the camera in 1839, and spans the first ever photograph taken in Nepal in 1863, the pioneer father-son photographers of Kathmandu, and the pictures they took.
The Chitrakar clan have been court artists since the Malla era, and the surname itself denotes a profession that has been passed down from one generation to the next. The Chitrakars have seen, painted and photographed the Malla, Rana and Shah dynasties over the centuries.
Jang Bahadur travelled to England and France in 1850 in what was actually a spy mission to size up British military might, and decide whether it was wise going to war against the empire to restore territory lost in 1816. In the entourage was Bhaju Macha Chitrakar, whose oil on canvas portrait of himself Jang Bahadur proudly presented to Queen Victoria. That painting used to hang in Whitehall until Robin Cook removed it when he became Foreign Secretary in 2000.
Jang Bahadur was also Nepal's first ruler to be photographed, and the studio portrait with his consort was taken either in London or Calcutta in the 1860s.
Dirgha Man Chitrakar (1877-1951) was a painter, and came to the notice of Prime Minister Chandra Shamsher Rana who took him along on his voyage to Britain in 1908. Dirgha Man bought a camera in London and photographed the trip, even painting a portrait of King Edward VII.
It was inevitable that Dirgha Man's son, Ganesh Man Chitrakar (1916-1985) would also be a prolific photographer, and he kept up with improvements in camera technology, the advent of colour prints and slides.
Ganesh Man's son, Kiran Chitrakar has devoted his life to archiving and preserving the glass negatives, prints, equipment and documents his father and grandfather left behind. Now, Kiran Man's daughter Cristeena Chitrakar has selected 189 of more than 3,000 old negatives in the new volume Nepal Remembered.
The book is as much a genealogy of the Chitrakars as it is a pictorial history of Nepal, and a record of improvements in camera technology. Dirgha Man's earliest photographs of street scenes have blurs that show movement, but as shutter speeds improved, motion is frozen in time.
Dirgha Man's photographs of the crowds at Tundikhel or taken during royal processions in the 1900s show people gawking up at his camera rather than at the caparisoned elephants. Early portraits of royalty in regal finery show unsmiling and unmoving kings, queens and princes. Their descendants look more relaxed when facing the camera, since they did not have to stand still for as long.
Page after page in the book shows a forbidden kingdom slowly opening up to the outside world. The changes can be seen in the clothing, vehicles on the roads, architecture of inner city Kathmandu, the rivers and fields.
Dirgha Man and Ganesh Man had exclusive access to palace events, and got to photograph coronations, visits of foreign dignitaries, military parades and festivals that today make up a priceless record of recent Nepali history.
The photographs are categorised by themes in chapters about the Chitrakar family, the culture and heritage of Kathmandu Valley, images of the Shah and Rana clans, and scenes of everyday life in Kathmandu. It would have helped if the images in each section were more chronologically arranged, but explanatory notes by Cristeena Chitrakar, Mark Watson and David N Gellner guide us through the collection.
'The intent behind these photographs can only be revealed within the context of the period in which they were created, distributed and displayed,' writes Cristeena Chitrakar about her grandfather and great-grandfather's prints. 'Only then do the visual narratives become meaningful through the politics of the ruling Ranas and Shahs … Control was exercised by creating a culture based on access and exclusivity, a performance in which both paintings and photographs were used to consolidate their display and wealth.'
Nepal's rulers understood the power of images. Which is why the Mallas and Shahs had the Chitrakars paint them. Jang Bahadur and Chandra Shamsher responded early to the advent of photography by getting members of the Chitrakar clan trained in camera work and developing film – much like present-day rulers understand the influence of Instagram and the reach of social media.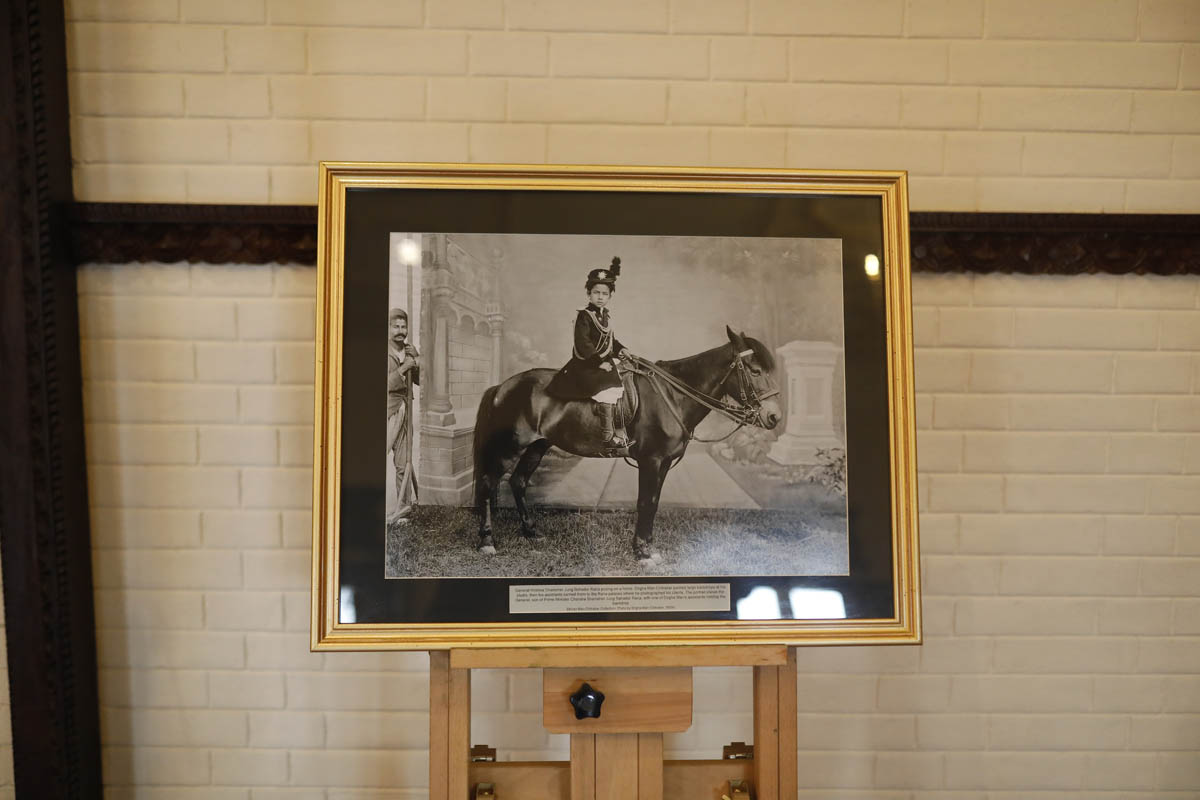 While some of the prints in the book have been published before, there are hidden gems. We can peer back in time at the imposing 17th century Kabindrapur Temple in Kathmandu that was brought down by the 1934 earthquake, and rebuilt as a shorter structure. Asan Tole's empty square and the elegant two-storey buildings fronting it are from a bygone era.
Dirgha Man's portrait of Lord and Lady Mountbatten posing with Padma Shamsher and others at Singha Darbar in 1945 is historic, as is Chandra Shamsher signing the Nepal-Britain Treaty of 1923.
Even as late as the 1970s, the Bagmati at Thapathali is wide with cattle stranded on a sandbank, and mountains peering over Kakani Ridge. Ganesh Man's photograph makes time travel possible.
Mark Watson of the Royal Botanic Gardens in Edinburgh sums up the importance of the photographs in his section: 'Dirgha Man and Ganesh Man compiled an impressively comprehensive photographic record of Kathmandu Valley and its people. The images depict a time of clear skies and unobstructed views, of free-flowing crystal clean rivers meandering over broad river beds … views that are lost forever.'
Nepal Remembered:
Historical images from Dirgha Man
and Ganesh Man Chitrakar
Written by Cristeena Chitrakar with Mark Watson and David N Gellner
Edited by Lisa Choegyal
Published by Kiran Man Chitrakar, 2021
Vajra Books www.vajrabooks.com.np
192 pages, 189 photographs
Rs 6,000
Nepal Remembered Exhibition
2-6 September
Atrium, Hotel Yak & Yeti