The price of rice
Rice is such an important food item that most Nepalis cannot do without it, but neither, it seems, can the country's economy.
Encouraging rice harvest figures have prompted the government to raise estimates for Nepal's economic growth rate this year. Paddy production was nearly 9% up from the previous year, reaching 5.6 million tons. Buoyed by these figures, Finance Minister Yuba Raj Khatiwada is optimistic that the country's annual economic growth rate will touch 7% this year.
Read also: Nepal's rice economy, Editorial
The International Monetary Fund had predicted a 5% growth, but increased it to 6.5% mainly because of a healthy monsoon. However, the Asian Development Bank's estimate is that Nepal's annual growth rate will be 5.5% this year.
"Rice harvests account for up to 1% of Nepal's annual economic growth rate," said Ram Krishna Regmi, who heads the statistics division of the Ministry of Agriculture and Livestock. Agriculture and forestry contribute more than a quarter of Nepal's GDP, of which rice makes up 21%. Two-thirds of Nepal's population depend directly on agriculture for livelihood, and of them, one in five live below the poverty line.
Although the estimates look somewhat encouraging, they have exposed yet again just how much Nepal's economy is dependent on the vagaries of the southwest monsoon. And with the summer rainfall becoming increasingly erratic because of climate change, Nepal's economy will continue to be fragile.
Yubak Dhoj GC of the Agriculture and Livestock Development Ministry said that besides the monsoon, the reason for the increase in paddy production is due to an increase in the area under rice cultivation, the use of high-yield seeds, timely distribution of fertiliser, and the spread of mechanisation.
"There was a healthy monsoon, and timely paddy transplantation, and there were also fewer landslides and not as much river erosion," GC explained. Last year, paddy seedlings were transplanted in 97% of fields, up from only 86% the year before. All this also affected productivity, which increased to 3.67 tons per hectare, a 0.25 tons increase in yield per hectare from the previous year.
Even so, the total production could not meet Nepal's demand for 6.1 million tons of rice, and the shortfall was met with imports from India. In the first four months of this fiscal year alone, Nepal has already imported Rs9.35 billion worth of rice from India.
Despite the fact that educated youth, and children of farmers are either migrating or moving away from the land, agriculture is still the mainstay of Nepal's economy. Farming is also becoming increasingly feminised as most men are away in the cities or abroad for work. Which is why the increase in rice production is in one sense encouraging.
Not as encouraging, however, is that productivity is still sluggish. Paddy yield has gone up from 2.4 tons per hectare 30 years ago to only 3.6 tons today, whereas productivity is 4.1 tons in Bhutan, 6.6 in Japan, and 7.0 in South Korea. Productivity of other crops has also not gone up by much. The reason is that nearly 70% of agriculture is still rain-fed. Cheap imports of rice from India as well as the disappearance of traditional rice varieties suited to Nepal's micro-climates have also impacted production.
The Ministry of Agriculture that includes forests, fisheries and livestock, had a budget of nearly Rs80 billion this year. But very little of that money goes into actually increasing production, most is spent on salaries and administration. The subsidies given to farmers is either misused, or doled out to party faithful. Foreign donors have invested Rs16 billion in agriculture in the past seven years specifically to improve yields, with no significant impact.
Most farmers are indebted because even if they have increased harvests, their food and cash crops have not found a market, or the prices are too low. In fact, agriculture was never a priority for successive governments and ministers who have seen farmers only as vote banks, and not food banks.
Prime Minister Oli's slogan of 'Prosperous Nepal and Happy Nepalis' is intricately linked to raising agricultural productivity with investment in irrigation, farm inputs, mechanisation and land reform.
Right rice at right time
Despite increased paddy production, why is Nepal still importing rice?
Rajendra Uprety
Only old timers remember that Nepal once used to be a major exporter of rice. At a time when India was importing rice in 1961, Nepal exported 280,000 tons of rice worth $43 million. By 1985, the last year Nepal had a surplus, the country exported rice valued at $10 million.
A growing population, increasing consumption and falling production meant that supply could not meet domestic demand. By 2015, Nepal imported 531,000 tons of rice worth $210 million, mainly from India. By this time, India was exporting $6.3 billion worth of premium rice in a year. (See graph)
Nepal is now in a paradoxical situation where although rice production and productivity are steadily increasing it is importing more rice than ever. This situation can easily be reversed if we synchronise our agricultural policy and outreach to farmers to grow the varieties of rice that consumers demand.
A visit to Surya Agro in Jhapa recently was a vivid indication of the state of affairs. At the mill that produces the Makkhan brand rice there were trucks unloading Jira Masino type of rice imported from India. What was going on here?
Despite an increase in rice production, we are more dependent on imports than ever before because our farmers are not growing the kind of rice that Nepali consumers want. Paddy and rice imports from India peak at harvest time in Nepal.
Records at the Biratnagar customs office show that in the last fiscal year, 89,729 tons of rice were imported through the border, and it was between January-March that most of the rice (55%) and paddy (65%) were brought in. Remarkably, paddy imports from India are highest in the months when Nepal's markets are full of freshly harvested paddy.
To be sure, most rice exporting countries also import some rice. For example, Vietnam exported 5.2 million tons of rice last year, but imported 25,500 tons of the grain. Nepal also exports a small amount of rice, while importing much more. The reason for this is that countries that export large amounts of cheaper varieties also need to import smaller quantities of premium rice to meet domestic demand.
The main reason why Nepal imports so much rice despite rising production is because our farmers are not growing the right type of rice, and the government's efforts are not directed towards helping them grow the varieties that Nepali consumers prefer. For example, the Masuli variety of rice was common throughout eastern Nepal, and two thirds of the farmers in this region grew that variety.
Today, consumer demand has shifted to Jira Masinu variety, yet half the farmers are growing Rajit and Swarnal, which are not in high demand. This shows that our promotion and policies are running counter to consumer preference. The result is that Nepal imports Indian paddy (which is not cheaper than Nepali rice) at a time when domestic paddy floods the market, and it is also the reason why rice imports are not decreasing.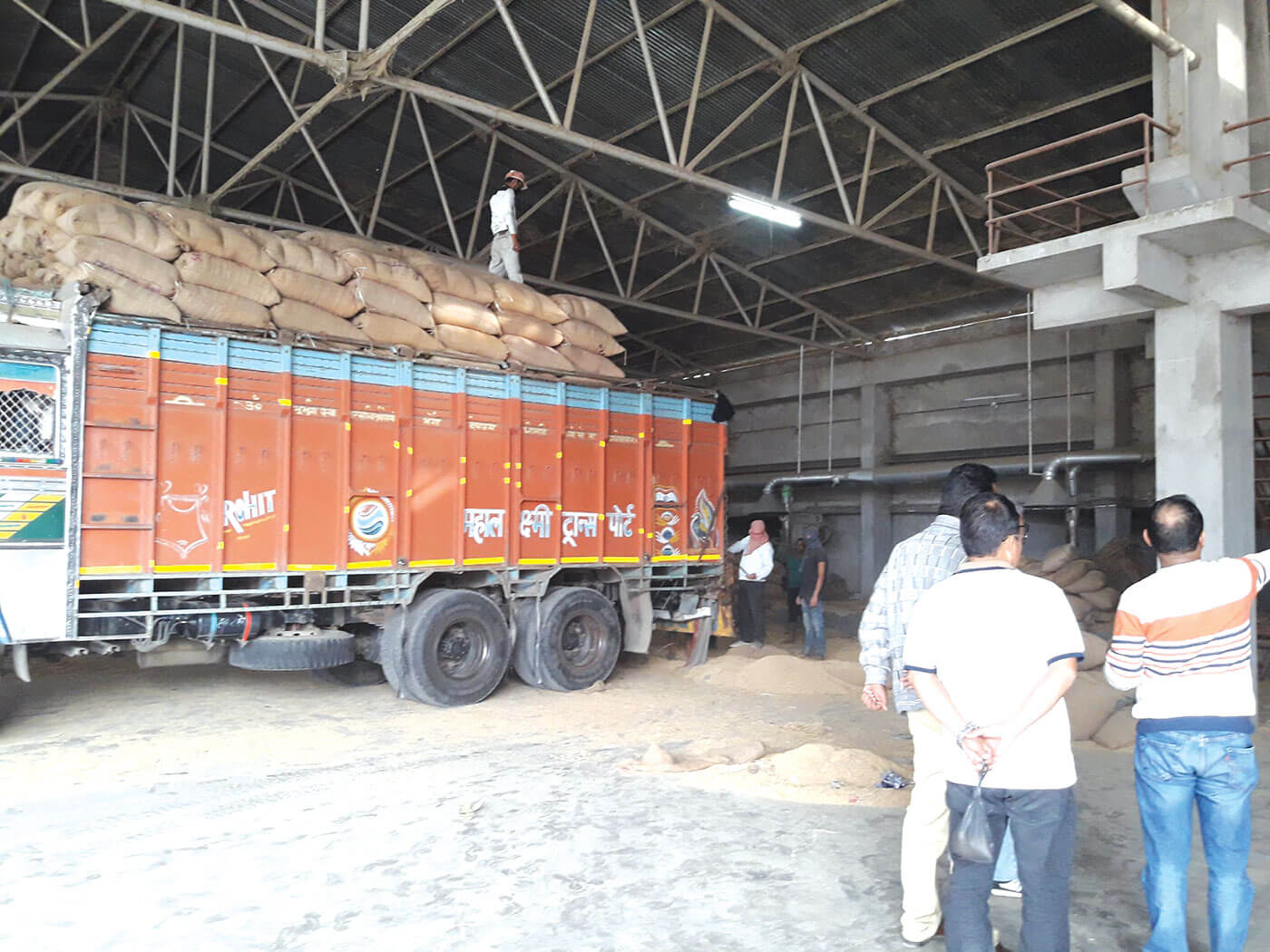 Once we have decided on the variety of rice that is in demand, Nepali farmers need to be helped with improving yield though better seeds, irrigation, techniques and mechanisation. Given these interventions, Nepal can easily increase productivity from the average 3.6 tons per hectare currently to more than 5 tons per hectare.
There are also some post-harvest market interventions with pricing coordination, storage and processing. Thus, once we start producing rice varieties that are in most demand with high yield and at attractive prices, Nepal can become not just self-sufficient in rice, but can also return to being an exporter. For this, we also have to conserve, and brand our own varieties of premium rice.
Nepal has everything going for it: a long tradition of paddy cultivation, hard-working farmers, a domestic market that has critical mass, and international demand for the unique varieties found in Nepal. All it needs is concerted government policy, and coordination between consumer demand and supply from farmers.
Rajendra Uprety, PhD, is with the Regional Agriculture Training Centre in Jhumka of Sunsari.