Playing with symmetry and shadow
Sravasti Ghosh Dastidar's photographic exhibition 'Soul in Shades' at Siddhartha Art Gallery was pushed back by one year because of the Covid-19 pandemic. It is finally being inaugurated on 26 March, just as Nepal's health authorities are once again on high alert for the second wave coming from India.
Dastidar is originally from Kolkata, and is well-travelled, having lived in Mumbai, Colombo, Manila and Brunei. She has curated her own photography from all her globe-trotting for this week-long exhibition that reaches the viewer with powerful dreamlike images.
The photographs use stark black and white to play with symmetry and shadow that force us to see soaring human-made structures and nature's grandeur in new light.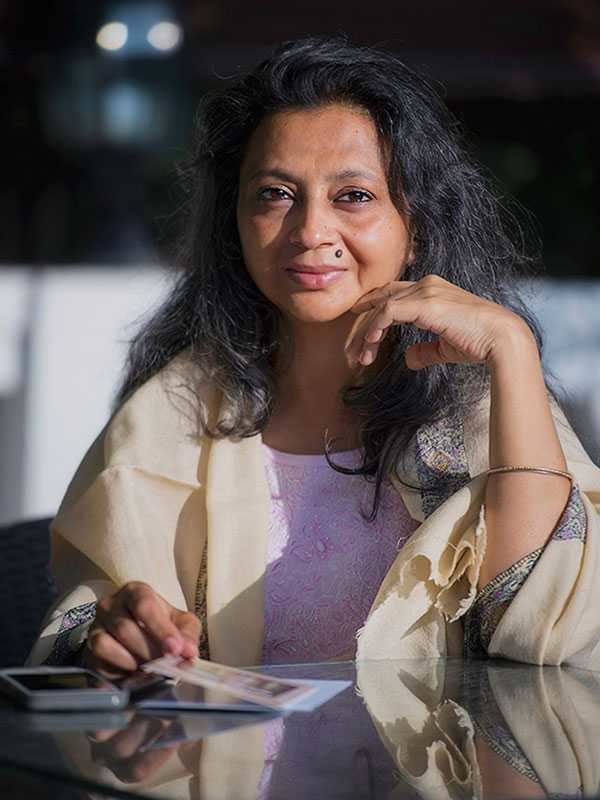 Dastidar's command of the craft shows in the deft way that she turns everyday objects into striking visuals that force the viewer to do a double take. The wraith-like image of a trapeze artists in a circus in St Petersburg (Undaunted), masks peering out of a shop window (Watching), a canoe floating on a winter morning in Chitwan (Mist 2), or of a lonely person in the slanting beams of a public building in Hong Kong (Hope) – the photographs give us a new way of contemplating objects that we take for granted.
"Her compositions reveal her fascination with texture, the play of light and shadow, the incongruous geometry of shapes, architecture and angles," says Siddhartha Art Gallery's Sangeeta Thapa. "In many of her works we see the loneliness of people in urban settings."
Indeed, some of the photographs are of solitary individuals – negotiating a subway, out on a boat, or that one person in a crowd ascending an escalator. The power of these images forces us not just to look, but ponder the border between reality and imagination.
'Soul in Shades' will be exhibited till 2 April at Siddhartha and will give visitors in Kathmandu a chance to savour images through which Dastidar takes us on a journey of the soul. We visit different parts of the world, a world that is now compartmentalised by the pandemic, and see how even in teeming crowds we are individuals with unique minds, bodies – and souls.
It is hard to say whether photography is a hobby or a full time passion for Dastidar, who is founding partner of Copytous Media and a SEO-based Content Writing and Research Specialist. 'Stories in Reflection' is a series of her blank greeting cards that can be found on Instagram and on her Facebook page – Sravasti's Words & Images, crafted into signature greeting cards.
"In a world becoming increasingly digital, I hope that the cards will help us to touch each other's lives in a way we have almost forgotten," says Dastidar. "A personalised handwritten note is always more special and connects us in a deeper way."
Photography started as a hobby and graduated to a passion. Her travels added further to this obsession with photography. Sravasti's photographs and articles have been featured in leading Sri Lankan magazines. She has a Masters in English Literature from Calcutta University and a Bachelors in Education.
Fellow photographer from Kolkata, Mala Mukherjee says of Dastidar's photography: "I am pleasantly surprised by the freshness of her work, the neatness of the compositions, and the variety and novelty of the subjects she selects."
Viewers in Kathmandu will get to enjoy these perspectives at 'Soul in Shades'.
Soul in Shades
Exhibition of Photographs by
Sravasti Ghosh Dastidar
26 March – 2 April
Siddhartha Art Gallery, Baber Mahal Revisited