One moment 30 years ago today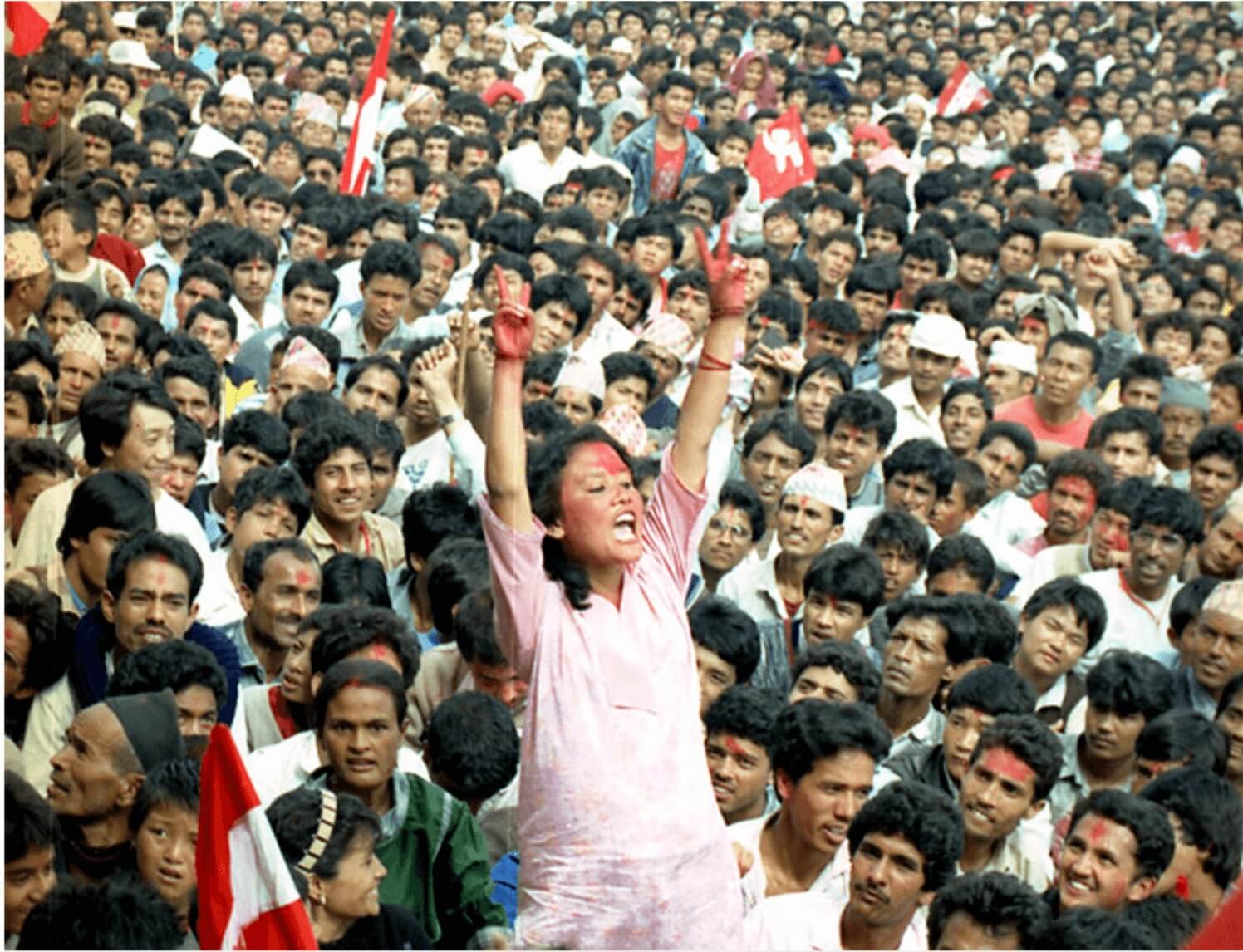 She leaps up from a sea of protesters, hands outstretched and fingers reddened with vermilion in a double V-for-victory sign. "Long live democracy," she yells as others, mostly seated men, look on.
It is the morning of 9 April 1990. After month long pro-democracy protests on the streets of Kathmandu, King Birendra the previous night had finally given in, announcing that multi-party democracy would be restored – paving the way for Nepal to change from an absolute to a constitutional monarchy.
Min Bajracharya, then a 18-year-old aspiring photojournalist, had been closely following the street protests, taking photos of demonstrators, political leaders from banned parties like the Nepali Congress, Nepal Communist Party (ML) and other leftist entities.
"I went wherever the protests went," Bajracharya remembers. "I had a youthful passion and energy for what I was doing."
There was a victory rally at the Khula Manch, the formerly underground leaders like Krishna Prasad Bhattarai, Ganesh Man Singh and Man Mohan Adhikari were on stage. As Bhattarai gave a rousing speech, Bajracharya noticed a young student spring up from the crowd, he turned his camera away from the podium to her and took a couple of photographs.
"Those were the days before digital so I had to be economical with my film," recalls Bajracharya, who took the picture with his Nikon F-2 and a 105mm lens.
It was only later that afternoon, after he developed the colour prints, that this one photograph caught his eye. His journalistic instinct told him that he had captured a momentous occasion. However, the news outlets in Kathmandu only wanted photographs of political leaders or of crowds.
"The Nepali Congress wanted photos of Kishunji, and the Communists wanted pictures of Man Mohan Adhikari. This was the beginning of the age of mission journalism," Bajracharya recalls. "But I knew this particular picture was different. It documented an event, it was motivated solely by journalism, not influenced by partisanship."
It was only two years later, when a German journalist looking through his photographs of the protests picked the photo for the cover of his book, Dawn of Democracy published by the Human Rights Protection Forum that the image became public. The photograph went around after that, republished without credit, permission or payment.
Bajracharya is glad that his photo is still a visual symbol of the political upheaval Nepal had experienced in 1990. Bajracharya later became the staff photographer for Himal Khabarpatrika and Nepali Times publishing many powerful photographs of the conflict years, the royal massacre of 2001 and King Gyanendra's coup.
When the peace and democracy movement erupted in the Kathmandu Spring of 2006, Kunda Dixit, the editor of Nepali Times asked Bajracharya if he knew what had become of the young woman in his famous photograph.
Min Bajracharya finally tracked her down and it was to find her once more on the streets shouting "Long live democracy." Sixteen years after his iconic photo, Bajracharya took another photograph of Durga Thapa leading a pro-democracy protest. She was by then 38, a civil servant, and has a son. He photographed her again, this time with a Nikon D-100 digital camera with a 24-85 mm lens.
That protest was a turning point in the 2006 movement since it was first time government employees joined the demonstrations against King Gyanendra, and Durga Thapa (now KC) was leading it as a Nepali Congress activist.
Min Bajracharya is proud of the famous photograph that also made him famous. But he is saddened by the need for Nepal's citizens to keep struggling for democracy over and over again.
Thirty years later, he still has vivid memories of what he saw and photographed on the night of 8 April 1990 when police, who were unaware of King Birendra's proclamation on national television to restore democracy, fired on jubilant protesters in Kathmandu, killing many.
He can still hear the crack of bullets ricocheting off the houses. "Many people lost their lives needlessly. I am still haunted by what I witnessed that night."
Photo journalist Min Bajracharya. Photo: NABIN BARAL