My Sweet Lord
Bhawani KC, 84, fastens a peacock feather in her hair, ties a green scarf around her neck and dons a green tika. She then pulls a green ribbon tied to a tiny swing on which sit silver idols of Krishna and his consort, Radha.
For the whole month of Srawan, she has carried on this ritual in a prayer room where sit 1m tall figures of Radha and Krishna carved out of holy shaligram stone. Dozens of devotees chanted bhajans and danced to devotional songs on the harmonium and tabla.
Among the supposedly 330 million gods in Hinduism, Krishna is one of the most visible, with millions of devotees across the world. In Nepal, Krishna has many followers who will be congregating at Krishna Mandir in Patan on his birthday on Friday, 23 August.
Krishna first appears in Hindu mythology as a character in the epic Mahabharata. He is a friend of the heroes, appearing human at times and divine in others. In the Bhagwad Gita he inspires Arjun to go to war against his cousins. He is treated with awe for his erudition.
In her book The Hindus, Wendy Doniger says Krishna served to bridge tension between rival Hindu schools of thought. The religion used to preach renunciation, but worldly duties were unavoidable. Along came Krishna who solved the conundrum by saying that one must practice one's duties, but with the attitude of a renunciant. Today, this philosophy is the cornerstone of the belief of Krishna's devotees.
Bhawani KC is barely literate, but has a poster on her wall that summarises the Gita. "Our body is a mere cover for the soul, and our soul is immortal. It belongs to god, so we must do our duty with devotion to god," says KC, quoting the Gita almost word for word.
The International Society for Krishna Consciousness (ISKCON) played a big role in spreading Krishna's teachings to the west at a time when young people there were disillusioned with war, racial inequality and consumerism. Krishna devotee Bhaktivedanta Swami Prabhupada founded ISKCON in New York in 1966, leading to waves of westerners clad in saffron and with shaved heads chanting and marching down streets of cities in Europe, North America and Australia. George Harrison recorded the popular song My Sweet Lord about Krishna, and helped spread Krishna's appeal.
Read also: Hare Krishna!, Prakriti Kandel
Julian Bliss was one of thousands of Americans who became a Krishna devotee. "I used to be a leader of a Christian youth group when I was a teenager," recalls Bliss, who grew up among Sikh and Hindu communities in California. "Then I became more familiar with Krishna, and I found so much peace and tranquility."
Jayananda at ISKCON Nepal
Bliss now goes by his Hindu name, Jayananda, and is with ISKCON Nepal, leading a movement to protect cows, feeding destitute children and conducting spiritual lectures. Devotees believe the faith fills a spiritual vacuum left by modern life, through renunciation of the material world.
Musician Bidhata Shah, 26, got involved with ISKCON four years ago after suffering bouts of depression, and finding that medications only made her drowsy and dull. "I started coming to ISKCON, and it changed my life," she recalls. "We meditate by chanting the Hare Krishna Maha Mantra. That cured my depression. We eat very simple food here, and practice good behaviour. All that has changed the way I think, and now I am full of a spiritual love for everything in the world."
While Krishna appears as a full grown man in the Mahabharata, later texts furnished him with a childhood full of adventures, where he kills demons with superhuman powers. Others created thousands of gopini with whom Krishna flirts and dances. In the 12th century, the poem Gita Govinda introduced Radha as a heroine, after which Radha-Krishna became a symbol of romantic love. Krishna is therefore revered today in all these forms: a teacher and philosopher, but also as a mischievous child and ardent lover.
The lover-boy image of Krishna seems contradictory, especially since traditional followers of Krishna are among the most austere sects in Hinduism, Vaishnavism. And yet, the most romantic and sensual Hindu scriptures are based on the frolics of Krishna with married gopinis. Why a deity is allowed — even celebrated — for having multiple romantic attachments is a question often raised today with retroactive judgement.
Krishna devotees see his intimacy with older women as spiritual, not physical. "Krishna is not a playboy. He is a god, not a human, and he took thousands of forms so that he could be with all the women simultaneously and give them happiness. Their union was not physical but spiritual," explains Sucharu Mata of ISKCON Nepal.
Read also: Buddhist relics in Western Nepal, Sewa Bhattarai
Krishna Janmashtami celebrations by ISKCON Nepal. Photo: ISKCON/facebook
Bhagwat Manjari Radhika Dasi, a religious leader in Itahari famous for recitations of the purana, accepts Krishna's dalliances. "Krishna is that supreme being who shows us how to act best in any situation. We learn from him about about life's duties, about childhood, and what lovers and husbands should be like," she says.
Indeed, sensual bhajans about Krishna's antics are still sung in our society, where romance and courtship are still repressed, especially for women. They accept the bundle of contradictions that Krishna has become: a man with thousands of lovers who preaches renunciation, and exhorts his cousin to go to war.
Krishna represents the Hindu world: nothing is as it seems and there is more than meets the eye.
Krishna's Kathmandu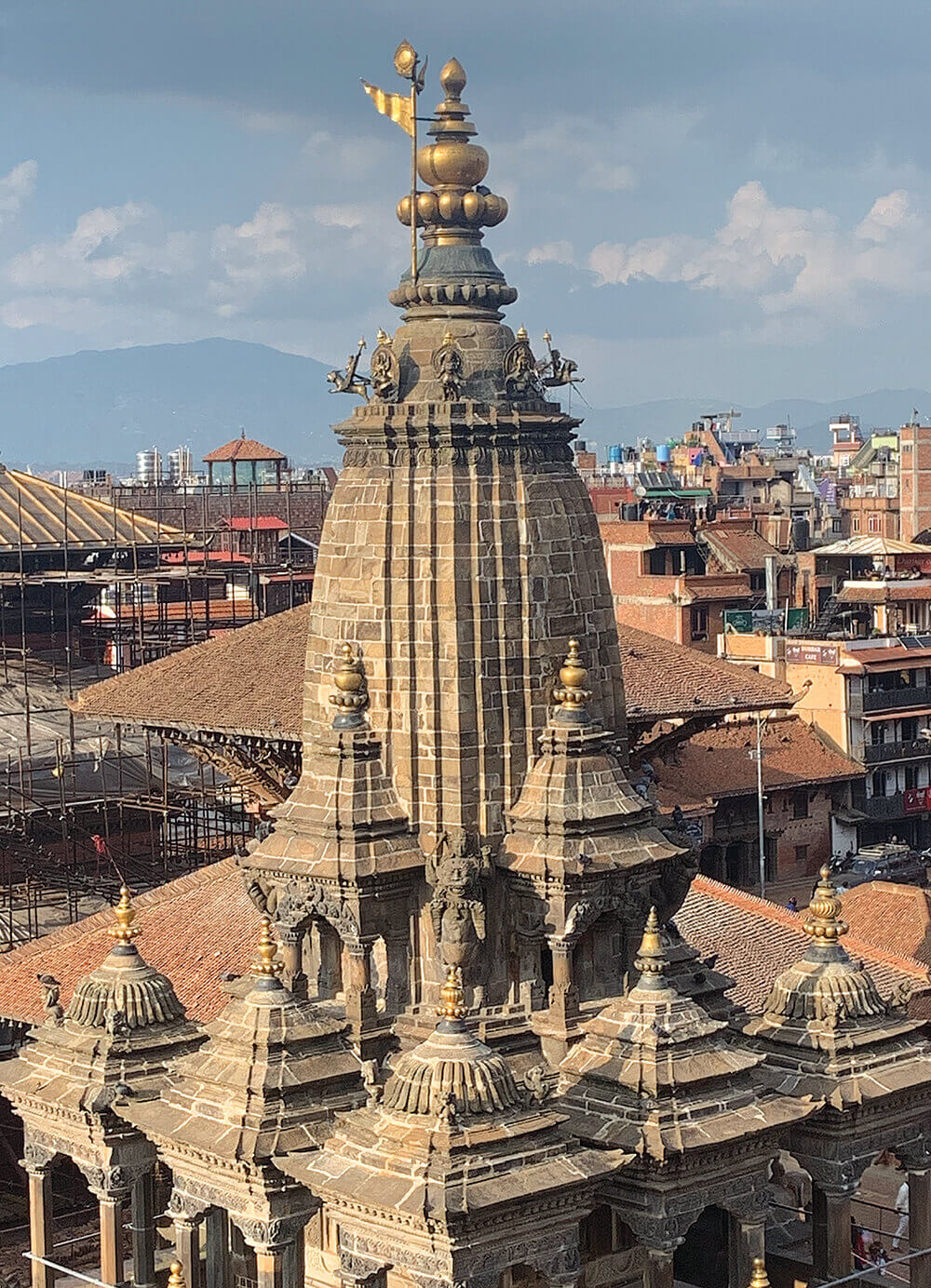 Photo: Kunda Dixit
Although Kathmandu is known as the abode of Lord Pashupatinath and Shaivism has deep roots here, as the eighth avatar of Vishnu, Krishna is a well respected deity as well. Krishna became popular during the Malla era 500 years ago, when kings like Siddhi Narsingh Malla commissioned Patan's famous Krishna Mandir, where thousands of devotees will gather all day on 23 August, Krishna's birthday.
King Siddhi Narsingh Malla is supposed to have seen Krishna in a dream, and built a temple at a spot where he found a statue of Krishna. The stone temple took years to construct, and the devout king disappeared after the construction was completed in 1661.
Today the three-storey, shikhar style structure stands in Patan Darbar Square, repaired after structural damage in the 2015 earthquake. Its stone walls and columns are adorned with intricate carvings that depict episodes from the Ramayana and Mahabharata.
As for Siddhi Narsingh Malla, people believe he is still alive, still searching for his lord. "People say that when that bird on top of the serpent flies, then Siddhi Narsingh Malla will have died," says the temple's chief priest, Pratap Dhar Sharma, pointing to a tall statue of Malla's grandson Yog Narendra Malla on the square, which has a golden bird on top of a guardian serpent.
Read also: Selective outrage about heritage loss, Sewa Bhattarai