Clash of cultures in Bhaktapur
At a donor conference after the 2015 earthquake, more than $4 billion was pledged to Nepal by the international community, multilateral banks and aid agencies. Germany was prompt in signing a reconstruction agreement with the Finance Ministry in December 2015, for €30 million.
Three years and three agreements later, a part of the negotiations suddenly broke down last month, as the German government decided to withdraw from a project to restore monuments, schools and streets in Bhaktapur destroyed by the earthquake. This was surprising since Germany, involved in Bhaktapur's restoration since 1970s, had allocated a third of its total outlay for earthquake reconstruction to Bhaktapur.
At a time when only 75% of the aid pledged in 2015 has actually materialised, and only 16% of the money has been disbursed, the cancellation of a €10million restoration initiative for Bhaktapur was a big loss for the country. Nepali Times has tried to piece together what went wrong.
This was the first time that the German Embassy in Kathmandu contracted German Development bank (KfW) as an implementing partner in heritage conservation. The bank has been active in Nepal's hydropower, health and sustainable development projects. Being a bank, KfW had different and stricter operating procedures than the German aid agency GIZ and other non-profits.
Previously, Bhaktapur had rebuilt monuments like the historic 55 Window Palace with local means and expertise. But KfW's rules required international bidding, and its inability to alter this procedure as demanded by fiercely independent-minded Bhaktapur leadership after last year's local elections, led to a deadlock.
"Locally-led construction gives better quality at lower cost," says Mayor Sunil Prajapati, pointing out that Bhaktapur is already working with local user committees to rebuild damaged monuments, and 27 have been restored by the municipality and the Department of Archaeology.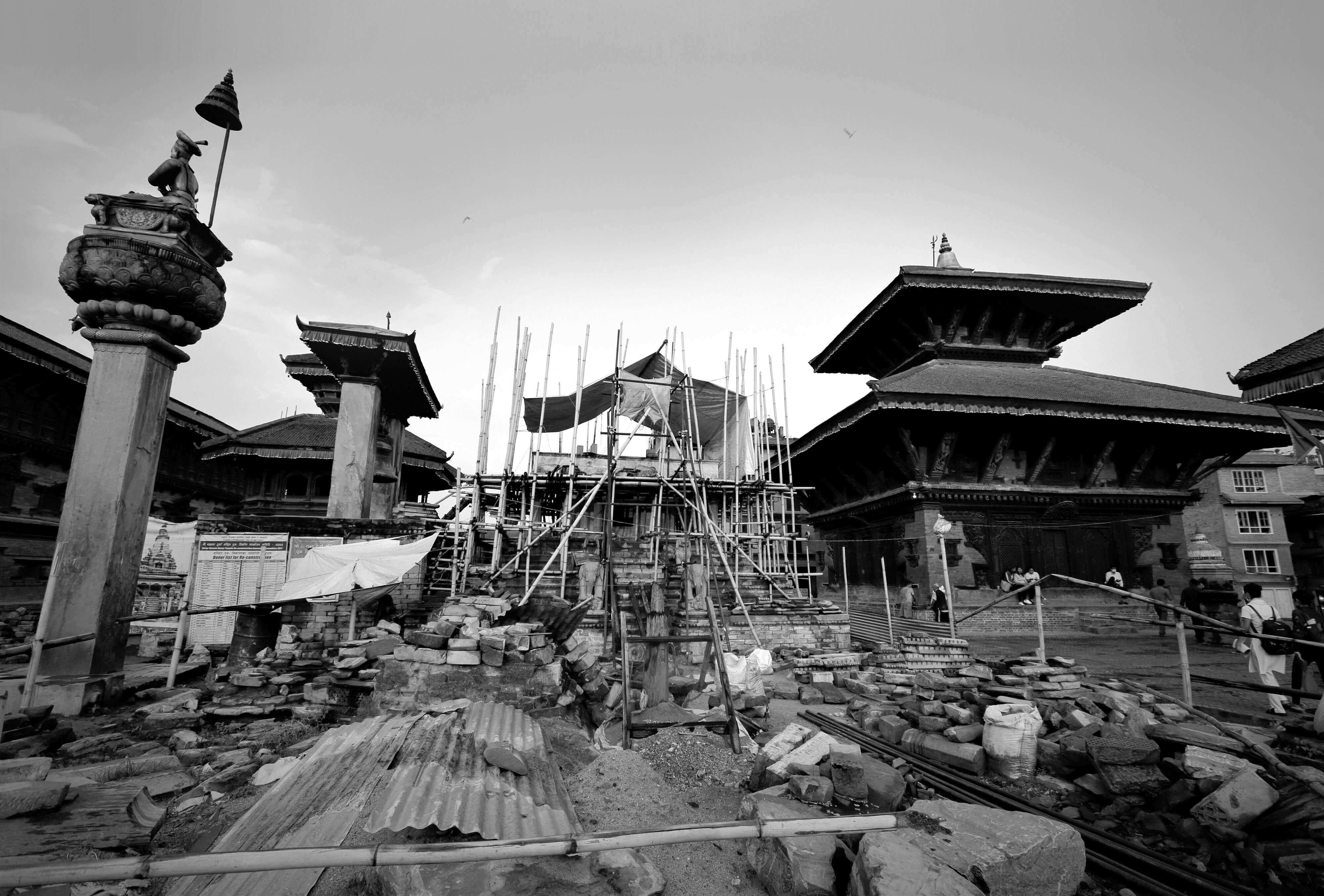 However, these are smaller monuments with budgets up to Rs15 million each, and larger complexes like the Pujari Math, Phasi Dega, National Art Museum (formerly a Rana palace) still await restoration.
Piecing together accounts of the negotiations from both sides, what appears to have led to the deadlock was a clash of cultures. The Germans, used to lack of transparency in other projects in Nepal, wanted to ensure full compliance with the rules of its banks on the tendering process.
Bhaktapur's leaders, on the other hand, didn't want to be told what to do when they felt perfectly capable of carrying out their own restoration.
The main point of dispute appears to have been KfW's insistence that the reconstruction contracts be open to a global tender process, international consultants, and the possible use of modern construction materials as has been done in previous German restoration here, including the octagonal Chasin Dega.
Bhaktapur has finished rebuilding 27 monuments, including the gate to Bhaktapur Durbar Square.
Bhaktapur has always aspired for independence, not just from foreign donors, but Kathmandu. Its political landscape has been dominated by the Nepal Worker's Peasants Party (NWPP) under Narayan Man Bijukche who is not shy about his open admiration of the North Korean ideology of self-reliance called 'Juche Idea'.
Mayor Prajapati is from the NMKP and won a landslide in last year's municipal elections. In an interview with Nepali Times last week he sounded defiant: "We will not tolerate foreign interference in the name of aid. We will not let our sovereignty be compromised." (See full interview online.)
Bijukchhe has now retired from politics, but is still the driving force behind the party. He has urged the government to take reconstruction upon itself and not depend on foreign aid. In the absence of elected officials before last year's local elections, NWPP members had been present at negotiations with KfW at every stage. The party is confident it has public opinion in Bhaktapur on its side in the dispute.
German Ambassador to Nepal, Roland Schäfer, admits that after two years of negotiations, "One had to come to the conclusion that KfW had to defend modalities for a reconstruction grant because of its general mandate, not related to Bhaktapur, and that this could not be adapted to where Bhaktapur's leadership saw the city moving between 2015 and 2017." (Full interview below.)
The city's pride and self-reliance are all well and good, but we asked Mayor Prajapati if a compromise could not have been reached, especially because Bhaktapur stood to lose so much promised aid at a time when cash crunch is the main reason for delayed reconstruction. Prajapati was adamant: "Without foreign aid, it may take us longer to rebuild these monuments, but we have now decided that it is the best way."
Some experts are not convinced that losing the KfW aid was good for Bhaktapur. "That amount would have been enough to reconstruct all of Bhaktapur's monuments, and more," said Rabindra Puri, Bhaktapur's noted heritage conservationist. "It is a great loss for Bhaktapur that the two parties could not come to an agreement."
For others, this is a lesson in how not to negotiate in Nepal's new federal state structure, where local elected leaders are much more vocal about what they want. Bhaktapur's politicians may have blocked the agreement when they found out architects and engineers at Khwopa College would lose out in the bidding system. Meanwhile, KfW could have predicted the fiercely-independent spirit of Bhaktapur's leaders, and fielded locals who spoke Newari for the negotiations.
With inputs from Monika Deupala in Bhaktapur
"Sovereignty is foremost"
Bhaktapur mayor Sunil Prajapati explains why independence is so important to Bhaktapur, and how it plans to rebuild monuments on its own.
Nepali Times: How is the reconstruction of monuments in Bhaktapur going?
The reconstruction is forging ahead in good speed, according to the economic means of the municipality. We are building monuments like pati, pauwa, sattal, temples and ponds of each ward though user committees. When we work through user committees, people feel ownership of the monuments, and they also contribute voluntary labor. We get more value out of it than the money we spend on it. That is why we choose to work with user committees. 27 out of 35 infrastructures, 27 out of 47 monuments, and 24 out of 28 roads that were approved for reconstruction have been completed, the rest are under construction.
The municipality is using its own funds and collecting donations from local residents, at a time when the German government has withdrawn its grant of 10 million Euro. Is that a loss for Bhaktapur?
Not everything is about money. Our independence is important, and we should never forget our sovereignty. Though we are prepared to tolerate everything, we should not let our independence, sovereignty, and self respect be compromised. We say this to everyone. After the 2015 earthquake, the German government had signed an agreement with Nepal government, to give €10 million to Bhaktapur to rebuild its monuments. There were many points of the agreement that we did not agree with.
What was the disagreement about?
For example, the audits would have to be done according to German regulations. If there are any disputes, they would have to be taken t German courts. Many monuments here are very sensitive, but the agreement required an international bidding process to restore them. We said that we have skilled experts right in Nepal who can complete the restoration, and the people here are willing to help. We have repaired Nyatapola, 55 window, Bhairabnath on our own. We want to go through user committees. But maybe they don't know what are user committees, they just did not agree to it. Plus, 20 percent of the cost would be ours, so we are already putting so much money in it ourselves.
In Bhaktapur we have two engineering colleges, and many people who are very skilled in traditional craft and techniques. We said we will do it on our own, and will accept your help when we need. Bu they said we would have to do exactly as they said: use materials and techniques they specified. They would call for bidding, they would appoint the technicians, and they would specify the building materials. If that happened, we would look like mere eyewitnesses.
We don't always need to take from the world, we can also give to the world. The 315-year old Nyatapola temple, the valley's tallest temple, is an example. It was not destroyed even in 1934, nor in 2015. Our technologies last 315 years! We are very rich in technology.
Does that mean that the local government here is powerful?
The law has made us powerful. We adhere to the law. The constitution has given us the right to make rules, working procedures, etc. We have prepared our own regulations regarding education, cooperatives, and sports. We make rules convenient to us in a way that they do not clash with federal laws.
In Bhaktapur we don't easily give permission to anyone to work in the town. We take our own decisions. That is what independence means. If we do as foreigners say, that is not independence.
How do you plan to take the restoration forward, since money is still a problem?
We have prepared our own designs for restorations, with a committee of 9 architects, 2 civil engineers and 2 senior advisors. Yes, we have some economic needs, and we have thanked those who come to our aid. But we do not agree to their conditions. In fact we agreed that the operating procedures of KfW are not appropriate for this project. We should not forget our identity. We also want to convey this to all Nepalis. If you have self respect, you will not bow to money or power, and you should not do so either. We should always think about what interests the other party has. It is wrong to be a slave for money.
We are so independent, and so were our ancestors. If we cannot even restore the monuments that our ancestors left for us, how can we claim to be citizens of the 21st century? Though our ancestors were not as educated as us, they were advanced in arts and crafts. And we want to do justice to their art by restoring them to their glory. If we work with this spirit, then it probably won't be difficult to bring change to the country.
"History with a capital H"
German Ambassador Roland Schäfer talks to Nepali Times about Germany's ties with Bhaktapur, and the latest controversy over a restoration project.
Nepali Times: Why does Bhaktapur hold such fascination for you?
As a young student, I trained as a historian. We have a shared history with Bhaktapur, and I often talk to those who remember. I was fascinated to see that the relationship between Bhaktapur and Germany is History with a capital H. This relationship is interwoven with Nepal's decade-long struggle for democracy and local autonomy, and it changed both Bhaktapur and Germany.
It changed Germany. German development cooperation came in the late seventies to reconstruct or preserve some of the world heritage treasures Bhaktapur harbours. What many people don't know: the encounter with Nepali politics in Bhaktapur had a deep influence on how the Germans thought and acted. The German development cooperation changed their original ideas, the methods, and even the staff.
I also believe that it also changed Bhaktapur. The city's political leadership adapted to those "foreigners" who stubbornly wanted to help, and they kept this relationship alive over the decades. Over the decades, Bhaktapur's success was a shared success story.
Today, if you walk through Bhaktapur, the people of the city point not just to the buildings which still stand or function because of this relationship. They also tell you the stories about those who spent parts of their lives talking, negotiation, building and restoring in the city, and they reminisce that also the water supply ion the city was improved, architects were trained and schools flourished, because of this relationship.
I believe our relationship is strong because it was able to incorporate big political change. Change over decades is the most important ingredient in the success story which German development cooperation shares with Bhaktapur.
I am therefore confident that this relationship is there to last, and that it will be able to adapt again. To new capacities in the city, new challenges and to citizens which enjoy more rights than ever before. I think we will again be able to see the city as a whole. Not just the havoc which the 2015 earthquake wrought over the city, but a living political entity with manifold and amazing capacities.
Why did the German government pull out of the agreement to restore Bhaktapur monuments?
"Pulled out" does not describe what happened, if you allow me to say sp. KfW cannot just "pull out". KfW, the German Development Bank, is an instrument of German Development Cooperation, a very valuable one, but it does not take those kind of decisions.
What happened is that after two years of negotiations, one had to come to the conclusion that KfW had to defend modalities for a reconstruction grant because of its general mandate (not related to Bhaktapur), and that this could not be adapted to where Bhaktapur's leadership saw the city moving between 2015 and 2017.
The conclusion was reached by the German Government and communicated to the Nepali Government before I reached Nepal. The recently elected mayor and myself, the new German ambassador, we have now the task to take stock and do what predecessors have done in the past: adapt to the realities and keep the relationship moving. For that is certainly what we want to do.
I do not wish to discuss whether this disappointment could have avoided, because I was not there when all this happened. I prefer to think that those involved did actually try their best and that they still wish to help those who have to pick up the pieces where they lie and move on. If one modality of cooperation does not work, for a short period of time, that is not the end of the world, is it?
Will the budget set aside for Bhaktapur be used elsewhere?
By the end of the year, I expect the Nepal and German governments to take decisions on the current earthquake recovery funds in their entirety -- that is an immediate administrative necessity. That has to be awaited. But we have been transparent with the leadership of Bhaktapur during the preparation of this decision.
What is at stake now is to listen very carefully to the political needs which Bhaktapur's leadership seen in a new, federal environment. We need to do this in a really holistic way. My hunch is that it will be very interesting to listen to Bhaktapur, not just for the Germans, but for many mayors and reconstruction experts in Nepal. That is what we think is a way forward.
Bhaktapur, today, is not the Bhaktapur of the 1970s. But also the Government of Nepal is not the Government of that period of a king's rule. In this environment, Bhaktapur must be listened to, and I call on Bhaktapur to talk, teach, demonstrate and help analyse all things related to municipal development. How does it relate to tourism, local economy, religious heritage, infrastructure and buildings? That is at stake for so many more cities in Nepal, and we Germans want to use our contacts in order to be able to join the learning process.
If in this process, good ideas emerge and people come together who have the courage to make them happen, the Germans will be part of it. I am sure we will find the best modality for cooperation in this new context. KfW was a possible instrument, but not the only one.
Readers write
Devendra Basnet As the saying goes 'there's no free lunch.' Specially when it comes to the world of foreign aid.
This is inspiring on so many levels. Thank you for being a visionary leader! This is not only a learning moment for our cultural preservation but for Finance Ministers and Nepali bureaucrats that are often too eager to accept foreign assistance without realising its pitfalls.